Chemical production increased from January to June 2011 by 6.5 % as compared with the 1st half 2010, Dr. Klaus Engel (above), President of the VCI (Verband der Chemischen Industrie e. V.; German chemical industry association) explained at today's press conference in Frankfurt, Germany.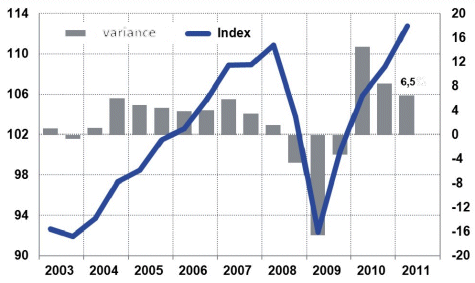 © VCI
For the overall year 2011 the VCI is expecting a somewhat lower production increase of 5 %. Amongst others this is due to the already high capacity utilization of production plants. In the 1st half-year the demand for some chemicals was so strong that production capacities were temporarily insufficient to fully serve customers.
The VCI predicts for 2011 that the German chemical industry will invest some 7 billion euros in Germany; this would be an increase by 10 % against the previous year.
From January to June 2011, total sales by the German chemical industry amounted to 90.5 billion euros, an increase by 12 %. Business with customers abroad improved by 13 % to 54.6 billion euros. Domestic sales of German chemical companies went up by nearly 10.5 % to 35.9 billion euros.
Higher raw material costs forced many companies to raise their prices. Consequently, chemicals and pharmaceuticals were, on average, 5.5 % costlier than they had been one year earlier.
The number of staff in the German chemical industry increase by 2.0 % against the 1st half 2010. The VCI President thinks that this trend is also stimulated by anxiety that the general shortage of skilled personnel could spread to the chemical industry.
---