79 Australian chemistry professionals and 38 Tasmanian printmakers have worked together for the last 12 months to pictorially interpret each of the 112 elements. The results can be seen in three exhibitions touring Australia and New Zealand.
They are also shown as an interactive web tool. Click on each element to see the pictures by the various artists.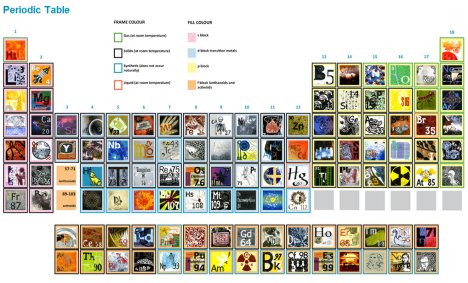 RACI or the Royal Australian Chemical Institute was founded in 1917 as both the qualifying body in Australia for professional chemists and a learned society promoting the science and practice of chemistry. It has over 6000 members.
---
Royal Australian Chemical Institute (RACI), North Melbourne, Australia
Dates for Exhibitions:

Exhibition A
1-4 August — University of Tasmania, School of Chemistry, TAS
15 August — 9 September – Imaginarium Science Centre, Devonport, TAS
13 September — 21 October – Nelson Provincial Museum, NZ
24 October — 21 November – Te Manawa, North Palmerston, NZ

Exhibition B
1-29 August — Science Works Museum, VIC
1-30 September — Discovery, Bendigo, VIC
4-31 October — Questacon, ACT
3 November — 2 December – Wollongong Science Centre, NSW
5 December — 5 January – Australian Museum, Sydney, NSW (TBC)

Exhibition C
1-29 August — South Australian Museum, Adelaide, SA
1-30 September — Western Australian Museum, Albany, WA
4-31 October — Scitech, Perth, WA
3 November — 2 December – Western Australian Museum, Geraldton, WA