The annual QS World University Rankings have been published for 2011/2012. The overall rankings placed Cambridge University, UK, in the top position, with Harvard University and Massachusetts Institute of Technology (MIT), both USA, ranked second and third. America and Britian dominate the top 20, with only one university not coming from an English-speaking country, which is ETH Zurich (Swiss Federal Institute of Technology) at 18.
The highest ranking Asian universities are Hong Kong, China, at 22, Tokyo, Japan, at 25, and the National University of Singapore at 28. King Saud University, Saudi Arabia, made the top 200 for the first time. At 200, it was the highest rated institution in the Arab world.
Within chemistry, the US still dominates; 12 US institutions are in the top 20, along with 3 UK universities. The ETH Zurich, however, ranks tenth and the universities of Tokyo and Singapore also make the top 20, at 13 and 15, respectively. The top three positions are different from the overall rankings, with Harvard University taking the top spot and the University of California, Berkeley, USA, and MIT ranked second and third.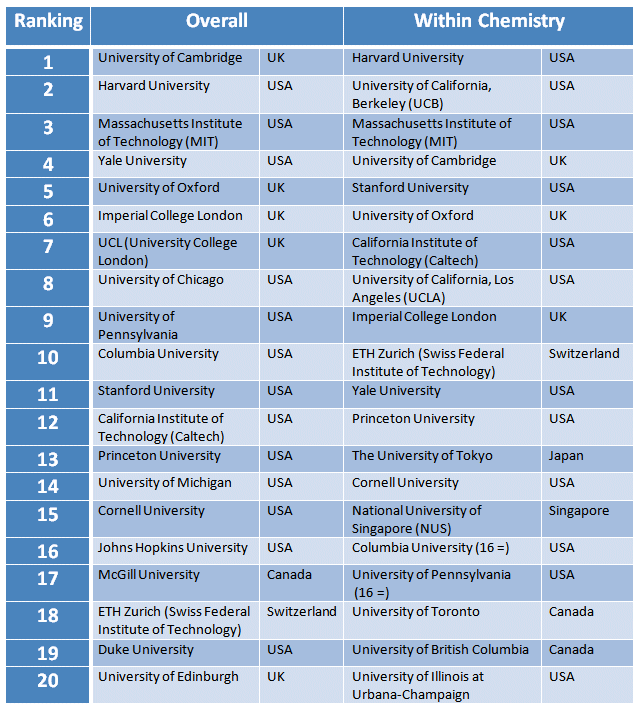 The QS World University Rankings consider over 2,000 universities worldwide and evaluate over 700, ranking the top 400 based on six criteria:
Academic reputation (40 %)
Citations per faculty (20 %)
Faculty to student ratio (20 %)
Employer reputation (10 %)
Proportion of international students (5 %)
Proportion of international faculty (5 %)
In light of the imminent increase in tuition fees for UK-based universities, fee information has been published for the first time alongside the rankings.
---
See also: