At the World Economic Forum in Davos, Switzerland, Corporate Knights, a Toronto-based media and investment research company, announced its Global 100 list of the world's most sustainable corporations. It named Umicore, Natura Cosmeticos, Statoil, Neste Oil, and Novo Nordisk as the best chemical companies.
Umicore derives the majority of its revenue (2011: US$20 billion) from clean technologies such as catalysts that reduce pollution from vehicles powered by internal combustion engines. It achieved the top ranking due to its strong, across-the-board sustainability performance. The company notched top-quartile performance on six of the 12 indicators used in the project, including carbon and water productivity, and employee turnover.
Table: 2013 Global 100 Most Sustainable Corporations in the World (Souce: Corporate Knights).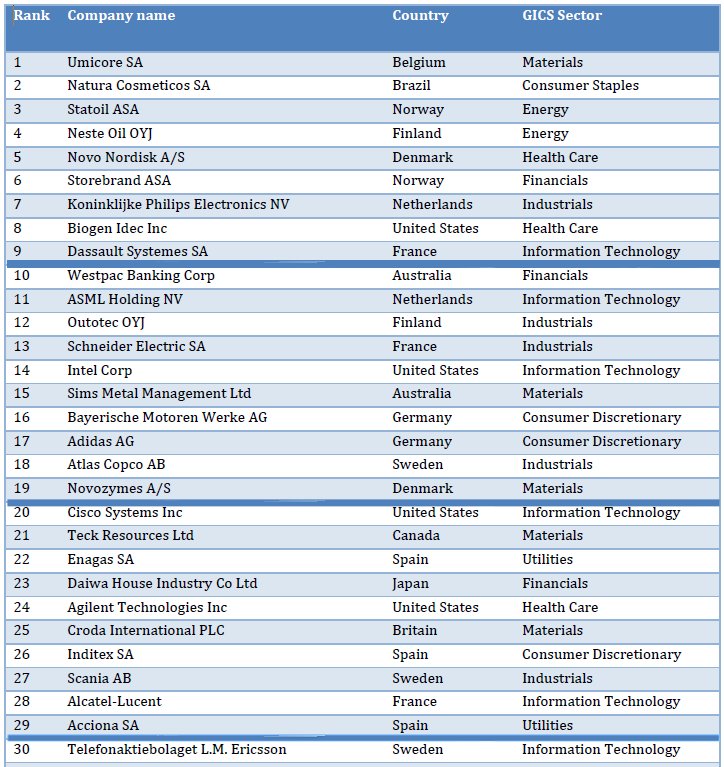 Corporate Knights collected data for the project primarily from Bloomberg and through direct engagement with the 350 companies that made the project's shortlist, selected from the project's starting approx. 4,000 companies with global mid and large cap stocks. First, companies from the starting universe are screened according to their sustainability disclosure practices, financial health, product types, and recent legal payouts. Those companies that remain are then scored, relative to their same-sector peers, on a set of key performance indicators (KPIs). A different suite of KPIs is used for companies in each industry, depending on recent reporting trends in each industry group.
---