The 2012 ACS National Awards are presented at the 243rd ACS National Meeting in San Diego, CA, USA, on the evening of Tuesday, March 27 at the National Awards Ceremony and Banquet. Individual and team accomplishments in diverse fields of the chemical sciences are recognized.

Professor Robert S. Langer, Massachusetts Institute of Technology (MIT), USA, receives the Priestley Medal for his revolutionary discoveries in the areas of polymeric controlled release systems and tissue engineering and synthesis of new materials that led to new medical treatments.
Robert Langer received his Bachelor's Degree from Cornell University, USA, in 1970 and his Sc.D. from MIT in 1974, both in Chemical Engineering. From 1974–1977 he worked as a postdoctoral fellow at the Children's Hospital Boston and at Harvard Medical School, both USA. In 1978 he became Assistant Professor of Nutritional Biochemistry at MIT's Department of Nutrition & Food Sciences, where he was promoted to Associate, then Full Professor of Biochemical Engineering in 1981 and 1985, respectively. In 1988 he took up the Kenneth J. Germeshausen Professorship of Chemical and Biochemical Engineering, and in 2005 he was made the David H. Koch Institute Professor, the highest honor that can be awarded to a faculty member.
Langer's work is at the interface of biotechnology and materials science. A major focus is the study and development of polymers to deliver drugs, particularly genetically engineered proteins, DNA and RNAi. In particular, he investigates the mechanism of release from polymeric delivery systems, applications of these systems including the development of effective long-term delivery systems for insulin, anti-cancer drugs, growth factors, gene therapy agents and vaccines, and developing controlled release systems that can be magnetically, ultrasonically, or enzymatically triggered to increase release rates.
Professor Stephen Hanessian, University of Montreal, Canada, received the Ernest Guenther Award in the Chemistry of Natural Products supported by Givaudan, for his unique vision and approach to organic synthesis in general, and natural products in particular, in which creativity, diversity, innovation, and practicality are combined.
Stephen Hanessian studied chemistry at Ohio State University, USA, and gained his Ph.D. under the supervision of Professor Melville Wolfrom. He spent several years as a researcher for Parke-Davis & Co. in Ann Arbor, Michigan, USA, until joining the University of Montreal as an associate professor in 1969. Since 1970, he has been a full professor at the University of Montreal.
Hanessian is known for developing synthetic methodologies, as well as natural product total synthesis. In addition, his group developed Chiron, a computer program used by organic chemists for synthetic planning. He is the author of the upcoming book Design and Strategy in Organic Synthesis – From the Chiron Approach to Catalysis.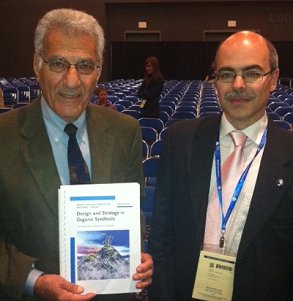 Professor Stephen Hanessian (left) holding an advance copy of the book comprising the first chapters, given to him by Haymo Ross (right), Deputy Editor of Angewandte Chemie and Editor of EurJOC. Photo courtesy of Gregory Hanessian.
A complete list of awards and recipients can be found at the ACS's website
---
Selected papers by Robert Langer:
Fabrication of a Hybrid Microfluidic System Incorporating both Lithographically Patterned Microchannels and a 3D Fiber-Formed Microfluidic Network,
L. M. Bellan, T. Kniazeva, E. S. Kim, A. A. Epshteyn, D. M. Cropek, R. Langer, J. T. Borenstein,
Adv. Healthcare Mater. 2012, 1(2), 164–167.
DOI: 10.1002/adhm.201100052
Thermoresponsive platforms for tissue engineering and regenerative medicine,
H. Tekin, J. G. Sanchez, T. Tsinman, R. Langer, A. Khademhosseini,
AIChE J. 2011, 57(12), 3249–3258.
DOI: 10.1002/aic.12801
Five Years of siRNA Delivery: Spotlight on Gold Nanoparticles,
A. K. R. Lytton-Jean, R. Langer, D. G. Anderson,
Small 2011, 7(14), 1932–1937.
DOI: 10.1002/smll.201100761
Selected papers by Stephen Hanessian:
Inhibition of Aminoglycoside-Deactivating Enzymes APH(3′)-IIIa and AAC(6′)-Ii by Amphiphilic Paromomycin O2''-Ether Analogues,
J. Szychowski, J. Kondo, O. Zahr, K. Auclair, E. Westhof, S. Hanessian, J. W. Keillor,
ChemMedChem 2011, 6(11), 1961–1966.
DOI: 10.1002/cmdc.201100346
Total Synthesis of Pactamycin,
S. Hanessian, R. R. Vakiti, S. Dorich, S. Banerjee, F. Lecomte, J. R. DelValle, J. Zhang, B. Deschênes-Simard,
Angew. Chem. Int. Ed. 2011, 50(15), 3497–3500.
DOI: 10.1002/anie.201008079
Chemistry and Biology of the Aeruginosin Family of Serine Protease Inhibitors,
K. Ersmark, J. R. Del Valle, S. Hanessian,
Angew. Chem. Int. Ed. 2008, 47(7), 1202–1223.
DOI: 10.1002/anie.200605219

Also of interest:
More from the ACS Meeting in San Diego: