BASF Expands Methanesulfonic Acid Plant in Ludwigshafen
BASF is investing in methanesulfonic acid (MSA) production and plans to expand the existing plant in Ludwigshafen, Germany. After finalization in 2012, BASF will have an annual MSA capacity of 30,000 tonnes, making BASF the world's leading methanesulfonic acid supplier. Expansion of the MSA plant will create 12 new jobs at the Ludwigshafen site.
Expansion will raise global annual capacity to 30,000 tonnes
Methanesulfonic acid is an alternative to phosphoric acid in industrial and household detergents
Demand for methanesulfonic acid continues to increase
Methanesulfonic acid is a strong, odorless and colorless organic acid. Methanesulfonic acid is being used in more and more applications because of its unique performance features. MSA is easy to handle and non-oxidizing. It is increasingly being used to replace phosphoric acid in detergent formulations because of the high solubility of its salts and relatively low corrosivity, thereby helping to avoid environmental phosphate pollution. Methanesulfonic acid by BASF is readily biodegradable and chloride-free. "The capacity expansion is our response to continuously rising demand for methanesulfonic acid," Dr. Stefan Beckmann, Senior Vice President Care Chemicals & Formulators Europe says. "That's because the properties of methanesulfonic acid offer crucial benefits in many applications. As a result, our customers cut production costs and less phosphate enters the environment ."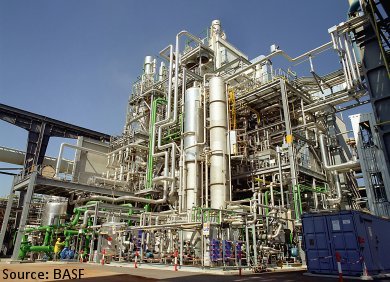 Special production method for high purity
Methanesulfonic acid is manufactured in a continuous process by a method developed and patented by BASF. The final distillation process ensures that methanesulfonic acid produced by BASF has a very high degree of purity. MSA by BASF is supplied as a 70 % aqueous solution under the brand name Lutropur® MSA. Anhydrous MSA is available under the brand name Lutropur® MSA 100.
BASF customers apply the acid in industrial and household detergents and also in galvanic baths for circuit board and tinplate manufacture, among other applications. MSA is also used in the pharmaceutical and chemical industries as an element of synthesis and as a catalyst.