Advantages of continuous-flow technologies for organic synthesis include facile automation, reproducibility, energy efficiency, precise control of reaction parameters and the restriction of by-product formation often caused by prolonged heating.
Magnus Rueping and co-workers, Aachen University, Germany, report the first simple and efficient continuous-flow method for the hydroarylation of arenes and heteroarenes. The process is suitable for various styrenes and employs the heterogeneous catalyst, amberlyst-15.
The reactions were sequentially introduced into the flow cell and performed several times without having to change the catalyst. A series of 1,1-diarylalkanes was produced in good yields (typically 60-95 %), and scale up of this method was achieved to produce diarylmethanes in multigram quantities.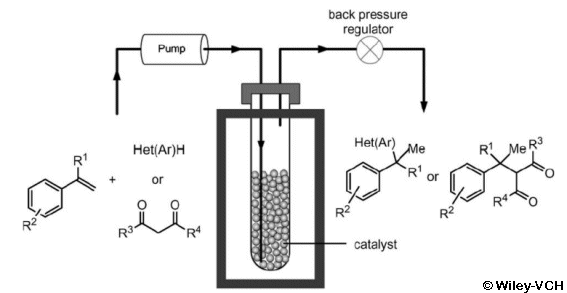 ---