Laurence A. Nafie, Syracuse University, USA, talks about his book "Vibrational Optical Activity: Principles and Applications".
It is the only comprehensive introduction to vibrational optical activity (VOA) and is the first single book that serves as a complete reference for this relatively new, but increasingly important area of molecular spectroscopy.
Laurence Nafie is a leading world authority on VOA. He confirmed experimentally the first observation of infrared VCD, was the first to propose and measure Fourier transform VCD, and is the discoverer of several of the forms of ROA. He has also contributed to the theoretical foundations of both VCD and ROA. For nearly four decades, he has carried out research in the field of VOA and in 1996 co-founded the company BioTools for the commercialization of advanced spectroscopic instrumentation, including VCD and ROA spectrometers and services.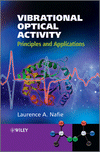 Vibrational Optical Activity: Principles and Applications
L. Nafie,
ISBN: 978-0-470-03248-0
Published: 12 August 2011
---
See also: