Professor Emily A. Carter, Princeton University, USA, discusses her work on using quantum mechanics to solve the World's energy problems as presented at the Wissenschaftsforum, Bremen, Germany.
She was the first woman to give the August-Wilhelm-von-Hofmann talk at the GDCh Wissenschaftsforum.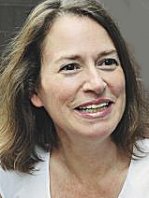 Professor Carter is a theorist known for her work combining ab initio quantum chemistry with dynamics and kinetics, especially as applied to surface chemistry. Her applications focus on determining how materials fail due to chemical and mechanical effects (e.g., corrosion and stress), and how to optimally protect these materials against failure (e.g., by doping, alloying, or coating). She has recently turned her attention toward materials for energy applications, including exploring novel materials for solar energy conversion to electricity and water splitting, metal alloy design for fusion reactor walls, and optimization of lightweight metal alloys to improve vehicle fuel efficiency.
---
Electron Transport in Pure and Doped Hematite
P. Liao, M. C. Toroker, E. A. Carter,
Nano Lett. 2011, 11(4), 1775–1781.
DOI: 10.1021/nl200356n
First principles scheme to evaluate band edge positions in potential transition metal oxide photocatalysts and photoelectrodes
M. C. Toroker, D.l K. Kanan, N. Alidoust, L. Y. Isseroff, P. Liao, E. A. Carter,
Phys. Chem. Chem. Phys. 2011, 13, 16644–16654.
DOI: 10.1039/C1CP22128K
See also: