Johan Elf, Uppsala University, Sweden, has received the Norblad-Ekstrand Medal 2021 from the Svenska Kemisamfundet (SK, Swedish Chemical Society) for his pioneering work in characterizing single molecules within the living cell. The award honors individuals who have made distinguished contributions to research in chemistry and related fields, or who have actively supported the mission of the Swedish Chemical Society for the betterment of the field. The medal was awarded at the Royal Swedish Academy of Sciences in Stockholm on May 10, 2023.
Johan Elf's research focuses on genetic encoding, algorithms for spatially-dependent stochastic simulations, methods for single molecule tracking in living cells, mechanisms of molecular search kinetics, and antibiotic susceptibility testing. He is known for his creativity and ability to invent new methods, computational tools, and mathematical models to study the reactions taking place inside the cell. These include the use of unique fluorescence microscopy to track a single molecule in living cells, and microfluidic techniques to control growth conditions in the cell. These techniques have been successfully used, for example, to study how transcription factors identify and bind to DNA. These techniques have also been further developed to serve as rapid diagnostics to determine the species of bacteria and measure their antibiotic sensitivity. This has resulted in the founding of the Uppsala-based, company Astrego which develops a rapid point of care test for antibiotic susceptibility.
Johan Elf, born in 1975 in Motala, Sweden, received his Ph.D. from Uppsala University in 2004 and is professor of physical biology at Uppsala universitet, Department of Cell and Molecular Biology, since 2013. He founded the company Astrego in 2017 and Bifrost Biosystems in 2022.
Johan Elf has been a member of the chemistry class at the Royal Swedish Academy of Sciences since 2016, and is the recipient of several awards including the 2010 Gustafsson Prize.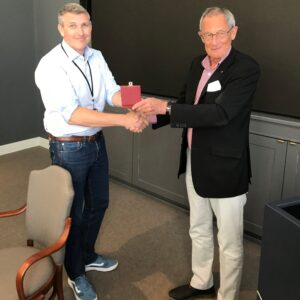 Chalmers professor Krister Holmberg hands over the Norblad-Ekstrand medal to Johan Elf. Photographer: Johan Åqvist
---
Selected Articles
Press release in Swedish: Norblad-Ekstrand-medaljen 2021 till Johan Elf, Uppsala universitet – Svenska Kemisamfundet