Phosphorylation is a common protein modification that occurs in living cells. The roles played by, e.g., histidine phosphorylation in mammalian cellular signaling are not well understood, in part because of a lack of chemical tools to study the enzymes that regulate this post-translational modification. PHPT1 (protein histidine phosphatase 1), for example, is a phosphatase enzyme that has been implicated in several diseases. Developing inhibitors of PHPT1 could be useful to better understand its roles in pathological and physiological processes. Although many compounds have been screened, very few have shown PHPT1 inhibitory activity.
Amy M. Barrios, University of Utah College of Pharmacy, Salt Lake City, USA, and colleagues have identified the most potent PHPT1 inhibitors to date. The team used a robust fluorogenic assay for PHPT1 activity to screen analogues of the fungal natural product illudalic acid (pictured above). They hypothesized that illudalic acid could lead to useful PHPT1 inhibitors based on some structural similarities to norstictic acid, which had shown promise in earlier tests.
The screened illudalic acid analogs (examples pictured below) inhibit PHPT1 with IC50 values in the range of 3–35 μM. In contrast to previously reported inhibitors, the illudalic acid analogs appear to be non-competitive, non-covalent inhibitors. Overall, this work adds to the catalog of PHPT1 inhibitors with a readily modifiable chemical scaffold.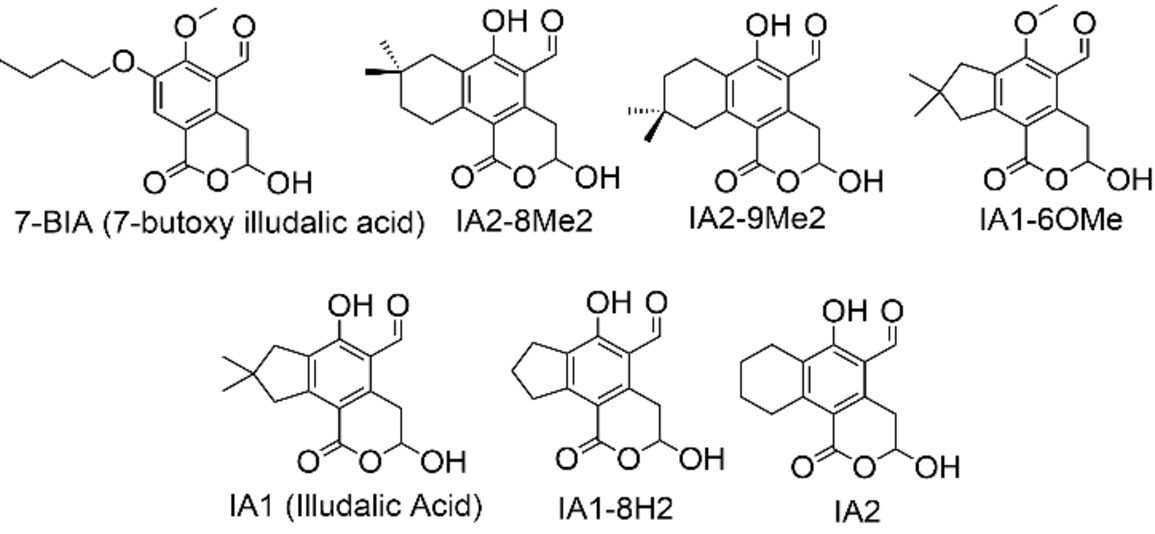 ---