As in 2020, BASF is again the chemical company with the highest sales in 2021, followed by Sinopec and then by Dow. Overall, in 2021, the global economy and thus also the global chemical industry have recovered from the COVID-19 pandemic, and sales and profits have grown strongly compared to 2020. Another reason for this growth is inflation and the associated rise in oil prices. Oil is the main raw material for the chemical industry. Therefore, it reacts with price increases, especially in the petrochemical and fertilizer sectors [1].
Climate and environmental protection continue to be high in the spotlight, and so in 2021, chemical companies worldwide actively marketed their more environmentally friendly, sustainable products and processes and left the production of hazardous chemicals unmentioned [2].
The Top Ten Chemical Companies
(with amount of chemical sales in USD)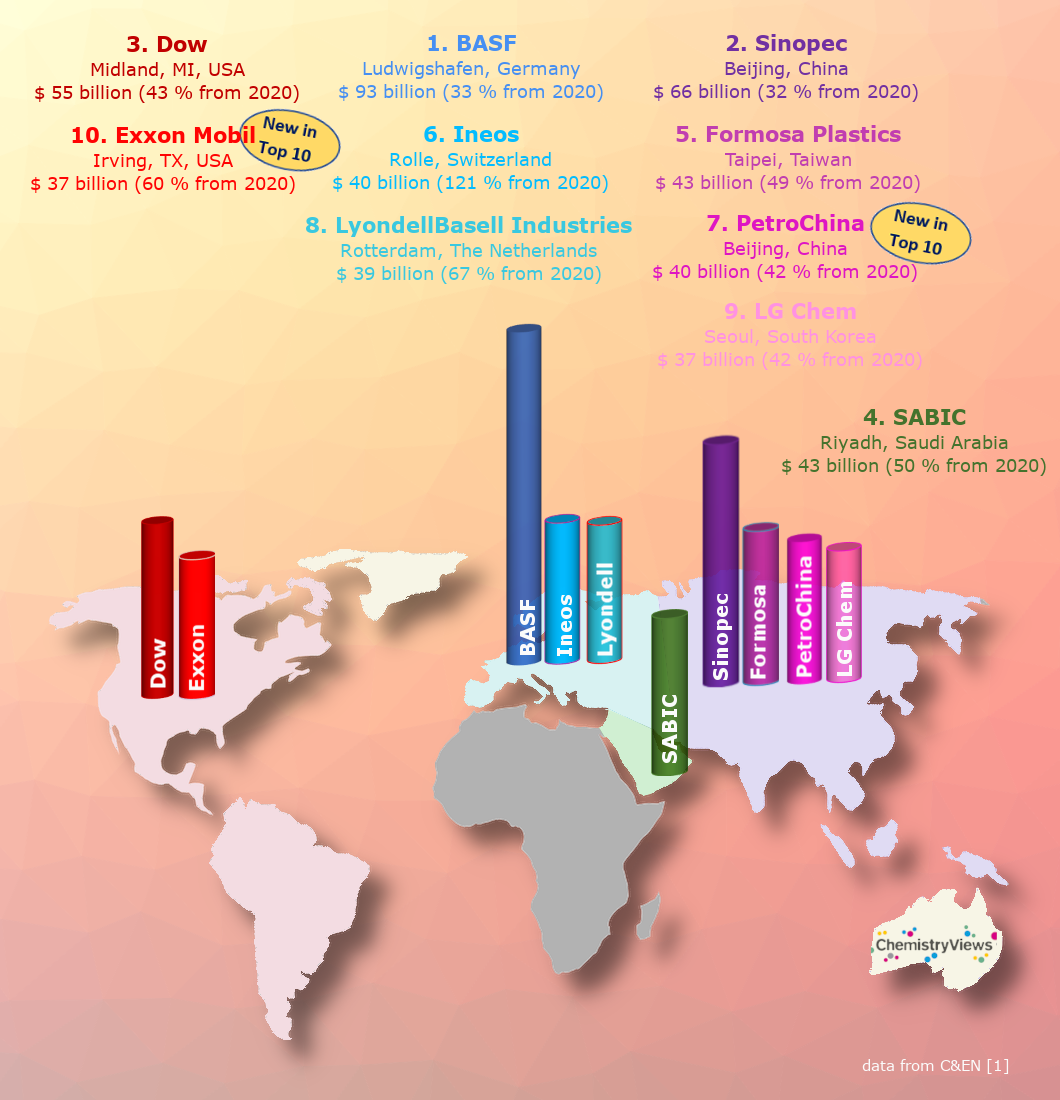 Their Chemical Footprint
The environmental NGO ChemSec has introduced a corporate benchmarking tool called ChemScore. It measures the chemical footprint of 50 of the world's largest chemical companies (based on revenue) annually. The scores are based on the environmental impact and treatment of hazardous chemicals. According to ChemSec's 2021 evaluation, overall, the chemical companies performed worse than in 2020, probably due to the increased production after the recovery from the COVID-19 pandemic [2].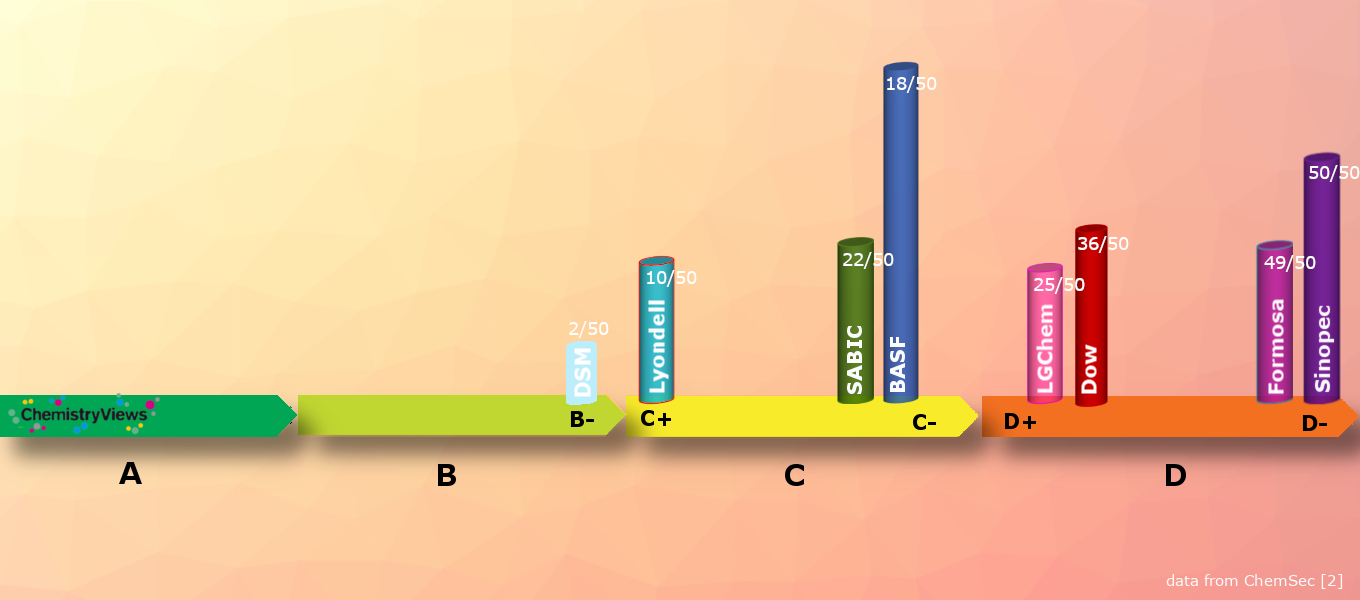 The graphic shows the ChemScores for the top ten chemical companies as far as they are included in the index.
Chemical Sales of Global Top 50 Companies by Continent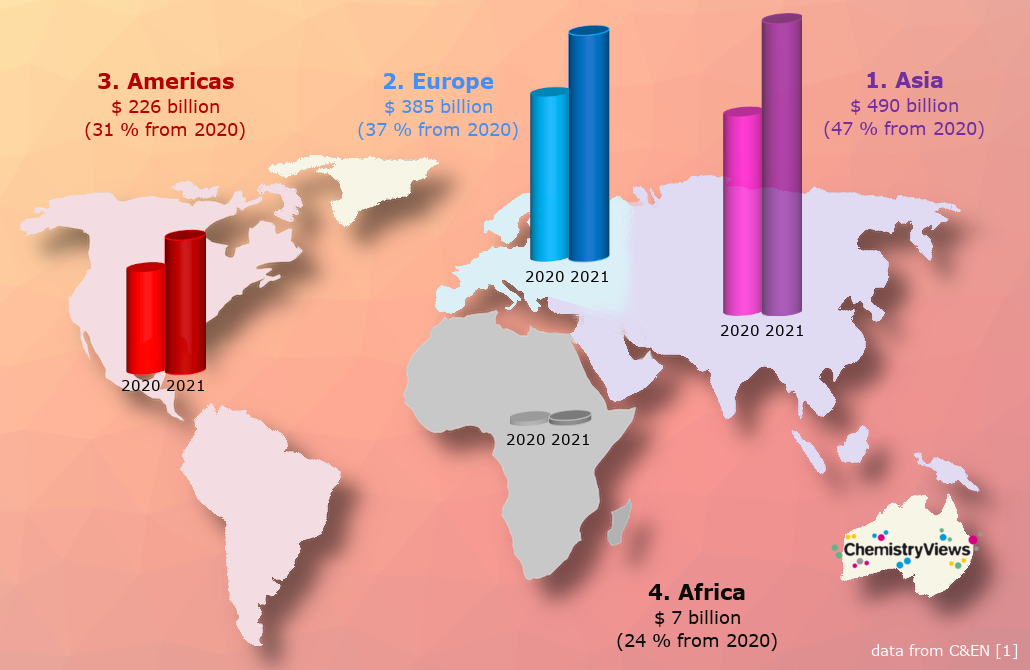 References
[1] Alexander H. Tullo, C&EN staff, C&EN's Global Top 50 – The world's chemical industry has recovered from the COVID-19 pandemic and is now riding the wave of higher prices, C&EN July 25, 2022.
[2] ChemScore Report 2021, ChemSpec June 22, 2021. (accessed July 27, 2022)
---
Also of Interest