Advocating for Diversity
As an organization co-owned by 16 European chemical societies, ChemPubSoc Europe is committed to representation of a diverse community. In this article, editors Kim Meyer (NZ), Sandra González-Gallardo (MX), and Lisa Pecher (DE) explore opportunities for diversity in chemical research today.
ChemPubSoc Europe's editors have worked in universities, research institutes, and companies located all over the world. This amounts to an editorial pool with a diverse workplace experience. Regrettably, not all of it positive. Research suggests that female and LGBTQ researchers, in particular, encounter discrimination and unfair treatment in science, technology, engineering, and mathematics (STEM) fields. Our editors have insight into the challenges faced by researchers and we have the publishing tools to promote excellence in a diverse and inclusive research landscape.
Women in STEM
A June 2018 report by the United Nations Educational, Scientific and Cultural Organization (UNESCO) reveals that women make up a mere 29 % of workers employed in research and development worldwide. Gender parity has not been reached within any of the countries that comprise the owner societies of ChemPubSoc Europe (see Figure).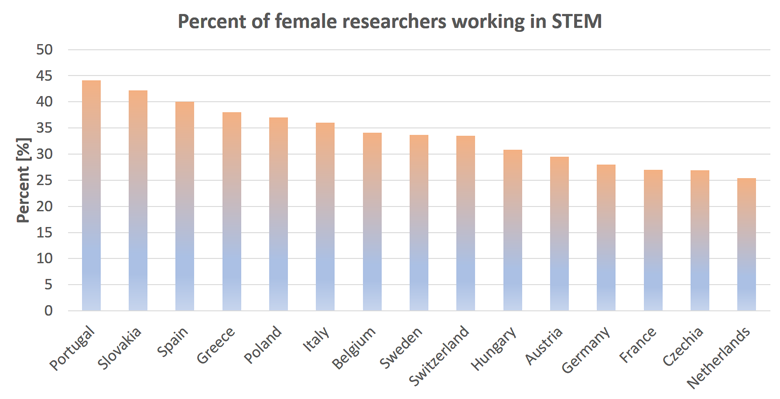 Caption: Percent of female researchers from a headcount of total researchers working in STEM fields within a selection of European countries. Source: UNESCO, Fact Sheet No. 51, Women in Science, 2018, No.51.
The statistics on gender balance in the academic sector are even bleaker. The She figures 2018 report compiled by the Directorate-General for Research and Innovation (European Commission) indicates that women make up a mere 15 % of grade A (e.g., full professor) positions in STEM across Europe. A 2018 Diversity Landscape of the Chemical Sciences report compiled by the Royal Society of Chemistry (RSC) found that only 9 % of professors are female in the UK, even though there is a 44:56 split between women and men at the undergraduate level, and 39 % of graduates who complete doctorates are women.
This pattern of talent depletion—the so-called "leaky pipeline"—has many causal factors that affect women disproportionately. Key among them are a prevalence of short-term contracts that limit the ability to plan and progress, an academic culture that rewards some types of achievement but not others, and inflexible working hours that are not conducive to caring responsibilities. Furthermore, research suggests that psychological phenomena, such as imposter syndrome, are more prominent among female researchers, who are thus less likely to apply for positions for which they are perfectly qualified or to take advantage of promotional mechanisms that could advance their careers.
An overwhelming body of evidence shows that STEM institutions, and publishers, can do more to promote gender parity. As scientific publishers, we take this responsibility seriously and we are committed to a fair research and publishing landscape for all.
In partnership with the German Chemical Society, Wiley-VCH are hosting a networking event at the Weinheim editorial offices titled: Breakfast Symposium: Empowering Women in Chemistry (12 February 2020, 9:30 am to 12:30 pm). This special event explores the challenges in the workplace of many female researchers, and it will lay the groundwork for lasting solutions.
Guest speakers Professors Sonja Herres-Pawlis (RWTH Aachen), Doris Kunz (Universität Tübingen), Ulrike Kramm (TU Darmstadt), and Dr. Hildegard Nimmesgern (Frankfurt) will share their unique perspectives as a basis for stimulating discussion. We will also broadcast video messages from female researchers worldwide.
Are you in the neighborhood? Would you like to join us for this important conversation? Register for this free event by 17 January 2020 at bit.ly/ewc2020.
LGBTQ researchers in STEM
Legal protections for sexual and gender minorities varied widely across the globe in 2019. For many members of the worldwide LGBTQ community it is unsafe, or even life-threatening to be out. Even in developed countries where human rights laws endeavor to serve all citizens, members of this group experience discrimination and are, essentially, prevented from participating fully in society.
This situation also applies to LGBTQ scientific researchers who might experience discrimination and other types of marginalizing attitudes in the workplace. A survey— Exploring the workplace for LGBT+ physical scientists—carried out by the Royal Society of Chemistry (RSC), the Institute of Physics, and the Royal Astronomical Society, found that 28% of LGBTQ physical scientists in the UK and Ireland had considered leaving their careers because of discriminatory experiences. And almost a third had witnessed exclusionary behavior, such as insensitive humor or inadequate policies on harassment. The 2019 report highlights three key strategies for fostering a healthy workplace environment: a visibly welcoming community, inclusive workplace policies, and training at all levels.
You've got to walk the walk to talk the talk…
…And in its actions and words, ChemPubSoc Europe is striving for a fair playing field. We have reached gender parity at senior positions, with an even gender split in Editors-in-Chief of our 16 titles. We are part of a publishing group that is recognized for its diversity and inclusivity. In the workplace, our editors are supported by working groups for diversity and inclusivity, and LGBTQ pride, and our leadership aspires to an environment that is welcoming to all.
Equality in chemistry has come a long way…
…And it can go even further. Despite great progress, historical practices and hierarchies continue to impede the career paths of deserving individuals. Diversity means equal representation of ideas in a world faced with dire challenges in health, energy, technology, and the environment, among others. To capitalize on all available talent, diversity in chemistry must become a code that we live by.