Annual Report                                                                     ChemPubSoc Europe Newsletter Issue No. 4
Content


Hello, Grüezi, Ahoj, Salut, Hallo, Ciao, Hoi, Cześč, Olá, ¡Hola!, Hej, Γεια σου!

The Story of ChemPubSoc Europe – A Fairy Tale Come True!
Once upon a time – in the mid-nineties of the last century – 16 continental European national chemical societies published 14 chemistry research journals in print, many of which were subsidized. Despite all the efforts undertaken and some small successes, the journal brands and their relevance kept fading. These were hard times for the once-leading continental Europe's chemical publishing societies – nonetheless, there were pragmatists with a vision like J.-M. Lehn, H.D. tom Dieck, R. van der Gracht, H. Thun, L. Oro, J. Bäckvall, P. Drašar, M. Juliard, A. Kálmán, N. Kazaros, and professional chemists at a longstanding society publishing house, now known as Wiley-VCH.
A cornerstone was laid in 1995 with the launch of Chemistry-A European Journal, in alliance with Angewandte Chemie. A little later, one journal after another was merged, resulting in the European Journal of Inorganic Chemistry  and European Journal of Organic Chemistry. Soon after, building on the foundation of various national specialized journals, the rise of the ChemXChem journals began and ChemPubSoc Europe started to thrive.

Made in Europe for the World – By the World
Made in Europe for the world – by the world! Close to 60 editorial staff-members from 15 nations, over 30 of whom have PhD degrees, work on ChemPubSoc Europe titles and have connections to further countries via post doc experiences and families. This is a unique assembly of knowledge and cultures. You can find, for instance, a Turkish editor chatting in Italian at a national conference, or a British editor talking fluently on the phone in Spanish, French, or Swedish. Altogether there are more than 500 years of experience in publishing and much more in community knowledge! These numbers do not include marketing colleagues in various locations who dedicate their time to ChemPubSoc Europe titles. Back in 1998 of the 13 multilingual colleagues, half were PhD graduates, and only four nationalities were represented.

Society Driven with Global Advice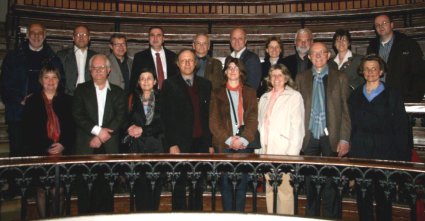 Equally important are the 16 societies and nearly 700 active researchers in their function as editorial board members who are guiding and advising the in-house editors in their daily work. Without them the story of ChemPubSoc Europe would not be such a successful one and once again the mix is crucial to the philosophy; 53% of the editorial board members are based in Europe, the remaining 47% are distributed all over the world. Home base is strong but the wider context is equally in view.
Board Members: We would like to name the board members who retired from their function at the end of 2012 and express to them our special thanks representative for all the members – and welcome the incoming scientists:
Stepping down

Stepping up

Maurizio Peruzzini (EuJIC)
Istituto di Chimica dei Composti OrganoMetallici, CNR, Italy

Enzo Alessio (EuJIC)
Università degli Studi di Trieste, Italy

Ulrich Simon (EuJIC)
Rheinisch-Westfälische Technische Hochschule Aachen, Germany

Lutz Gade (EuJIC)
Universität Heidelberg, Germany

Max Malacria (EuJOC)
Université Pierre et Marie Curie, France


Jean Rodriguez (EuJOC)
Aix-Marseille Université, France

Dan Nocera (ChemSusChem)
MIT, USA

Licheng Sun (ChemSusChem)
Kungliga Tekniska högskolan, Sweden

Xinhe Bao (ChemCatChem)
Dalian Institute of Chemical Physics, CAS, China

Hermenegildo García (ChemCatChem)
Universitat Politècnica de València, Spain

Robert Davis (ChemCatChem)
University of Virginia, USA

Marc T. M. Koper (ChemCatChem)
Leiden University, The Netherlands

Jeffrey Moore (ChemCatChem)
Merck Research Laboratories, USA

An-Hui Lu (ChemCatChem)
Dalian University of Technology, China

Dirk de Vos (ChemCatChem)
Katholieke Universiteit Leuven, The Netherlands

Jin-Quan Yu (ChemCatChem)
The Scripps Research Institute, USA


Jincai Zhao (ChemCatChem)
Institute of Chemistry, CAS, China
ChemPubSoc Europe Editors Are Where You Are
ChemPubSoc Europe editors are where you are – meet your editor at your conference. On average, a conference is attended once a week. All in all eighty times last year editors have personally visited conferences or symposia all over the world with focus on Europe. And they do not come empty-handed, close cooperation with the societies and conference organisation teams were the start of many sponsoring activities:
poster prizes

lecture prizes

publishing of book of abstracts

free issues of the journal of interest

young researcher awards

invited lectureships

publishing of conference reports

special issues for the conference
Of special note are the many Special Issues born last year during these conferences.

Would You Like to Become an Editor Yourself?
Be a guest editor for a special issue.
Numerous examples have been published during 2012 in close collaboration with scientists from a specific research field:
Guest Editors:
Pier Cozzi, University of Bologna, Italy

Yujiro Hayashi, Tokyo University of Science, Japan
Guest Editors:
Shu-Hong Yu, Univ. of Science & Techn. of China, China

Franklin Tao, Univ. of Notre Dame, USA

Jimmy Liu, Arizona State Univ., USA
Guest Editors:
Rafael Luque, Universidad de Córdoba, Spain

Javier Garcia Martinez, University of Alicante, Spain
Guest Editors:
Vivek Polshettiwar, King Abdullah Univ. of Science and Technology (KAUST), Saudi Arabia

Jean-Marie Basset, King Abdullah Univ. of Science and Technology (KAUST), Saudi Arabia

Didier Astruc, Univ. Bordeaux, France
Guest Editor:
Thomas Wirth, Cardiff University, UK
Sustainability Research in Dalian
Guest Editors:
Tao Zhang, Dalian Instit. of Chemical Physics, CAS, China

Xinhe Bao, Dalian Instit. of Chemical Physics, CAS, China

Can Li, Dalian Instit. of Chemical Physics, CAS, China
Guest Editor:
Uwe Schröder, Techn. Univ. Braunschweig, Germany
Guest Editors:
Thomas Bein, LMU, Germany

Don C. Lamb, LMU, Germany

Jens Michaelis,

Ulm University

, Germany
Guest Editors:
Ralf Ludwig, Universität Rostock, Germany

Edward Maginn, University of Notre Dame, USA

Sundaram Balasubramanian, Jawaharlal Nehru Centre for Advanced Scientific Research, India
Guest Editors:
Harald Fuchs, Universität Münster, Germany

Thomas J. Webster, Brown University, USA

Zhiyong Tang, National Center for Nanoscience and Technology, China

Florian Banhart, University of Strasbourg, France
Guest Editor:
Hans-Joachim Lewerenz, Helmholtz Zentrum Berlin für Materialien und Energie, Germany
Guest Editors:
Paul J. Coleman, Merck Research Laboratories, USA

James C. Barrow, Johns Hopkins School of Medicine, USA
Guest Editors:
Henning Steinhagen, Grünenthal GmbH, Aachen, Germany
Nils Damann, Grünenthal GmbH Aachen, Germany
Fourth EuCheMS Chemistry Congress
6th Spanish-Portuguese-Japanese Organic Chemistry Symposium (6th SPJ-OCS)
Guest Editors:
Amélia P. Rauter,

Universidade de Lisboa, Portugal

Ana Lobo,

Universidade Nova de Lisboa, Portugal

Artur Silva,

Universidade de Aveiro, Portugal

José Cavaleiro,

Universidade de Aveiro, Portugal
Cooperative & Redox Non-Innocent Ligands in Directing Organometallic Reactivity
Guest Editor:
Bas de Bruin, University of Amsterdam, The Netherlands
Guest Editors:
Rinaldo Poli, LCC, CNRS Toulouse, France

Philippe Kalck, LCC, CNRS Toulouse, France
Guest Editor:
Mauro Botta,

University of Piemonte Orientale, Italy
Trends in Advanced Complex Inorganic Nanomaterials

Guest Editors:
Yann Garcia, Université Catholique de Louvain, Belgium

Bao-Lian Su, University of Namur, Belgium, University of Cambridge, UK
Modern Coordination Chemistry and its Impact for Meeting Global Challenges
Guest Editors:
Debbie Crans,

Colorado State University, USA

Franc Meyer,

Georg-August University, Germany
Organic-Inorganic Hybrid Materials: Design and Applications
Guest Editors:
Markus J. Buehler, MIT, USA

Pierre Rabu, IPCMS Strasbourg, France

Andreas Taubert, University of Potsdam, Germany
ChemPubSoc Europe Journals Reach Researchers from All Over the World!
ChemPubSoc Europe selected a publisher that can bring your research to chemists all over the world. A sales team of more than 100 colleagues, one of the largest in global publishing which is rooted in 50 different locations and spread across 22 countries, ensures that all ChemPubSoc Europe journals are offered and sold to more than 40,000 institutional customers. The sales colleagues build an extensive network throughout North and Latin America, Asia, Europe, the Middle East, and Africa to bring your ChemPubSoc Europe publication ever closer to researchers around the globe.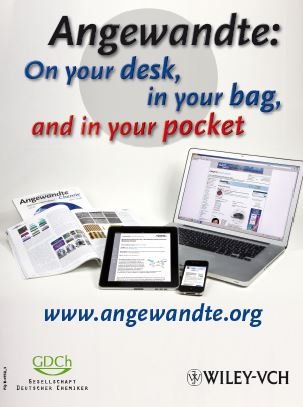 Quality Counts – Major Innovations and Experiments in 2012
Open Access (OA): As early as 2010 all ChemPubSoc Europe journals have enabled authors to publish articles with free access to all readers (OA) via Online Open in an Author/Funder-pays mode. The uptake in 2012 continued to be below 1% of all published articles. Although the demand to publish OA within the chemical communities has been very low, ChemPubSoc Europe decided to experiment further and started the first society-owned peer-reviewed OA journal ChemistryOpen in 2012. Thirty-two articles and one thesis were published – the rejection rate was 31% and in most cases the Article Publication Charge was waived.

Fully E: A second brave and so far unrivaled experiment was the redesign of well-established ChemPubSoc Europe journals to be fully electronic, offering free color and, of course, print-on-demand services. As this demands a totally different mindset, many, many changes had to be thought of, implemented, and communicated regarding workflows, layout, archiving, marketing and sales, abstracting and indexing, and so forth.

Article Anywhere: As a landmark pilot innovation for ChemPubSoc Europe journals the Angewandte App was developed and tested thoroughly. The layout was turned upside down to create an optimal format for new mobile-adapted functionalities supporting fast perception and browsing. An avid reader wrote: "I use the Angewandte app all the time. I love it! It's great to be able to download entire issues for offline reading." (Phil Baran, The Scripps Research Institute)

Quality First – ChemPubSoc Europe's Imperative
The decision to completely revamp publishing on the shoulders of one of the giant chemistry brands in support of its cultural heritage proved to be right and a convincing course of action.
In 2012 the numbers of submissions and published articles increased once again at double-digit rates while the quality was maintained. Downloads, and even more important citation rates, grew at significantly higher rates. The editors reported in their editorials that speed of publication reached new records.
Quality and Sustainability
2012 saw the smooth transformation of Czech's Chemical Communications (founded in 1929) into ChemPlusChem; 132 papers were published, 197 rejected. This is just another example of ChemPubSoc Europe / Wiley-VCH's unique vision for responsible and sustainable publishing. Other successful examples are, to name but a few, ChemSusChem, ChemMedChem, and ChemPhysChem.

Continuous good service and growth sells, and the societies reap the benefits. 2012 brought record-high royalties. This income allows the societies to offer more and better services for all their members, be it at national, European (such as the EuCheMS), or global level.

The free ChemPubSoc Europe e-magazine ChemViews embedded in ChemistryViews.org helps not only to bring European chemists together – at the same time it offers BRIC countries as well as less developed countries the chance to widen their global chemistry view. 2012 saw another boost of its usage, according to the countries count statistics most traffic comes from the US – followed by Germany, India … yet more proof of relevance.
Future – Changing World
2012 was a very successful year for ChemPubSoc Europe, but we live in a changing world, and there is no time to rest on our laurels. Our intention is to press ahead for the benefit of our members and good chemistry. Some examples:
ChemPubSoc Europe listens to its communities and in 2012 prepared for the start of ChemElectroChem. It also supported and accompanied the efforts of Wiley-VCH to invest in assets of the former Leibniz Institute FIZ Chemie Berlin and to revitalize its products and services such as RXFinder. This application will help chemists to find clever solutions faster for challenging reactions and syntheses.

Asia: As our World is becoming more global and more complex, ChemPubSoc Europe cooperates with ACES, a similar organisation of Asian chemical societies. In 2012 the Asian Journal of Organic Chemistry was launched, supported by the European Journal of Organic Chemistry and Angewandte Chemie.

The aim is to foster mutual understanding and support joint chemical innovation. In this spirit Wolfram Koch, one of the four presidents of ChemPubSoc Europe, attended the ACES meeting, while, for instance, Christian Amatore continuously visits many Asian countries building bridges and acting as ambassador for the ChemPubSoc Europe journals.
We thank all authors, referees, society members, and readers for their trust in ChemPubSoc Europe publishing.
Thank you, Merci, ¡Gracias!, Danke, Grazie, Tack, Bedankt, Obrigado, Dziękuję, Köszi, Ďakujem, ευχαρΙστω!

With best regards,

| | | | |
| --- | --- | --- | --- |
| Francesco de Angelis | Christian Amatore | Wolfram Koch | Luis Oro |
Creative & Innovative ChemPubSoc Europe Publishing powered by Wiley-VCH