The winners of the first Science Slam in Karlsruhe, Germany, were Björn Waterkotte and Dorothea Helmer, PhD students from the Karlsruhe Institute of Technology. ChemistryViews talked to them about their involvement with Science Slams and their presentation on how to make proteins happy.
How did you hear about the Science Slam?
Björn: I first heard about the Science Slam at lunch with a colleague, he's working at the institute at nanotechnology and we're frequently meeting to have lunch together.
Doro: I had not heard about it before – Björn introduced it to me.
Are there any requirements you have to meet to attend?
Björn: The basic idea is to have PhD students presenting their work. You should present something you're working on or did work on.
Doro: I think the perfect prerequisite is the desire to entertain the audience.
Was it hard to come up with an idea of what to present?
Björn: For me it was not too difficult to think of what to present. Since I started to study I am – as many other academics possibly are – always faced with the problem of explaining to friends and relatives that are not working in science what exactly I'm doing all day long. It's worse when not even the working title of my PhD thesis gives people a hint of what I do. So I decided to bring this topic up first so the result would also be something I can use in everyday life.
Doro: I found it extremely hard to think of something that would be entertaining, funny and yet informative. I tried to think of how to combine that in a presentation of my own doctoral thesis, but I did not succeed. So I was pleased when Björn offered me the role of the protein. We then met to work on the presentation and combined our best ideas. When you have a basic idea of what you want to do, it is rather easy to create the environment.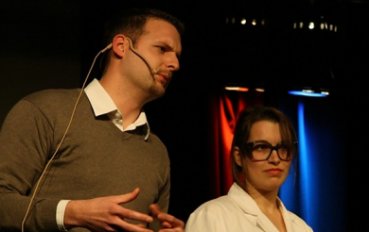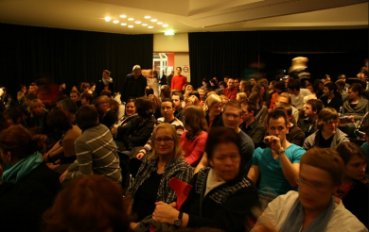 Björn and Doro present to a full house. © www.entdecke-karlsruhe.de
So, what did you present? Could you please give a brief description of your presentation?
Björn: Our presentation was dealing with the topic of my PhD thesis, "Screening and Optimization of Linkers for Specific Immobilization of Biomolecules". The practical approach to it was the example protein – Doro – that was choosing from an array of shoes. Depending on the circumstances, e.g., her walk to work or a date with George Clooney, she was choosing between different shoes and was thus immobilized on different shoe-surface-chemistries depending on the conditions.
Why do you think you were so successful?
Björn: To my mind, the key was to find a model people can relate to. The basic idea was to break down a scientific task to an everyday situation. Specifically coupling proteins to a surface is a hard task, depending on buffer conditions, temperature, regio- and chemo-selectivities certain immobilization events might differ drastically. The choice of a protein can be hard to determine in advance. The problem of choosing the right pair of shoes is a challenging problem many people, man and women, directly or indirectly face every day. So why not bring those two problems together?
What was most exciting for you?
Björn: It was fun creating the spectacle together with Doro in an iterative process. We tried different things and did short tests with some colleagues at our institute. Some of the fun we had in developing the play probably found its way onto the stage which made it a good performance.
Doro: Being on stage and making the people laugh, of course!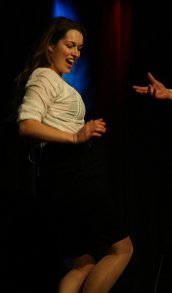 Doro shows the audience how a protein rocks. © www.entdecke-karlsruhe.de
Who else attended the event?
Björn: The event was attended by many students from all semesters, but also by senior people that were interested in the new format I guess. The organizer managed to completely fill the venue. It was a good mood and a nice evening overall.
Which presentation – except yours, of course – did you like best?
Doro: I was really impressed by Tobias, a physicist who presented a very funny and entertaining work about how to make computer graphics look real with the minimal amount of processor effort. I also liked the young man who talked about social work. That was a real 'Gesamtkunstwerk' (synthesis of the arts)! He played the guitar, he read a story, he presented transparencies, he had music clips … It is really impressive what some people come up with.
Björn: Well not much to add. Tobias and his hippo-friend Nils were also among my favorites. I liked the diversity of the participants and the wide spectrum of topics, from computer games to the factor of time in a student's life to physico-chemical aspects of cleaning.
Were there any differences in how participants from different sciences presented?
Björn: Generally many performers in science slams are using power-point-based presentations. I always liked the show part of lectures best. My aim was to bring more action and more fun to the stage to make the explanation more vivid than it could possibly be with a presentation. Since the topic also was a problem of three-dimensional molecules, why not use nice to look at three dimensional models, such as Doro!
Do you have any tips for somebody who plans to participate in a Science Slam?
Björn: Have fun when you try to think of something you want to present. Don't be too systematic in developing – be creative.
Doro: Yes, have fun!
Will you take part in another Science Slam? If so, when?
Björn: Probably yes. We've been invited to Freiburg in May.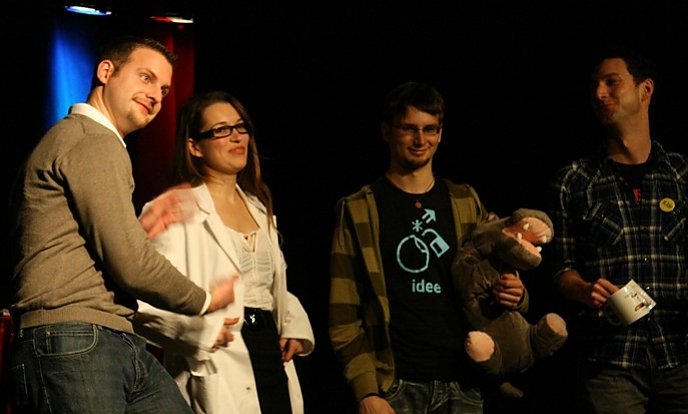 And the winner is ... The finalists take the stage for the award ceremony. © www.entdecke-karlsruhe.de
Why should people attend?
Doro: A science slam is very entertaining; you can learn some stuff and get an insight to what people do. Moreover, it is a social event. People in the audience have to talk to each other and advise on the score for the participant. Science Slam not only makes people think, it also makes them talk to each other.
Björn: It's a lot of fun to watch and in the best case you're being entertained and can learn something. Curiosity and humor, a strong combination of human needs, and a science slam can fulfill them.

Björn and Doro show off their award.
How to Make Proteins Happy: A short description of Björn Waterkotte and Dorothea Helmer's presentation
Proteins are only human. And pretty vain. That is why they are by no means pleased to go to work in comfortable but unattractive shoes every day. Of course, it is a whole different situation when a rendezvous is in sight: Out of the lab coat and right into the high heels! Different conditions make for different stages of happiness.
That is how the two Science-Slammers from Karlsruhe, Björn Waterkotte and Dorothea Helmer, present a generally understandable explanation of Björn's doctoral thesis "Screening and Optimization of Linkers for the Specific Immobilization of Biomolecules". While Björn presented an entertaining and informative speech, Dorothea showed some acting skills in the protein-scenes and demonstrated with a small assortment of shoes (the "array") the strong attractive force of the perfect footwear (the "linkers") on women (or proteins). – Dorothea Helmer
---
Also of interest
First Science Slam in Karlsruhe
Interview with Falko Brinkmann, organizer of the Karlsruhe Science Slam
Science Slams
Are you interested in presenting your results in an enjoyable and comperehensible way in front of a broad audience?