Dr. Stefan Röhrs has worked as a scientist at the Musées de France, The British Museum, and is now at the National Museums of Berlin. He talks to Dr. Vera Köster of ChemistryViews.org about his connection to chemistry and his career path into the museum.
Please tell us a bit about how your career has developed.
I began to study chemistry in the 1990s in Hamburg, Germany. I never had the ambition to work for the big chemical companies where nearly everybody else applied. This was perhaps an effect of the public discussion of the environmental effects of the chemical industry triggered by the chemical disasters in Seveso, Italy, and Bhopal, India, in that time. I had a certain interest in archaeology and I took some archaeology courses along with my chemistry courses. This led to the combination of the two topics in my thesis on material analysis and provenance investigations on bricks made in the Berlin area in the 19th century. It was also the start of my work as a chemist in the field of cultural heritage.
What do you do in your current position?
I'm deputy head of the Rathgen-Forschungslabor (Rathgen Research Laboratory) at the Staatliche Museen zu Berlin (National Museums in Berlin). Our laboratory carries out scientific research and analysis for museums in Berlin and for other institutions.
How much of your job is related to chemistry?
Very much. A knowledge of chemistry and analytical chemistry is the basis of our work in the laboratory. Besides the analytical aspects, a knowledge of chemistry is needed to understand material properties, production techniques, or alteration phenomena.
What other skills do you need?
Working as a scientist in a museum means that you need to understand the work of the conservators and curators. This is important because the most satisfying results are the ones you obtain as a team.
If you are looking as an interdisciplinary group at an object, everybody is looking from the perspective of his/her own expertise. The curator sees the artistic value or the cultural significance of the object. The conservator sees the state of preservation and manufacturing or working processes. As a chemist I see the material composition and physical properties. To really understand the object and its significance you need to capture it from all perspectives.
What problems or decisions do you deal with regularly?
We field many requests from museums and external institutions. One problem is to organize the workflow in the most efficient way. It is easy to get far too involved in one analytical request just out of curiosity and thus forget another one.
What do you enjoy most about your job?
There is no routine in this job. Each day holds new surprises for you.
Are there any aspects you would like to be different?
I would like to have more colleagues in our laboratory. I'd also like to have more time for research.
Why did you decide to move from academia to this job?
That was quite an easy decision. To work in a museum as a scientist was precisely the job I was looking for after my time at university.
What was most challenging?
One challenge was to become an "all-rounder". Our museums deal with all sorts of materials: from stone to paintings to modern plastics. Therefore, a good knowledge of all cultural heritage materials is needed in the laboratory.
Also the palate of analytical equipment used in our laboratory is broad: starting from microscopy, to electron microscopy, X-ray fluorescence, X-ray diffraction, atomic absorption spectroscopy, infrared spectroscopy, Raman spectroscopy, GC-MS, and ion chromatographic methods. Unfortunately, we have more analytical methods than staff which means that you have to work in multi-tasking mode.
What advice would you give to students pursuing a job in this area?
Learn everything you can and learn it well. A good scientific background is key.
Did you need to specialize in a certain field or is a general chemistry background sufficient?
I specialized in inorganic and analytical chemistry. A Ph.D. was a requirement to apply for my position. It was certainly an advantage for me that I specialized in conservation sciences for my Ph.D.
In the everyday work for this position, it is important to know how to carry out a scientific study.
Thank you very much for giving these insights into your job.
---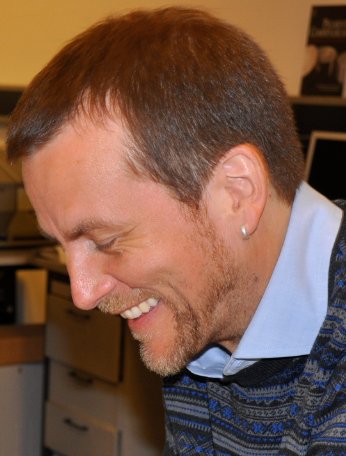 Stefan Röhrs studied Chemistry at the University of Hamburg, Germany, and finalized his Ph.D. with the thesis titled "Authenticity Investigation on Limoges Painted Enamels by Means of Micro X-ray Fluorescence Analysis" at the Technical University, Berlin, Germany, in 2003.
After a postdoctoral stay at the Centre de recherché et de restauration des Musées de France (C2RMF) CNRS – UMR 171 from 2005 to 2006, Röhrs worked as a scientist from 2007 to 2008 on the material analysis of glass and other vitreous materials for archaeometric and conservation studies at the Department of Conservation and Scientific Research at The British Museum, UK.
Since 2009 Röhrs has been a scientist at the Rathgen Research Laboratory at the National Museums in Berlin, which is part of the Stiftung Preußischer Kulturbesitz (Prussian Cultural Heritage Foundation).
Selected Publications
It carries forward research laboratory – Preservation Sciences, Art Technology Research and Archaeometr,
Stefan Roehrs, Stefan Simon,
Archaolog. Nachrichtenbl. 2011, 16 (1), 61–64.
Development of a nondestructive method for underglaze painted tiles-demonstrated by the analysis of Persian objects from the nineteenth century,
Ina Reiche, Stefan Roehrs, Joseph Salomon, et al.
Analytic. Bioanalytic. Chem. 2009, 393 (3), 1025–1041.
DOI: 10.1007/s00216-008-2497-7
Spatially resolved element analysis of historical violin varnishes by use of µPIXE,
Alex von Bohlen, Stefan Rohrs, Joseph Salomon,
Analytic. Bioanalytic. Chem. 2007, 387 (3), 781–790.
DOI: 10.1007/s00216-006-0777-7
ArtTAX – a new mobile spectrometer for energy-dispersive micro X-ray fluorescence spectrometry on art and archaeological objects,
H. Bronk, S. Rohrs, A. Bjeoumikhov, et al.,
Fresenius J. Analytic. Chem. 2001, 371 (3), 307–316.
DOI: 10.1007/s002160100989
---