1. Introduction
The European Young Chemists' Network (EYCN) was founded in 2006 to represent the younger members of the European Association for Chemical and Molecular Sciences (EuCheMS). Every chemist under the age of 35 within the EuCheMS framework becomes, automatically, a part of the EYCN. Today, the EYCN represents 26 European chemical societies from 22 different countries. We also collaborate with one affiliated member society: the American Chemical Society (ACS).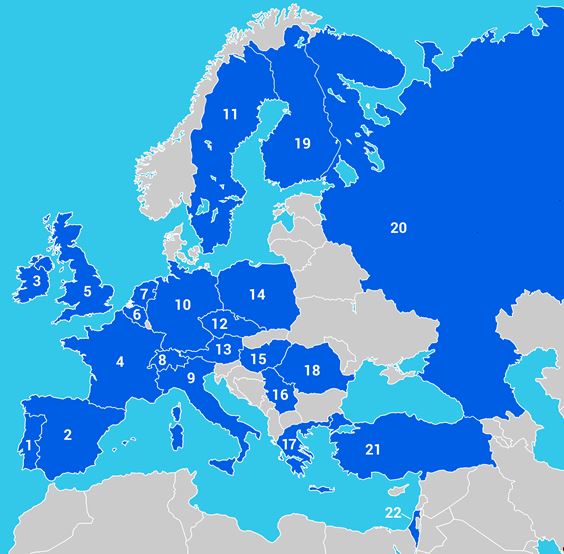 Figure 1. The EYCN represents the young sections of 1: Portuguese Chemical Society (SPQ) and Portuguese Electrochemical Society (PES); 2: National Association of Chemists of Spain (ANQUE) and Royal Society of Chemistry of Spain (RSEQ) and Spanish Society of Analytical Chemistry (SEQA); 3: Institute of Chemistry of Ireland (ICI); 4: French Chemical Society (SCF); 5: Royal Society of Chemistry (RSC); 6: French Belgian Society of Chemistry (SRC) and Royal Flemish Society of Chemistry (KVCV); 7: Royal Netherlands Chemical Society (KNCV); 8: Swiss Chemical Society (SCS); 9: Italian Chemical Society (SCI); 10: German Chemical Society (GDCh); 11: Swedish Chemical Society (SCS); 12: Czech Chemical Society (CCS); 13: Austrian Chemical Society (GÖCh); 14: Polish Chemical Society (PTChem); 15: Hungarian Chemical Society (MKE); 16: Serbian Chemical Society (SCS); 17: Association of Greek Chemists (AGC); 18: Romanian Chemical Society (SChR); 19: Finnish Chemical Society (FCS); 20: Mendeleev Russian Chemical Society (MRCS); 21: Chemical Society of Turkey (CST); 22: Israel Chemical Society (ICS).
Although the EYCN is a huge association, it is difficult to give an exact number of members as we do not require any registration. However, taking into account the data from the different European societies, we can estimate our membership at 35,000 young chemists.
2. EYCN's Official Meeting: The Delegates Assembly
In Budapest, Hungary, in 2006 two chemists (Jens Breffke and Csaba Janaky) had a fantastic idea: to create a European young chemists' association. Their dream became true just a year later when the EYCN was officially created in Berlin, Germany, (2007) and Janaky was elected as the first Chair of the EYCN.
Every member society directs a candidate that represents them in the EYCN: they are called the delegates. Once a year, the delegates meet during the Delegates Assembly (DA), which is also attended by representatives of affiliated societies (i.e., the Young Chemists' Committee of ACS). During the DA, several topics are addressed: organizing our satellite events at EuCheMS conferences, preparing career days and, most recently, the delegates focused on putting together the first European Young Chemist Conference (EYCC). Moreover, we make the most of our DA reunions by organizing soft-skills workshops for our delegates. These workshops also create new connections between the speakers and our members, and often result in further collaboration.
Since its creation in 2007, the EYCN has celebrated ten DAs around Europe. Madrid (Spain), Essen (Germany), Untervatz (Switzerland), Murzashicle (Poland), Aveiro (Portugal), Saint Petersburg (Russia), and Bucharest (Romania) have hosted the assembly. Every DA was a great achievement for the EYCN, but the last reunion (Berlin, 2015) became a huge milestone for our society. The last DA in Berlin closed a circle.
Thanks to the hard work of young chemists across Europe and a close collaboration with the EuCheMS President (Profesor D. Cole-Hamilton), the EYCN was able to partner with one of the biggest industries in Europe: EVONIK. Thanks to this new collaboration, we have become more independent, and will have a dedicated budget to promote chemistry among young Europeans. We are already planning the next reunion in Guimarães, Portugal, in April 2016, prior to the first EYCC.
3. A Ten-Year Trip until Today
In 2006, two young chemists started dreaming about a European young chemists' society. Only one year later, during the first DA in Berlin, their dream came true. Twelve societies were represented to elect the first EYCN board: Emma Dumphy (Secretary), Cristina Todasca (Communications Officer), Jens Breffke (Sponsor Relations Officer), and Juan Luis Delgado de la Cruz (Treasurer) teamed up with Csaba Janaky, our first Chair. A year later, Emma Dumphy resigned and Helena Laavi was elected as the new secretary during the DA in Madrid, Spain. During our third DA (2009, Essen, Germany) the board structure was completely changed to become more efficient. The number of duties and members had increased enormously. Thus, a new team was elected: Sergej Toews (Chair), Helena Laavi (Secretary), Viviana Fluxa (Relationships with Industries), Dan Dumitrescu (Communications), and Ilya Vorotyntsev (Scientific Affairs). In 2010 Sergej Toews stepped down and Viviana Fluxa was elected as Chair. The new team was responsible for organizing a number of events during the third EuCheMS Chemistry Congress in Nurnberg, Germany. In 2011 (Murzashicle, Poland) the societies voted for a new board. Viviana Fluxa was confirmed as Chair. The rest of the team included Cristina Todasca (Secretary), Lineke Pelleboer (Relationships with Industries), Guillaume Poisson (External Communications), and Aurora Walshe (Membership and Internal Communications). Also, Magorzata Zaitz started working on our website.
The delegates will always remember the next DA (2012) that took place in Aveiro, Portugal. This was the starting point of a newly defined, and still present, board organization. At this point, the EYCN had no sponsors or budget and, therefore, found it necessary to reorganize their structure. The paper in Figure 2 was the starting point of a new era for the EYCN. The current role and the needs of the EYCN were clearly defined back in Aveiro. The new board was organized into teams that would solve the needs of the EYCN (now quite a bit bigger) more efficiently.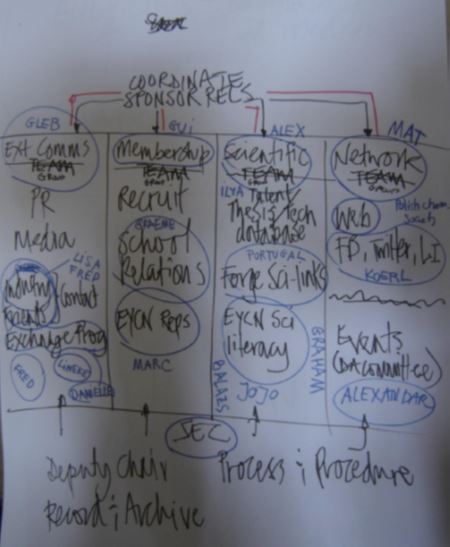 Figure 2. The starting point of a new era for the EYCN.
In Aveiro, Cristina Todasca was elected as Chair and Aurora Walshe as Secretary. Four new teams were defined: External Communication, Membership, Scientific, and Network. Each team would have its own leader that represents the team in the Board. Moreover, delegates would become part of teams. This new structure was proven successful during the fourth EuCheMS congress in Prague, Czech Republic, (September 2012), where the EYCN organized a three-day career event.
Since Aveiro, the EYCN has maintained this organizational, team-based structure. Only one year later, in Saint-Petersburg, Russia, a new board was elected to manage the EYCN for the following two years: Frederique Backaert (Chair), Aurora Walshe (Secretary), Vladimir Ene (Scientific Team Leader), Lisa Phelan (External Communications Team Leader), Koert Wijnbergen (Membership Team Leader), and Anna Stefaniuk-Grams (Networks Team Leader). During the ninth DA in Bucharest, Romania, the new team organized several events (such as career days and conference sessions aimed at young chemists) for the fifth EuCheMS Chemistry Congress in Istanbul, Turkey (2014).
Nine years after the creation of the EYCN, we were brought full circle back to Berlin. During the Berlin DA a new board – the current board – was elected: Fernando Gomollon-Bel (Chair), Camille Oger (Secretary), Oana Fronoiu (Scientific Team Leader), Sarah Newton (External Communications Team Leader), Emanuel Ehmki (Membership Team Leader), and Michael Terzidis (Networks Team Leader). Almost 20 societies were represented during the DA in Berlin as you can see in Figure 3.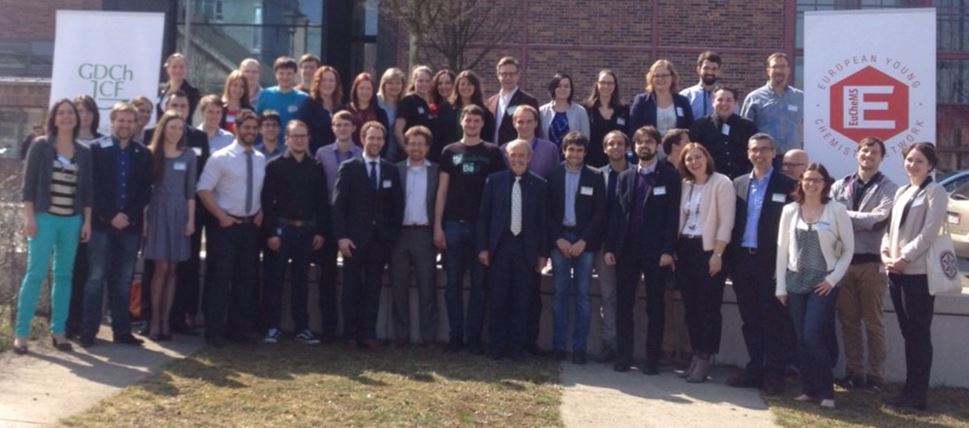 Figure 3. The current board of EYCN.
4. EYCN Events and Prizes
It may seem that the EYCN focuses only on organizing the DA once a year. But our work goes far beyond that. We work hard to connect young chemists around Europe and above all, to communicate about chemistry and to help students to find their way in both industry and academia.
a) ECC Satellite Event
Every other year, our parent society EuCheMS organizes the EuCheMS Chemistry Conference (ECC). Thousands of researchers and industry representatives attend these meetings. The EYCN has always been a big part of them. During our DAs and throughout the year, the delegates and the board work hard to put together a satellite event at ECC with the best speakers, workshops, and cultural activities for young chemists.
b) Career Days
Students are the future of science. The EYCN strongly believes that aiding them with career development is crucial to ensure the future of European scientific and industrial progress. Hence, the EYCN organizes career days located at European universities and symposia. These workshops include talks from experts, CV (or resume) clinics, and coaching for students. Former delegates often ask the EYCN and representatives to provide speakers, or put together career days for their local universities or societies.
c) Networking
The EYCN has delegates from more than twenty different countries and more than 30,000 members across Europe. Thus, our networking possibilities are almost boundless. Moreover, we have connections (and former EYCN members) in industry, thereby allowing members to gain insight into life in industry and academia.
d) Awards
As a way to encourage excellence among European students, the EYCN coordinates several prizes. The most important of them is the European Young Chemist Award (sponsored by the Società Chimica Italiana and the Consglio Nazionale dei Chimici) awarded every two years during the ECC. It consists of three medals (one gold and two silver) in two different categories (PhD and postdoctoral) and a cash prize for outstanding students. In collaboration with the American Chemical Society (ACS)'s Younger Chemists Committee (YCC), the EYCN also organizes the Young Chemists Crossing Borders (YCCB) award, which allows the European winners to travel to the ACS National Meeting and Exposition and American students to attend the ECC. In addition to this, we are proud supporters of poster communication in conferences through the "EYCN Poster Award" program.
e) The First EYCC in Portugal 2016
The EYCN has expanded exponentially since it was created back in 2006. For this reason, and to celebrate our tenth anniversary, we have decided to take one of the biggest challenges we have ever faced: organizing our first EYCC. The Grupo de Quimicos Jovens (SPQ) will open their fifth local conference to European registrations and create a unique meeting point for European chemists.
5. 2015: New Times for the EYCN
2015 is the beginning of a new period for the EYCN thanks to the partnership with EVONIK industries. Since its creation, the EYCN now represents 22 countries. Some countries are still missing, if you are one of them, please contact us!
We cannot predict the future, but we aim to work hard to make the EYCN stronger and ubiquitous. We will focus on communication, not only with our delegates, but also with our members all around Europe. We need to be known and we will take advantage of the latest technologies and social media to achieve this. We aim to establish new partnerships with key industries and societies, and maintain our links with our sponsors EVONIK and YCC-ACS.
6. Acknowledgements
The authors thank Sarah L. Newton for her corrections and improvements of the original manuscript and Nahúm Méndez-Chazarra for his help with the elaboration of the EYCN map.
---
For more information on us or on our activities please check our website, www.eycn.eu, or follow us on Facebook
Do you want to be a part of EYCN? Contact:
Fernando Gomollón-Bel – Chair of EYCN – Royal Society of Chemistry of Spain, [email protected]
Camille Oger – Secretary of EYCN, French Chemical Society, [email protected]
Cristina Todasca – Advisor of EYCN, Romanian Chemical Society, [email protected]
Also of interest: