Every summer, the International Genetically Engineered Machine (iGEM) Foundation organizes a synthetic biology competition for university undergraduates. The competition encourages undergraduates worldwide to design new biological systems to solve world problems, either by constructing their own genetic parts or by improving already existing projects of the iGEM Registry. In October 2016, the teams will participate in the world championship in Boston, USA, where the winners will be announced.
The competition also encourages participants to educate the general public about their project and synthetic biology in general.
Vera Koester, ChemistryViews.org, talked to the Westminster iGEM team from the University of Westminster, London, UK, about the competition, their research, motivation, and visions.
What motivated you to take part in the competition?
iGEM is a world-renowned synthetic biology competition with more than 300 universities attending each year. The fact that it's a student-led project makes it very challenging and intellectually attractive. Taking part is a very rich experience, as you get the opportunity to plan and carry out your own research in a stepwise manner: First you pick a real-world issue to deal with, then do research about it, and carry out lab work. In addition, you have to engage with younger generations and the public through outreach programs, collaborate with other teams, and finally fundraise by contacting potential sponsors. All of these factors motivated every one of us to be part of the team.
How did your team meet?
At our university, the selection of the teams is different every year. This year the team leaders, who select the team for iGEM, were final-year students. Students from different courses and at different levels could apply to become a team member. This year there were more than 30 interested students for ten vacancies.
Synthetic biology is a field that was not covered in our undergraduate degree, so we were interested to learn more about this interdisciplinary field. The team leaders offered special courses throughout the academic year 2015/2016 for everybody interested. The team was then gradually built throughout the academic year. This was advantageous as it is easier to work over a period of five months with people that you are familiar with.
The commitment and enthusiasm shown during the course played a big role in the selection of the team. Other criteria included the quality of your CV.
Can you please describe your project for a broad scientific audience?
In simple words, we are modifying bacteria in a way that they can produce what we want. We want Escherichia coli to biosynthesize aminolevulinic acid (ALA), a nonprotein amino acid. We have picked a few genes from other organisms and are inserting a new pathway to the host by means of the transformation of plasmids. After successfully transforming the E. coli cells with the new plasmids we are going to do fermentation to produce ALA and scaleup in various volumes to assess whether the strain produced is feasible for industrial applications.
ALA has many possible applications, such as anticancer properties – it is already used to treat some forms of skin cancer – and agricultural applications as both herbicides and plant-growth agents. Nowadays, ALA is synthesized in a chemical process that requires high amounts of energy and provides low yields. Thus, using tiny living factories to do the job in a cheap and sustainable way could be the key for a sustainable future.
This project is important as it holds the potential to revolutionize the current chemical methods to synthesize ALA.
What did you enjoy most and what were the main challenges?
It is a great experience to work with other students on a project that we have developed. However, every little aspect is a challenge. For instance, we are constantly dealing with the bureaucratic system, which involves constant paperwork. Before this, we didn't even know it existed – naive, right?
However, the main challenge is that we are undergraduate students with enthusiasm that unfortunately can also express itself as impatience. Eventually, things don't always go how we expect, or as fast as we want them to go. We have big dreams and we want to make it happen, but then reality knocks on our door and we realize that there is so much to learn.
You have to communicate your project to the general public. What do you think is important when communicating science to the general public?
I think it is essential to highlight the importance of microorganisms, and the importance of studying them. Most people have the misconception that all bacteria are bad and harmful. Obviously there are the pathogenic ones, but the majority of bacteria in the world aren't. They can be beneficial, for example, when they help us digest food in our digestive tract, and they can almost be ambivalent to us, for example, the bacteria in our mouths that act as flora. It's also rather amazing that we can work with them, and genetically engineer them to benefit us.
Also there's another misconception that anything that's genetically modified or engineered is seen as bad and harmful.
Do you think scientists need to communicate more/in a different way to the general public?
Yes. In our degrees we are taught to write in an academic format, so it gets really hard to explain scientific stuff in a simple way. It is crucial to communicate to the general public about science because it's important to educate them with up to date research and breakthroughs. Science and technology move the world forward. At the same time, there is a need for public acceptance in certain areas of science.
If we don't do this there won't be funding for research, and then the topic cannot be explored – even though it has potential for future applications. Therefore, explaining its importance might change misconceptions that will enhance the relationship between the public and scientists, and have a beneficial impact in future innovations.
How and where do you inform yourself about science?
We keep up to date with tweets from scientific accounts such as Nature, Elsevier, The Royal Society London, and the Wellcome Trust. And if the topic is something interesting we check them out and read the full article. This also applies to Facebook pages.
We are also members of societies such as The Biochemical Society and The General Microbiology Society, from which we receive magazines and monthly newsletters via email about conferences and recent publications. There is also a social media website for academics where they can upload their publications and you can receive notifications and read it for free.
Where do you think scientific communication is heading?
We believe scientific communication is becoming more informal as the scientific presence keeps increasing on social media. The general public can follow these accounts on Twitter and Facebook and learn something new each day.
We believe it's bringing the public closer to the scientific community and it's becoming easier to access brand new information.
What do you expect from Boston?/ Do you have an idea what the other teams are doing?/ What do you think your chances are in the competition?
In our opinion, we stand a very good chance. Our university won the gold medal last year, and we plan to exceed the standards set by last year's team. We have been working really hard and the results will pay off.
The iGEM teams are very active on Twitter (@iGEM) so we can check how they are doing and how much they have done. This helps us see whether we are ahead or need to catch up. There are really good projects out there being undertaken by skilled teams, but hopefully we will get what we are aiming for.
We think Boston will be both intimidating and intellectually stimulating. It's hard not to be nervous when presenting in front of over 5,000 people, including undergraduate students, Ph.D. students, academics, and CEOs from biotechnology companies, and cameras that are live-streaming to a few more thousand people. Nevertheless, it will be an amazing experience to meet new people, network, and learn more about synthetic biology by watching project presentations from 300 teams.
Anything else you would like to add?
Our research project could have not be done without the extensive support from the University of Westminster, the Quintin Hogg Trust, New England Biolabs, SnapGene, IDT, and Geneious. And we are still looking for sponsors; our fundraising link is: www.gofundme.com/westminsterigem
Thank you very much for the interview and all the best for your project.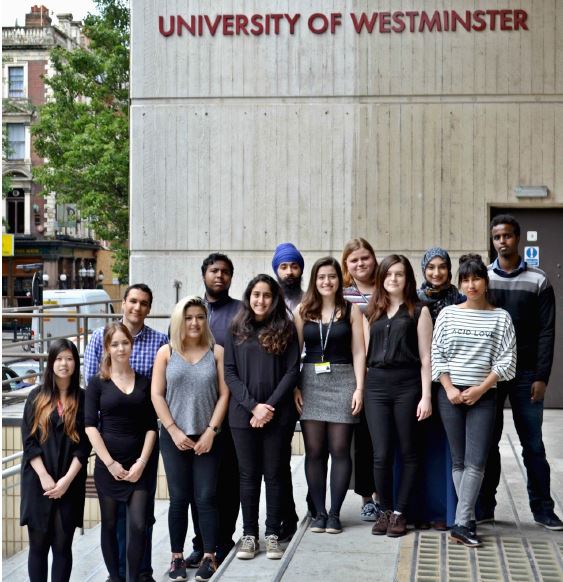 Team picture (left to right): Front Row: Tracey Tran (2nd year Biochemistry), Kamile Minkelyte (2nd year Pharmacology and Physiology), Hanna Sowar (2nd year Biological Sciences), Sally Al-jurdi (BSc (Hons) Molecular Biology and Genetics)*, Camila Gaspar (BSc (Hons) Biochemistry), Maria Puiu (BSc (Hons) Microbiology), Evelyne Abrazado (2nd year Microbiology)
Back Row: Reza Sarwary (2nd year Biomedical Science), Abdikarim Ahmed (2nd year Biochemistry), Amritpal Singh (BSc (Hons) Biochemistry), Paulina Brajer (BSc (Hons) Molecular Biology and Genetics), Reema Ali (2nd year Biochemistry),
Abubaker Mohamed (2nd year Biotechnology).
*no longer part of the team