Easy method for the observation and representation of chemical reactions and physical phenomena.
Build a XXL Cuvette
The basic equipment to build a XXL cuvette are two glass or plexiglas plates of the same size. The glass plates can come from cheap picture frames or can be cut from window glass. Plexiglass is available in every building center where you usually can also have it cut.
The reaction chamber is formed by materials placed between the glass plates. Tubes made of rubber, PVC, polyethylene, or silicone are suitable. To keep everything in shape, a flexible wire can be inserted. Also round, not too hard electrical cables can be used.
After the second glass plate has been placed, the system is held together by simple clamps (see Fig. 2 and 3). Brackets of all kinds are suitable for this purpose, such as clothes clamps or, in particular, glue clamps (see Fig. 4). The latter are available in a variety of shapes and sizes in the building center.
A cuvette XXL has a reaction area in which you can demonstrate precipitation reactions, mixing processes, convection, and much more.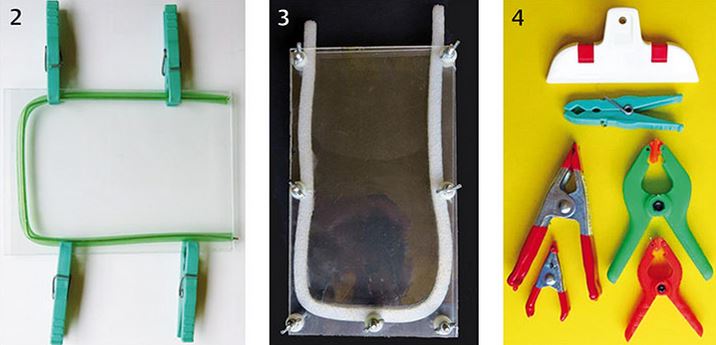 Particularly Attractive Example
The fascinating color game of the mixing of colored ink in water (pictured top) can be captured in impressive pictures or small films. In the water, gradients of salt concentrations can built up. The viscosity can be varied as desired by the addition of glycerin or dissolved wallpaper paste. – Have fun while experimenting.
---