Falling Walls is an international platform on future breakthroughs in science and society. Top-class scientists from all over the world gathered on November 9, 2016, in Berlin, Germany, and discussed where they see future breakthroughs in their respective fields. The event takes place on the anniversary of the fall of the Berlin wall and tries to answer the question "Which walls will fall next?".
Falling Walls Lab
The Falling Walls Lab takes place one day before the Falling Walls conference and allows 100 young scientists to present their research or initiative to a highly distinguished jury in only three minutes. In order to select the most interesting ideas from 2,400 applicants all over the world, 49 different Falling Walls Labs with took place in 44 different countries. The winners of the international labs traveled to the Falling Walls Lab Finale in Berlin on November 8.
This sixth Falling Walls Lab was opened by Tatjana König, Managing Director of the Falling Walls Foundation, Germany. She warmly welcomed the participants from over 50 different countries and many different fields of science and briefly introduced the jury, which is of similar diversity and comprises world-class scientists, but also journalists and representatives of companies, as well as some former winners of the Falling Walls Labs.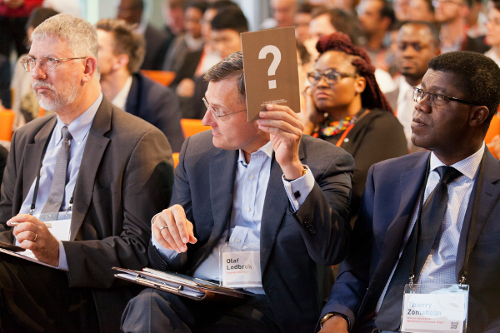 At the Falling Walls Lab 2016.
During three sections, where the 100 young scientists presented their ideas and innovations, in fact, many walls were taken down, as for example by Morton Bormann Nielsen, Aarhus University, Denmark, who "broke the wall of the Earth". He first explained that inside our planet, a certain pressure is always associated with a certain temperature. He then presented a machine which overcomes this limitation and is able to cover all ranges and combinations of temperature and pressure and used this possibility to generate new molecular structures, as for example SrMnO3, which can be used for thin electronic devices. Other innovators focused on the possibilities of smartphones and presented their algorithms that can be used, i.e., for more efficient diabetes management or to predict highly infectious areas during an epidemic just like a weather forecast. Others used their scientific skills to prevent further pollution by devising new ways of recycling mercury or noble metals used in electronic devices.
Falling Walls Young Innovators 2016
In the evening, the jury under the chairmanship of Carl-Henrik Heldin, University of Uppsala, Sweden, who is also Chairman of the Board of the Nobel Foundation, chose three presenters as "Falling Walls Young Innovators 2016". As the announcement was postponed for over 45 minutes, it is imaginable how difficult the decision must have been for the jury. The criteria of the jury are innovation, practical impact, and the impression that presenters are pursuing their own ideas.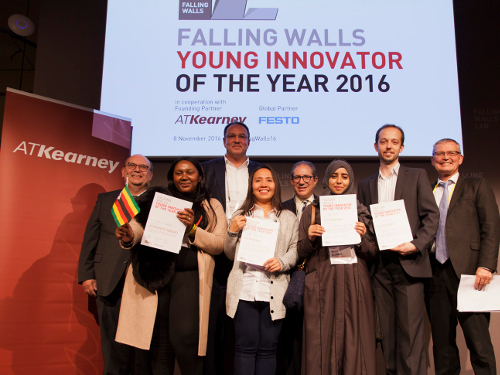 Winners of the Falling Walls Lab 2016.
The winner of Falling Walls Lab 2016 was Dang Huyen Chau, Technical University Dresden, Germany. She analyzed coffee grounds and found that they contain 10 % of oil and a high amount of cellulose. This told her that coffee grounds must have a high energy content, and she decided to use them as a biological surrogate for coal. After drying and pressing the coffee grounds, they can be used just like charcoal briquettes.
The second prize went to Maxim Nikitin, Moscow Institute of Physics and Technology, Russia. He showed that almost every nanoparticle can be transformed into a biocomputing structure which can differentiate the logic gates YES, NOT, AND, and OR. The YES interaction with structures on the cell surface, e.g., proteins, can result in the input-induced disassembly of the nanoparticles. Thereby, these particles can autonomously differentiate between healthy and sick cells, allowing this method to be adopted for the targeted delivery of drugs.
Nouf AlJabri, a Ph.D. student from King Abdullah University of Science and Technology, Saudi-Arabia, received the third prize for the development of a new catalyst which allows plastic to be converted into fuel. The amazing part is that this conversion is possible without the need for high temperature and pressure. Furthermore, the yield is 100 %liquid and the catalyst is quite cheap in production. Unfortunately, Nouf AlJabri could not share more detailed information about how the catalyst works, but, as you might expect, this technology is of great economic value.
The audience prize went to Chiedza Kambasha, Ignite Africa, Johannesburg, South Africa, for her emotional presentation of a biological 3D-printer which is able to produce small, hollow organs, such as blood vessels, on demand.
Falling Walls Venture
The Falling Walls Venture also takes place on November 8 and is supported by its global partners, Siemens, Boehringer Ingelheim, and Evonik. Here, the atmosphere is more serious compared to the Falling Walls Lab, as entrepreneurs and innovators present their ideas not only for a jury but also for strategic investors and venture capitalists. Following a one-minute introduction, each start-up has a time slot of ten minutes, often including an extended section for questions. There are not only scientific questions about the product, but also about marketing strategies, as well as about the development of the firm and its financial background.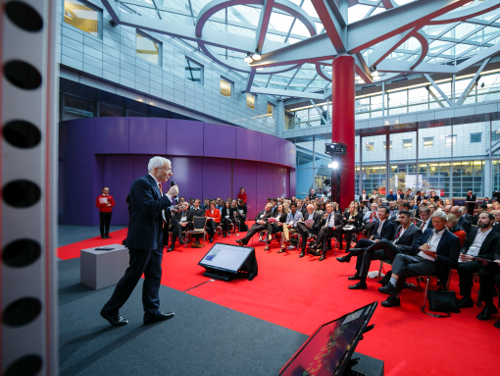 At the Falling Walls Venture 2016.
After thanking the participants as well as the jury, Stefan von Holtzbrinck, CEO Holtzbrink Publishing Group and Chairman of the jury, announced Vaxxilon as the Falling Walls Science Start-Up of the Year 2016. Vaxxilon is a company from Reinach, Switzerland, that works on vaccine technology. Currently, only 23 vaccine-preventable diseases exist, even though there are way more pathogens which are at least theoretically targetable by vaccination. The reason for this is that vaccines are difficult to handle, expensive, and time-consuming to create, develop, and distribute.
Vaxxilon used their skills in carbohydrate chemistry and focused on polysaccharide-conjugated vaccines (PVCs), which target bacterial pathogens with carbohydrates on their surface. Their innovative idea is to synthesize small sections of carbohydrates and not to link those to a protein or adjuvant, as it is usually done in carbohydrate vaccination, but to a non-peptide immune stimulator to create fully synthetic vaccines. This has the advantage that vaccines can be produced synthetically in a sterile environment. The use of a non-peptide immune stimulator instead of a protein makes a continuous cooling chain unnecessary, which is of especially great advantage for vaccinations in developing countries.
Falling Walls Conference
Due to the political events during the night, the Falling Walls Conference started with a U.S. election morning briefing. Also in the morning session, there were quite a few talks on the field of computational science. Jack Gallant, University of California, Berkeley, USA, "broke the wall of the mind" using imaging methods and computational neuroscience to create functional maps of the brain. He developed a "brain decoder", which reverses this process of mapping, which allows reconstructing pictures from the neuroimages. Hence, mind reading in its common sense seems to be possible soon.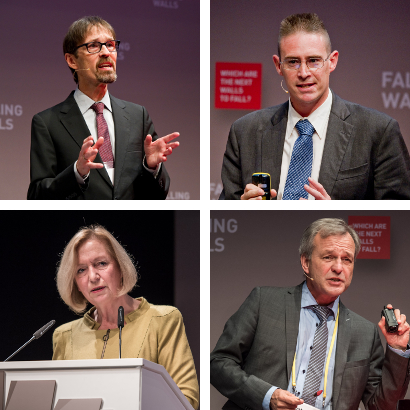 Speakers at the Falling Walls Conference 2016 (top left: Jack Gallant, © Benjamin Pritzkuleit; top right: Rob Knight, © Benjamin Pritzkuleit; bottom left: Johanna Wanka, © Ralf Rühmeier; bottom right: Karsten Danzmann, © Ralf Rühmeier).

Rob Knight, University of California, San Diego, USA, "broke the wall of our microbial self". He showed that only 43 % of "us" is human – the rest is our microbiome. By sequencing the microbiome of humans and mapping it according to its properties, he could show that the microbiome of the mouth is as different from microbiome of feces as the microbiome on corals is from the microbiome found in the savanna, even though the former two are just one meter apart from each other. All this information can be used to analyze the impact the microbiome has on our health and development.
The afternoon session was opened by Johanna Wanka, German Federal Minister of Education and Research. In her speech, she emphasized the importance of freedom, especially in science, as she experienced several restrictions as a mathematician in former East Germany.
Karsten Danzmann, Max Planck Institute for Gravitational Physics, Hanover, Germany, gave an amazing insight into the discovery of gravitational waves. He explained that by carefully listening to the sound of the gravitational waves, we are able to investigate the dark universe and might be even able to understand the very beginnings of the universe.
The next Falling Walls event will take place on November 9, 2017, in Berlin, Germany.
---