The KCS-Wiley Young Scholar Award is presented jointly by the Korean Chemical Society and John Wiley & Sons. Two winners under the age of 40, who hold a Ph.D. degree in Chemistry, and are of Korean nationality are selected every year for their outstanding achievements and contributions to the community. Each winner receives a certificate and a US $500 book voucher.
The 2010 prize was awarded to Zee Hwan Kim, Korea University, (above, right) and Seunghoon Shin, Hanyang University (above, left).
Zee Hwan Kim studied at Seoul National University before joining the research group of Professor Richard Zare, Stanford University, USA, to obtain his PhD. His reasearch focuses on high-resolution near-field microscopy techniques, single-molecule Surface-enhanced Raman scattering and the plasmonics of metallic nanoparticles. He is current an Associate Professor at Korea University, Seoul.
Zee Hwan Kim is presented the award by Professor Do Choon Ho, President of the Korean Chemical Society.
Seunghoon Shin obtained his Bachelor's and Master's degrees from Seoul National University before moving to Ohio State University, USA, to do a PhD under the supervison of Professor T. V. RajanBabu. Since then, his research has focused on organometallic catalysis and its use in the developement of synthetic methodologies for the total synthesis of natural products. He current holds the position of Associate Professor at Hanyang University in Seoul, Korea.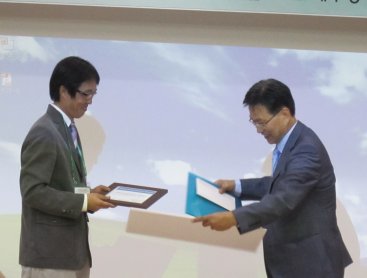 Professor Do Choon Ho presents Seunghoon Shin with the award.
---
Recent papers from the award winners:
Stereoselective One-Pot Synthesis of 1-Aminoindanes and 5,6-Fused Azacycles via Gold-Catalyzed Redox-Pinacol-Mannich-Michael Cascade
H.-S. Yeom, Y. Lee, J. Jeong, E. So, S. Hwang, J.-E. Lee, S. S. Lee, S. Shin
Angew. Chem. Int. Ed. 2010, 49(9), 1611–1614.
DOI: 10.1002/anie.200906346
Charge Transfer Enhancement in the SERS of a Single Molecule
W-. H. Park, Z. H. Kim,
Nano Lett. 2010, 10(10), 4040–4048.
DOI: 10.1021/nl102026p
---
See a list of all awards Wiley is involved in