On February 23rd NOP (Nachhaltiges Organisches Praktikum – Sustainability in the Organic Chemistry Lab Course) was awarded by the German UNESCO Commission the Prize "Education for Sustainable Development 2010/2011" of the UNO Decade 2005–2014 as a sustainable teaching tool also for the demands of developing countries. Prof. Dr. Müfit Bahadir (left), Technische Universität Braunschweig, Germany, and Prof. Dr. Erol Pehlivan, Selçuk University Konya, Turkey, received the award on behalf of the international and interdisciplinary team involved in NOP.
NOP, developed from 2000 to 2004, was sponsored by the German Foundation for Environment (Deutsche Bundesstiftung Umwelt – DBU), one of Europe's largest science foundations. An interdisciplinary team of chemists from the Universities of TU Braunschweig, Bremen, Jena, TU Munich, Oldenburg, and Regensburg developed this teaching material for the 21st century under the leadership of Prof. Dr. Burkhard König, University of Regensburg. From the TU Braunschweig, Prof. Bahadir and Prof. Hopf, former president of the GDCh (German Chemical Society), originally initiated this project. They continuously took care of the international networks and the dissemination of the project.
NOP is aiming at teaching students at universities or schools in green and sustainable chemistry from the very beginning. Since 2004, the material is in use within the Bachelor training courses at German universities and overseas. All experiments, analytical procedures, spectroscopic, risk and hazard, and environmental impact data are available free of charge on the internet in eight languages: English, German, Italian, Greek, Russian, Arabic, Turkish, and Indonesian. The Portuguese version is under translation and will be available summer 2011.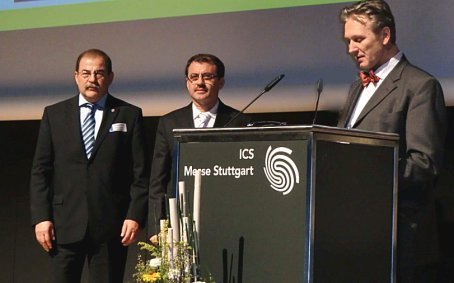 Laudatio held by Prof. Dr. Gerhard de Haan, Free University of Berlin, Chairman of the German National Committee for the UN Decade.
---
NOP, Nachhaltiges Organisches Praktium – Sustainability in the Organic Chemistry Lab Course