The Global Science Course (GSC) is an undergraduate transfer program. It accepts students from universities outside of Japan into the third year of undergraduate studies in the School of Science at the University of Tokyo (UTokyo). The program was designed to encourage cross-cultural interactions between students from around the world in an all-English academic environment. Currently, only the Department of Chemistry is accepting GSC students.
Second-year GSC student Youyuan Zhang, GSC graduates Junhao Wang and Wenyu Liu, and the Associate Professor Laurean Ilies and Assistant Professor Erik Lötstedt talked to Zara Kletz and Kristina Awatsu for ChemViews Magazine about their experiences as part of the program.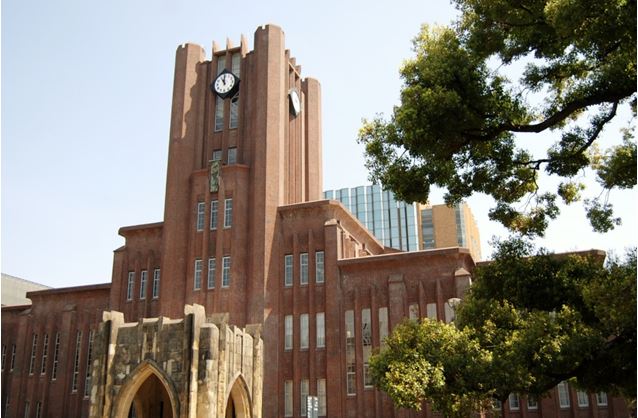 Figure 1. Yasuda Auditorium, a famous landmark on the University of Tokyo's Hongo campus.
Interview with Students
Junhao Wang

2014–2016 GSC undergraduate transfer student from the University of Science and Technology of China.

Wenyu Liu

2014–2016 GSC undergraduate transfer student from Fudan University.

Youyuan Zhang

2015–2017 GSC undergraduate transfer student from Nanjing University, China.

How would you describe GSC to a friend not familiar with the course?
Wenyu: GSC is a transfer program run by the University of Tokyo for third-year chemistry students in foreign universities. It's a nice chance to experience both Japanese culture and academia. Students get the chance to speak to famous professors face to face and attend special lectures that are given by researchers invited from all over the world. The GSC program also gives you experience in advanced topics and technologies in various research areas within chemistry. With the rotation in six labs, students can experience different types of research before they choose one specific lab for their undergraduate thesis. Also, they will have the opportunity to take lectures and do experiments with Japanese third-year students, while making friends with them.
What are the main differences between GSC and your classes at home?
Junhao: GSC provides an entirely English environment in both the lectures and lab training.
Wenyu: It gives you individual care and independent research opportunities.
Youyuan: I personally love the lab rotation course in the first term, which is only available for GSC students. The course includes working between six different labs, and spending around two weeks in each one. It's a fantastic way for us to know more about real research in each lab, and very helpful for us to get used to the new environment.
Junhao: The one-on-one training during the lab rotations was also quite unique to me. I felt spoiled to have the Assistant Professors take care of me every afternoon in the labs, and my research skills improved quickly.
What has been the biggest surprise?
Youyuan: My final decision to do research in the field of Quantum Chemistry. I had been working in different labs on various experiments, and I was about to become an experimental chemist, but Professor Kaoru Yamanouchi and all the other members of the Yamanouchi Laboratory made me interested in quantum chemistry theory. I started recalling my love of physics and math, and it was the first time that I started imaging myself as a theorist. Sure, there will be more to learn and it won't be easy, but with the support from the lab, I am confident that I will be able to overcome any difficulties.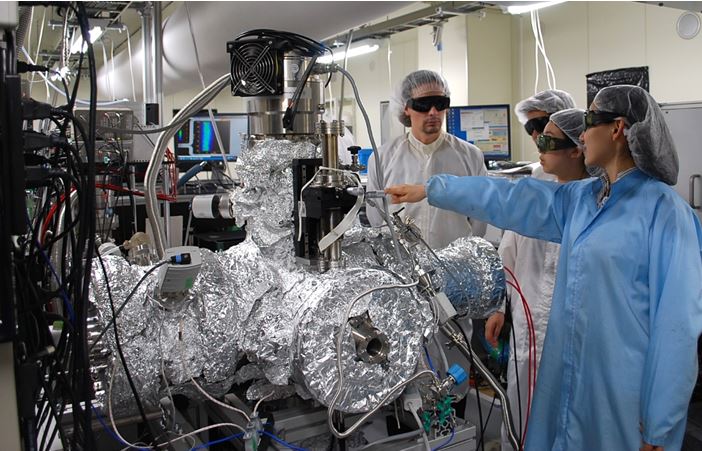 Figure 2. As part of the rotations between six different laboratories, students conduct research for two weeks in the Yamanouchi Laboratory (pictured above). Professor Yamanouchi and his group investigate dynamical processes of molecules in intense laser fields to understand fundamentals of light-matter interaction and their applications for controlling ultrafast molecular dynamics.

What do you think is the most important thing you've learned?
Wenyu: I learned to take initiative while studying here. Science is creative and requires you to do more than just follow instructions. Here on the GSC program, we have a lot of chances to design the experiments by ourselves, which helps to construct intelligent thinking patterns.
Youyuan: "Never be afraid to try something new". At the very beginning, I was diffident to theoretical work and realized I was a bit weak. However, I felt encouraged after hearing about some of the personal experiences of the other group members in my lab and was guided by a very patient and optimistic supervisor. I gradually became able to handle my research project and decided to keep challenging myself with new concepts and theories.
Junhao: How to write a scientific paper. In the last semester, my mentor spent a lot of time helping me to revise my graduation thesis. He taught me how to make my thesis and presentation comprehensive, and how to express my work in a concise but informative way.
Wenyu: I also learned about how to fit into a multicultural environment and to make friends with people from different countries and backgrounds.
What was the best for you personally about GSC?
Wenyu: Working with plenty of outstanding people. The GSC program has foreign Assistant Professors who have interesting personal characters and come from a variety of different educational backgrounds. It's a lot of fun to work with them and learn from them, academically and mentally.
Youyuan: The chance to study in the best university in Japan, and experience Japanese life even without knowing any Japanese at the beginning. People I have met here are fantastic, and I really enjoy studying, chatting, and traveling with them.
What has been the most challenging thing?
Junhao: Adapting to different English accents. Here, people come from various backgrounds with different accents, including myself, and it took me some time to get used to it. However, this experience has been very important, as it has helped me to develop my listening skills. If I hadn't had this experience, I might not be able to fully understand the presentations at international conferences where presenters come from all over the world.
Wenyu: Speaking Japanese! Although it's not a problem to talk with others in English, in order to know my Japanese colleagues better and fit into their society, I started to talk to them in Japanese from my last semester as a GSC student. My colleagues and classmates were kind and patient, even if I was speaking in broken Japanese. I am now much better.
Interview with Instructors
Assistant Professor Erik Lötstedt

GSC Instructor and member of the Yamanouchi Laboratory, The University of Tokyo.

Associate Professor Laurean Illies

GSC Instructor and member of the Molecular Technology Innovation Laboratory, The University of Tokyo.
What is your career background up until this point?
Laurean: In 1996, I was admitted to University Babes-Bolyai in Romania, my native country. In 1999, I received a scholarship from MEXT (Ministry of Education, Culture, Sports, Science and Technology of Japan) and relocated to Tokyo. In 2004, I received a bachelor's degree from the Department of Chemistry of the School of Science, and then, in 2009, I received a Ph.D. from the same department. I continued my research at UTokyo as an Assistant Professor and was promoted to Associate Professor in 2014.
Erik: I graduated from the Royal Institute of Technology in Stockholm, Sweden, and then went to the Max-Planck Institute in Heidelberg, Germany, where I obtained my Ph.D. In 2009, I came to Japan and did a post-doc at UTokyo and then at the RIKEN institute. I rejoined UTokyo in 2014 as an Assistant Professor.
How is the working culture in a Japanese laboratory different to what you've experienced elsewhere?
Erik: Here in Japan, if you do good research and carry out your job well, you can work when you want and in your own style, which is the same in Europe. People here also make a greater effort to involve everyone in social activities. The lab as a whole here is tighter, with a greater sense of belonging.
What can students expect from living and studying in Tokyo?
Laurean: The curriculum at UTokyo balances basic and applied knowledge and practical skills in a variety of chemistry fields, culminating with joining a laboratory in the 2nd year on the program and starting actual research.
Life in Tokyo is quite a unique experience. The exotic mix of tradition and ultramodern permeates all the layers of society, as it can be seen in the architecture, landscape, shopping experience, food, etc. Tokyo has all the conveniences of a large, modern city with the best service in the world, but you are also 1–2 hours away from quiet and idyllic spots, may it be mountains, beaches, hot springs, or temples.
How is GSC different to other science programs?
Laurean: GSC gives students the unique chance to study for two years at their initial university outside of Japan, and then continue for the next two years at UTokyo. It's a great opportunity to experience two different educational systems, which strengthens and widens one's scientific background.
Erik: On this program, you can work closer to the instructors than you can in other places because we are solely dedicated to the GSC students. Students can ask us about any problems they have with their studies, and we are happy to help them! If students find a research area or subject particularly interesting, it's not such a big step for them to ask to be more involved, or do something additional, like a mini-research project, for example. Generally for undergraduate students, you might not expect that type of an opportunity.
What types of students do you think should apply to this program?
Laurean: Those who want to challenge themselves out of their comfort zone, and who are interested in a unique scientific and cultural experience. Also, those who want a strong education in basic and advanced chemistry, and who want to pursue top-level research in world-renowned laboratories.

Figure 3. In the classroom: Assistant Professor Erik Lötstedt with GSC Student Youyuan Zhang.

In the long run, what can students gain from participating in this program?
Erik: Career-wise, they get great research experience and a degree from UTokyo. If you want a good career, it's important to build a network for future research collaborations. Here, it's easier to make good contacts in that respect, because students build strong personal relationships with the professors and researchers.
On a personal level, going abroad to somewhere like Tokyo, and building a life from scratch, while studying something very difficult, will give them the confidence to take on other challenges.
Laurean: The GSC program trains truly globally-minded students who will have a greater chance to succeed in a career in science anywhere in the world. And they will, in turn, become the leaders of the next generation, and help nurture and expand the globalization of science.
Thank you all for your interviews!
---


Figure 4. GSC and chemistry students with GSC staff members, gathered at the Koishikawa Botanical Garden. The garden belongs to the Graduate School of Science, The University of Tokyo, Japan.
Also of Interest
Joji Sakurai: First Chemistry Professor at Tokyo University,
ChemViews Mag. 2012.
150 Years Department of Chemistry, University of Tokyo,
Vera Köster, Cover image designed by Shuzaburo Shibi,
ChemViews Mag. 2011.
DOI: 10.1002/chemv.201000105
For 150 years the Department has been maintaining its tradition as one of Japan's leading research institutes in the field of chemistry
Celebrating 150 Years of the Department of Chemistry, The University of Tokyo,
Shu Kobayashi,
ChemViews Mag. 2011.
DOI: 10.1002/chemv.201000153
Celebration of the 150th Anniversary of the Department of Chemistry, School of Science, The University of Tokyo