2011 is the International Year of Chemistry (IYC 2011) and the centenary of Marie Curie's Nobel prize in Chemistry. Therefore, ChemViews will introduce interesting women throughout the year.
Polly Arnold is a Professor at the University of Edinburgh, Scotland, UK. Amongst other things, she won a Fulbright Scholarship and was identified as a rising star in 2008, when she was presented with the University of Edinburgh's Chancellor's Prize by his Royal Highness (HRH) the Duke of Edinburgh.
What do you enjoy most about your career?
Most of all, basking in reflected glory when someone tells me how much they enjoyed a conversation with one of my students or a lecture from one of them. A close runner up is the moment when a referee says something nice about one's chemistry in a report.
How did you decide to become a chemist?
I've always loved problem solving, and working with my hands, and I didn't wanted a desk job. I studied chemistry as it allowed me to postpone a decision about what I wanted to do for as long as possible and it was easier than physics. As an undergraduate, I hated the prescriptiveness of the lab class and treated it as an exercise in time management skills. But my research project, working for Professors Dermot O'Hare and Matt Rosseinsky, Oxford University, was a complete enlightenment.
I had found the problem solving, skillfulness and creativity demands of synthetic chemistry and was hooked. And the people were also all really nice.
What has been your biggest motivation?
A mixture of worry and optimism. The worry keeps me honest, and constantly challenging every result to make sure we're doing the right experiments. The optimism makes me suggest the weirdest of reactions, and encourage my group members to do the same – a strategy that has produced some results and some researchers that I'm very proud of.
Do you think there are still differences between men and women in chemistry?
Yes of course, but that's a good thing. In academia, success demands an almost schizophrenic mixture of introverted focus on a research problem and extroverted teaching and presentation skills, which suggests to me that we're all mad. A chemistry department that contains people who excel in the enormous variety of things that we do; teach, research, work with industry, engage the public, and advise policymakers, must surely be better equipped if it contains the most diverse range of clever people that we can attract.
Have you experienced any personal struggles typical for women in sciences?
On a personal level, only the traditional self-doubt that I believe women suffer from more. However, I'm sure many male chemists also suffer from the same 'struggles typical for women in sciences'.
What advice would you give other women thinking of embarking on a scientific career?
Personally, I'd rather give any gender-specific opinions to the 'old guard'. To a new scientist, I'd recommend saying yes to everything, and stepping well outside one's comfort zone regularly. Except when it comes to reporting your science; in research you should feel entirely within your comfort zone concerning every paper you submit, and lecture you give.
How do you combine family and job?
I really don't, I'm a rotten role model. Having a husband and cat allows one to be totally irresponsible. We take holidays, do up the house, and go travelling whenever suits us. Without them, though, I'd spend much more time working, which would be a bad thing — bad for my creativity as well as my sanity.
What do you do in your spare time?
I like running and climbing, but only when it's sunny, and absolutely not competitively.
What would you like to be doing ten years from now?
Not be head of school … Seriously, I hope still to be doing exploratory synthetic chemistry, but no doubt in some different areas from now. I'd like to have developed some of our small molecule activation chemistry into proper, useful catalytic cycles. I hope to still be travelling regularly, and bumping into many former group members and postdocs in their various academic, educational, and industrial positions around the world.
Thank you very much for this interview.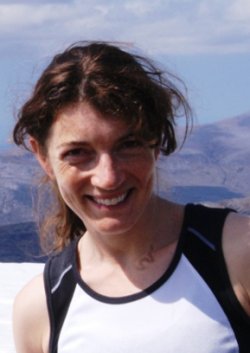 Polly Arnold obtained a BA from Oxford, UK, in 1994 and D.Phil in 1997 from Sussex, UK. She was awarded a Fulbright Scholarship for postdoctoral research at Massachusetts Institute of Technology (MIT), USA, returning to the UK to a lectureship at the University of Nottingham in 1999. She moved to the EaStCHEM School at the University of Edinburgh, UK, in 2007 and was promoted to Chair in 2009. She currently holds an EPSRC Leadership Fellowship.
Her group is interested in small molecule activation by organometallic f- and d-block complexes and their applications as catalysts for new hydrocarbon activation chemistry and the synthesis of biorenewable polymers.
Selected Publications
Selected Awards
Hans Fischer Senior Fellowship, Institute of Advanced Scholars, Technical University Munich, Germany, 2012.
EPSRC Leadership Fellowship (Engineering and Physical Sciences Research Council), 2009–14, five-year research fellowship.
The Chancellor's Prize, 'Rising Star' 2008; University of Edinburgh. Awarded annually by the Royal Highness (HRH) the Duke of Edinburgh.
Sir Edward Frankland Prize Lectureship 2008, RSC.
Humboldt Foundation, Friederich Wilhelm Bessel award, 2007. Hosted by Prof. J. Okuda, RWTH Aachen, Germany.
---
---

European Women in Chemistry
Published: 11 November 2010
ISBN: 978-3-527-32956-4
Author: Jan Apotheker, Livia Simon Sarkadi