Saori Dubourg is a Member of the Board of Executive Directors of BASF, Ludwigshafen, Germany, and Vice President of the European Chemical Industry Council (Cefic), and Chair of Cefic's Product Stewardship Programme. Vera Koester talks for ChemViews magazine to Saori Dubourg about the strategies of the EU and BASF to combine economic success, social responsibility, and environmental protection.
What are key steps towards the EU's goals to reduce exposure to chemicals and to ensure the safe design of chemicals and products?
The European chemical industry has a long tradition in the safe management of chemicals. It started the Responsible Care® program more than 25 years ago. It is a global, voluntary initiative developed autonomously by the chemical industry for the chemical industry to underline its commitment to constantly improve all areas of environment, safety, and health, and to document the progress.
At the political level, Europe has been working on a broad range of regulations and policies to assure the safe production and use of chemicals and chemical products. A centerpiece of chemical regulations is REACH, namely, the registration, evaluation, authorization, and restriction of chemicals in Europe, which came into force in 2007 and delivers data and assessments of chemical substances. This year we are celebrating the tenth anniversary of both REACH and the European Chemicals Agency (ECHA).
Is focusing on REACH alone enough? What are the biggest challenges?
We are proud to see that REACH is working successfully in all of its elements: registration, evaluation, authorization, and restriction of chemicals. This creates trust and stability among stakeholders and citizens, which are the foundations of collaboration and common achievements. In the societal discussion about chemical products and innovations and during the exchange between all stakeholders, REACH can be used as a "currency of trust" and trust is a value that has become rare these days.
An important challenge is to harmonize the interactions between REACH and other mostly older legislations on chemicals in Europe, with REACH as the pivotal element.
What are the main ideas to improve the regulatory process, and to strengthen partnerships between governments, businesses, consumers, and NGOs, and enhance innovation?
Firstly, industry needs regulations that are harmonized or at least compatible in the relevant markets. There is a vertical perspective on this, which means that regulations in EU member states and outside the EU should have common risk-based principles and congruent data requirements. And there is the lateral view, which requires that there are well-defined interfaces between related regulations. The latter means that, for example, occupational safety or waste regulations should not overlap or conflict with chemicals regulations/REACH.
Secondly, regulations have to be efficient and challenging whilst still being practicable. Timelines should be realistic and measures for stakeholder consultation and input need to be integrated. REACH has already provided several valuable opportunities for stakeholder consultation. The ECHA, for example, organizes several events and workshops throughout the year; the biggest annual events are their Stakeholders' Days, which are open to all, free of charge. In addition, they organize a large number of public consultations and encourage stakeholders to provide information in response.
Thirdly, regulations need to provide a level playing field between domestic companies and manufacturers and importers.
Most importantly, REACH supports our genuine aim to take responsibility for the protection of the environment and human health. It is our sincere dedication to continuously improve our measures and work on innovations. As this is also in the best interest of our society, existing collaborations with governments, consumers, and NGOs need to be continued and extended.
What role does Cefic play? What role does BASF have?
Cefic continues its engagement not only to make REACH work, but to make REACH work better. We continue our engagement in innovation as well through our European Technology Platform for Sustainable Chemistry (SusChem) that we launched in 2004 and that is still very active under Horizon 2020, the EU framework program for research and innovation. In addition, we will continue to be active in future research programs of the European Commission.
It is BASF's strategy to combine economic success, social responsibility, and environmental protection. Through science and innovation, we support our customers in nearly every industry.
Sustainability is an ongoing development to finding a balance between economic, ecological, and social aspects. Are there examples, besides the obvious ones, in which BASF is making a profit with a sustainable concept?
For BASF, sustainability is part of our business strategy. This is reflected in thousands of products and solutions in our current portfolio that contribute substantially to sustainability in the value chain. They range from using formic acid for de-icing airport runways, which has a lower environmental impact than salts, to Trilon® M (an aqueous solution of the trisodium salt of methylglycinediacetic acid (Na3MGDA)) as an alternative to phosphate for dishwashing detergents, to high-performance insulation material, such as SLENTITE.
We have analyzed more than 60,000 product applications of BASF's portfolio. Today, more than 25 % outperform basic sustainability standards.
Is sustainable development a concept on the political agenda primarily serving obvious marketing and commercial interests, or is it a necessary program that benefits companies and thus is supported by their managers?
I believe it is the latter. Take BASF as an example: We give meaning to our corporate purpose: "We create chemistry for a sustainable future," by pursuing ambitious goals along our entire value chain. In this way, we aim to achieve profitable growth and take on social and environmental responsibility, focusing on issues through which we as a company can make a significant contribution.
What role can/must academia play?
Academia plays an important role in innovation and complements the R&D activities in industry. Academic research also plays an important role in providing new scientific methodologies for testing in both hazard and risk assessments. And academia is essential for teaching and educating! Well-trained scientists and an informed public are prerequisites of innovative and successful societies. Robust science and a better translation of scientific knowledge and conclusions to people and public perception is key.
What makes you optimistic about the ability of businesses to catalyze the changes needed to create a more sustainable world? What is your biggest concern about our ability to create a more sustainable world?
At BASF, we believe that many of mankind's problems can be solved with scientific excellence. Innovative products and processes from chemistry will play a key role in solving future challenges resulting from a growing world population. But we need to remain open minded toward innovation and we should think outside of the box. Therefore, we should be more open to new technologies instead of rejecting them, even before we have explored and weighed their risks and opportunities.
Thank you very much for the interview.
---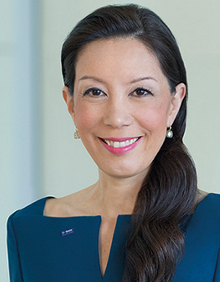 Saori Dubourg, born in 1971 in Augsburg, Germany, studied strategic management and industrial marketing as well as Japanese studies at the University of Trier, Germany, from 1991 to 1996. In 1996, she joined BASF in Ludwigshafen, Germany. She has held several positions and has been head of BASF's Health & Nutrition division since 2013.
In 2017, Saori Dubourg was appointed to the Board of Executive Directors of BASF.