The Need for an Ideal Instrument
In an Essay just published as an Accepted Article in Angewandte Chemie entitled "Synthetic Organic Electrochemistry: Calling All Engineers", Phil S. Baran, Ming Yan, and Yu Kawamata [1] outline the current state-of-the-art of synthetic organic electrochemical methods (see also a comprehensive recent review by the same authors in Chemical Reviews [2]). They explain some of the distinct advantages of using electrochemistry in synthetic organic chemistry, such as its ability to generate reactive intermediates from simple functional groups and the exquisite control of chemoselectivity that can be achieved by "dialing in" reaction potentials.
Why then has electroorganic chemistry been rather under-utilized to date and is still often only considered as a last resort? Baran puts this down to a "lack of engineering savvy" and the need for an "ideal instrument" similar to the developments that have made NMR spectroscopy such a powerful tool. An "ideal instrument" in his opinion must have: 1) standardization; 2) modularity; 3) analytical capability; 4) versatility and industrial design; 5) an educational and user-friendly interface; 6) future proofing and 7) cost efficient.
The question is, do we live in an "ideal world" and how long will it be before an "ideal instrument" with these seven key features is available to organic chemists. The answer was provided at the ACS Meeting in Washington on August 22, 2017, when just such an instrument was unveiled during the Keynote Lecture given by Phil Baran.
The Phil Baran Lecture
The lecture and unveiling were much publicized at the ACS Meeting, including the cover of Chemical & Engineering News, and large banners in the foyer of the Convention Center. Few knew, however, what was to be unveiled only that it involved IKA, a highly reputable instrument firm, but knew that whatever it was it must be something special for Baran to be associated with it.
The doors to the event opened at 10 and the participants were entertained with fitting music from Kraftwerk, Electric Avenue, and a video illustrating some of the history of IKA and its commitment social projects around the globe. By 10.30 the room was well-filled with 100s of inquisitive chemists eagerly awaiting the show.
For those of you who have never experienced a Phil Baran lecture – it comes highly recommended. Slick presentation, interspersed with humor, and most importantly great chemistry. After having given some examples of his recent work he went on to outline the need for an "ideal instrument" that fulfilled the seven criteria above to make synthetic organic electrochemistry accessible to more chemists and to allow the field to develop more rapidly.
The ElectraSyn 2.0
As part of the show, he then jokingly unveiled an old potentiostat before revealing the new instrument from IKA – the ElectraSyn 2.0. The instrument has been developed over the past three years by close collaborations between Baran and his co-workers at The Scripps Research Institute, USA, and the highly talented engineers at IKA. Prior to launch, the ElectraSyn 2.0 has been tested in several top groups around the world including that of Song Lin at Cornell, USA, and Sigi Waldvogel in Mainz, Germany.
Baran then went on to demonstrate the new piece of equipment on stage, showing how easy it was to use and how many built-in features the ElectrySyn 2.0 had. One of the reactions used to illustrate the power of the device was a Ni-catalyzed amination which is described in his recent Angewandte Chemie paper that was coordinated to go online at the same time as the product launch [3]. The associated smartphone apps developed for data analysis will certainly appeal to students and researches in the field.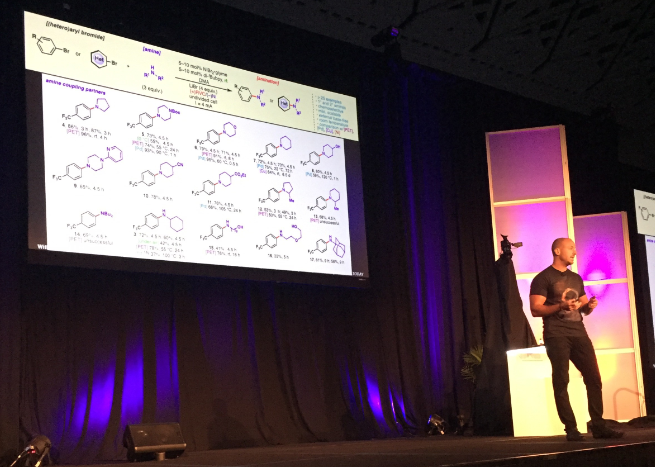 Figure 1. Phil Baran on stage at the ACS Meeting in Washington.
At the end of the lecture, the participants were invited to try out the ElectraSyn 2.0 for themselves. I've been in many talks over the years, but I have never experienced something quite like this. It was reminiscent of when shops open their doors during the sales season and the people rush in to get the best bargains. Literally, hundreds of chemists young and old were keen to try out the new device. Baran and his team were more than happy to let them have hands-on experience and talk about possible reactions and chemistry that could be carried out.


Figure 2. The charge to get to try out the ElectraSyn 2.0 after the presentation.
When asked about the collaboration that led to the development of the ElectraSyn 2.0, Baran enthused "Over the years we have been lucky to collaborate with brilliant chemists in different fields, from medicinal, radiochemical, process, and materials science. The collaboration with IKA represents a first for us and the most exhilarating one yet for our laboratory. It involved the mingling of electrical, industrial, and mechanical engineers working hand in hand with synthetic organic chemists – if not a first then certainly a rarity."
"The can-do attitude of IKA's visionary leadership combined with their wizard-like engineers was an inspiring interaction for our laboratory. IKA and our lab share a common and simple mission: to do something useful for society. If the birth of ElectraSyn 2.0 has even a small positive effect it will be a success. As perhaps the most sustainable of methods for modulating redox-states in chemistry, we hope that the barrier to entry will be substantially reduced so that everyone can benefit from this powerful and enabling technique."
Given its range of features, simplicity of use, its affordable price and its life time guarantee, I am sure that the ElectraSyn 2.0 will soon be commonplace in many labs around the world and will appear regularly in the Experimental Sections of papers appearing in the top journals.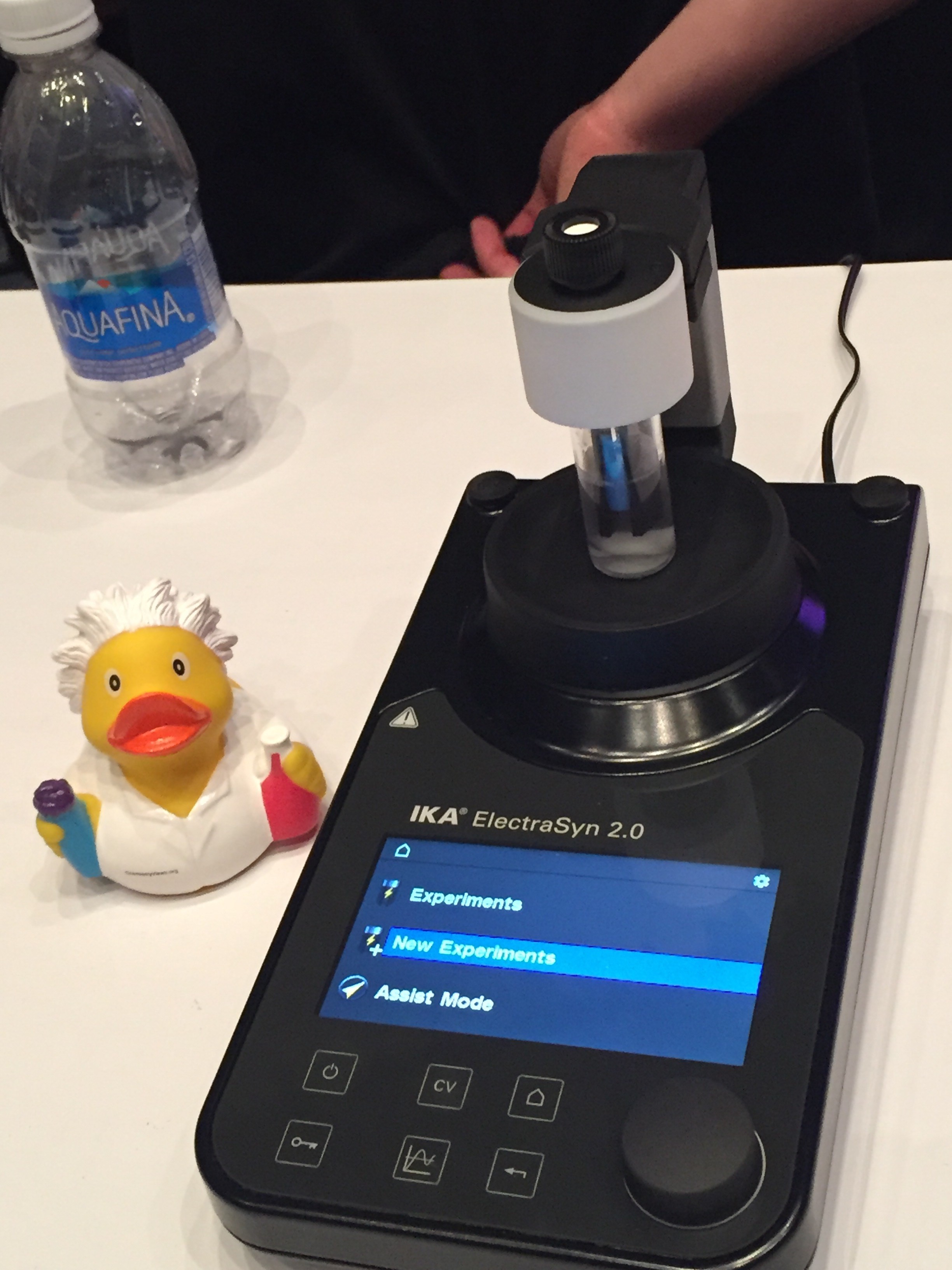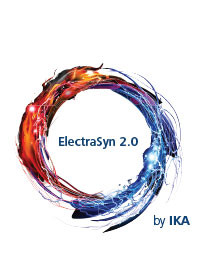 Figure 3. The ElectraSyn 2.0 is shown (covered in the Essay in Angewandte Chemie [1]). The picture with ChemQuackers gives you an idea of the compact size of the device.
Phil S. Baran holds the Darlene Shiley Chair in Chemistry at The Scripps Institute in La Jolla California. He has published over 180 research papers in top journals such as Angewandte Chemie, J. Am. Chem. Soc., Nature, and Science and has won numerous awards for his innovative research, most recently the Emanuel Merck Lectureship 2017.
IKA is a laboratory technology company owned by René Stiegelmann with centers in the USA, Germany, Malaysia, Japan, Korea, China, India, Brazil, Poland, and England. It provides a wide range of equipment such as innovative magnetic stirrers, mixers, overhead stirrers, shakers, homogenizers, mills, rotary evaporators, calorimeters, laboratory reactors and specially developed software for laboratory and analysis applications, as well as temperature control products such as circulators, baths, and chillers.
References
[1] Ming Yan, Yu Kawamata, Phil S. Baran, Synthetic Organic Electrochemistry: Calling All Engineers, Angew. Chem. Int. Ed. 2017. https://doi.org/10.1002/anie.201707584
[2] Ming Yan, Yu Kawamata, Phil S. Baran, Synthetic Organic Electrochemical Methods since 2000: On the verge of a renaissance, Chem. Rev. 2017.
[3] Chao Li, Yu Kawamata, Hugh Nakamura, Julien C. Vantourout, Zhiqing Liu, Qinglong Hou, Denghui Bao, Jeremy T. Starr, Jinshan Chen, Ming Yan, Phil S. Baran, Electrochemically Enabled, Ni-Catalyzed Amination, Angew. Chem. Int. Ed. 2017. https://doi.org/10.1002/anie.201707906
---
Also of Interest