The Gesellschaft Deutscher Chemiker (GDCh, German Chemical Society) is celebrating the 150th anniversary of the founding of its predecessor organization, the Deutsche Chemische Gesellschaft (DChG), which was one of the leading chemical societies worldwide. This occasion will be celebrated in early September in Berlin with the Wissenschaftsforum (WiFo) and an Angewandte Festsymposium, as well as a special issue of Angewandte Chemie.
This jubilee issue is introduced with an editorial by the President of the GDCh, Thisbe K. Lindhorst (pictured left) [1]. Lindhorst briefly outlines the history of the DChG and its evolution into the GDCh (for an extremely detailed treatise see the review by Jeffrey Allan Johnson in the same issue [2]). She goes on to identify the key factors that helped the DChG achieve its great success, namely that it rose above political and national interests, it had a large international character, it published leading journals, and that it had uncompromising standards for academic and industrial research.
Lindhorst goes on to explain that the field of chemistry, as indeed our whole world have changed dramatically over the last 150 years, and that we can use the values that we have learned from history to help shape our future, and that we should use chemistry so that it has positive effects on our lives.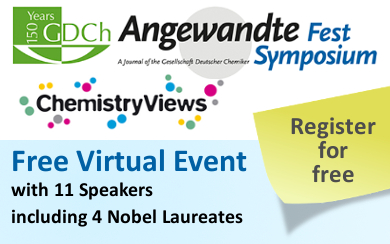 In a further editorial, Jürgen Kaube (pictured right) from the newspaper Frankfurter Allgemeine Zeitung discusses science and the great challenges for society and asks what the real point of the scientific endeavor is [3]. Is it to solve problems or is it also to identify them? Science represents our willingness to learn and is certainly not just a means to an end.
The issue also contains contributions by the speakers of the Angewandte Festsymposium: essays by P. Schwille (artificial living systems) and F. Neese (spectroscopy, quantum chemistry, and catalysis), minireviews by R. H. Grubbs (stereoretentive olefin metathesis) and J. W. Szostak (origin of life), and 2016 Chemistry laureate Ben Feringa's Nobel lecture along with his fellow awardees' lectures (J.-P. Sauvage, J. F. Stoddart) on molecular machines. Speakers K. Itami (annulative π-extension) and D. A. Leigh (molecular knots) contributed reviews.
---
References
[1] Chemistry Has a Commitment to Life,
Thisbe K. Lindhorst,
Angew. Chem. Int. Ed. 2017.
DOI: 10.1002/anie.201707088
[2] Between Nationalism and Internationalism: The German Chemical Society In Comparative Perspective, 1867–1945,
Jeffrey Allan Johnson,
Angew. Chem. Int. Ed. 2017.
DOI: 10.1002/anie.201702487
[3] Science and the Great Challenges for Society,
Jürgen Kaube,
Angew. Chem. Int. Ed. 2017.
DOI: 10.1002/anie.201707561
Sponsored content is not written by and does not necessarily reflect the views of ChemistryViews's editorial staff.