Professor Peter R. Schreiner, University of Gießen, Germany, has received the Adolf von Baeyer Memorial Medal from the Gesellschaft Deutscher Chemiker (GDCh, German Chemical Society). The award honors outstanding contributions to organic chemistry and was presented at the GDCh Wissenschaftsforum 2017 in Berlin on September 13, 2017.
Peter R. Schreiner receives the prize for his work on physical organic chemistry, his pioneering contributions to organocatalysis, and his developments in the synthesis of pharmaceutically active compounds. His research interests also include quantum mechanical tunneling effects and nanodiamonds.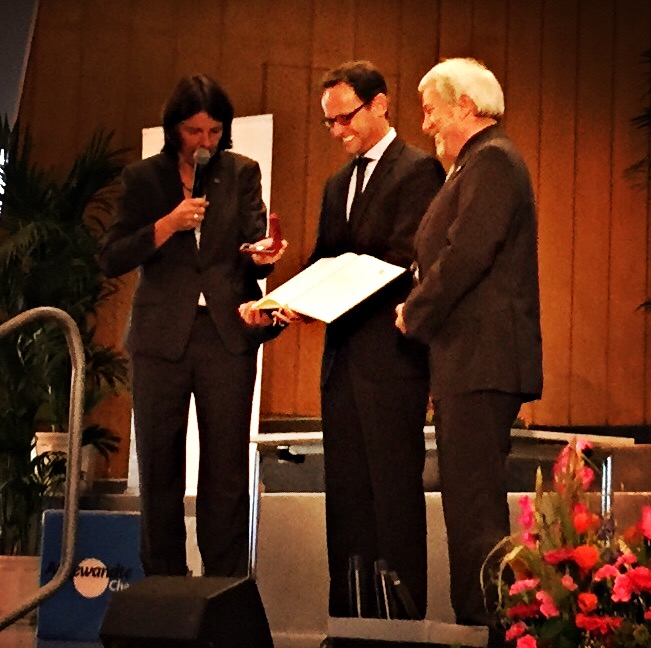 Peter R. Schreiner studied chemistry at the University of Georgia, Athens, USA, and at the University Erlangen-Nürnberg, Germany. He received his Ph.D. in computational chemistry in 1995. He completed his habilitation at the University of Göttingen, Germany, in 1999, and then joined the University of Georgia as Associate Professor of Organic Chemistry. Since 2002, he is Professor of Organic Chemistry at the University of Gießen.
Among other honors, Peter R. Schreiner has received the Kurt-Alder Lectureship Award from the University of Cologne, Germany, in 2015, the Universitatis Lodzienzis Amico-Medal of the University of Lodz, Poland, in 2015, and the Science Award from the German Technion Society in 2014. Schreiner is a Corresponding Member of the Northrhine-Westphalian Academy of Sciences, Humanities, and the Arts, Germany, a Board Member of WATOC (World Association of Theoretical and Computational Chemists), and a Member of the Leopoldina German National Academy of Sciences. He is Editor-in-Chief of WIREs Computational Molecular Science and Editor of the Journal of Computational Chemistry.
---
Selected Publications
Also of Interest