Javier Garcia Martinez is Professor of Inorganic Chemistry and Director of the Molecular Nanotechnology Lab at the University of Alicante, Spain. In addition, he is Co-Founder and Chief Scientist of Rive Technology, Inc., Boston, MA, USA, a venture capital (VC)-funded MIT spinoff commercializing hierarchical zeolites for diffusion-limited applications.
Last July, Javier was elected member of the Executive Committee and the Bureau of the International Union for Pure and Applied Chemistry (IUPAC). Here he talks to Dr. Vera Koester for ChemViews Magazine about IUPAC's 100-year anniversary in 2019 and the goals and tasks of the organization.
You have been elected to the Executive Committee of IUPAC. What is the task of the committee and who else is working there with you? What are your goals?
IUPAC is a large and global organization involved in a wide variety of initiatives. The Executive Committee is an eight-person group, including the President, Secretary General, and Treasurer, which run the organization between the meetings of the Bureau to respond quickly and effectively to any issue that may arise.
We deal with everything from budget to strategy. Our priorities continue to serve the chemistry community and our members, but currently, we are very focused on planning the activities of our 100-year anniversary in 2019. We want to raise awareness about the many things that we do beyond nomenclature and the periodic table, such as educational programs in developing countries, support of over a hundred scientific projects and dozens of conferences, and recognizing the best people in chemistry through a number of prestigious awards.
The IUPAC World Chemistry Congress was recently held in Sao Paulo, Brazil. Can you summarize a few highlights from this meeting?
This has been an amazing congress. Over 3,500 people from 66 countries attended this six-day-long meeting that was held for the first time in South America. The Brazilian Chemical Society, which is celebrating its 40th anniversary, did a terrific job putting together an excellent program, which included three Nobel Prize winners and some of the leading scientists from very different areas of chemistry.
I would like to highlight the twelve outstanding female scientists who received the IUPAC Distinguished Women in Chemistry or Chemical Engineering Award and the amazing young chemists who were presented with the IUPAC-SOLVAY International Award for Young Chemists.
In parallel to the congress, IUPAC had its General Assembly at which representatives from about fifty countries decided on the future of the Union, elected the new officials, and ratified the names and symbols of the four new elements, among many other things.
During the meeting, a Memorandum of Understanding was signed between IUPAC and the International Younger Chemists Network (IYCN), which is already an Associated Organization. The mission of this new organization is to assist, connect, and empower young chemists from all around the world. Both organizations, IUPAC and IYCN, are very excited about the opportunities that this collaboration is bringing.
As you said, in 2019, IUPAC will celebrate 100 years. What is planned for the centenary?
Yes, that is a great milestone for IUPAC. Under the theme "Creating a Common Language for Chemistry" we are working very hard to celebrate all that IUPAC has done and to plan together with the chemistry community what we should be doing in the future (https://iupac.org/iupac100/).
The main event will be, of course, the congress that will be held in Paris from July 5 to 12. The French organizing committee and IUPAC are working together to create an amazing scientific and social program, which will include lectures on the history of chemistry and IUPAC, new challenges for the chemistry community, and a very complete program for young scientists.
Besides that, there are several activities that will occur throughout the year, including a worldwide online competition for young students centered on the periodic table and IUPAC, a global breakfast for women chemists and students, a visualization of IUPAC's history and its major contributions, among many others.
What has made IUPAC so important? And what do you think are IUPAC's most important tasks today?
Despite the increasing complexity of modern chemistry, any chemist, irrespective of his or her mother tongue, will be able to recognize, name, and even draw a chemical compound thanks to us having a systematic, unambiguous, and globally accepted chemistry language. This was not the case when IUPAC was created almost a hundred years ago, and it is the result of the generous efforts of many colleagues over the years. This is not a small or trivial task. It is easy to underestimate the importance of having universally accepted chemistry nomenclature. It is critically important for trade, regulation, teaching, research, and for helping us to be safe and secure.
Despite all the progress made in recent decades, there are still many contentious scientific issues that require discussion and agreement. IUPAC has established itself over the years as the international organization to debate and provide recommendations and neutral and sound advice on everything related to chemistry. We work with national chemical societies and other scientific unions and academies to discuss controversial issues, promote science, and raise awareness about important topics.
Hundreds of volunteers provide the scientific community with verified data, recommendations, and technical reports, from atomic weights, to solubility data, and from toxicity levels to best practices to analyze chemical substances.
I also would like to emphasize the many activities that IUPAC provides to improve chemistry education from organizing the most important conference in the field, to publications, to helping developing countries with their chemistry curricula, and the training of their teachers.
However, there are other areas where we could do better, such as chemistry entrepreneurship and innovation, and promoting diversity in chemistry. All these are great opportunities for IUPAC as we approach our second century.
What motivates you to work for IUPAC? What do you enjoy most?
What I have enjoyed the most is the interaction with other people who are also extremely passionate about chemistry. Over the years, thanks to IUPAC, I have made many friends from all around the world who I met as colleagues and who are now very dear to me. I also had the rare opportunity, as a member of the Division of Inorganic Chemistry, to be closely involved in the naming of seven new chemical elements, which is a very unique experience that you only get if you are part of IUPAC, and to make important recommendations on hot areas of research such as nanotechnology and metal–organic frameworks (MOFs).
One of the most gratifying activities of my time with IUPAC was coordinating the Global Experiment of the International Year of Chemistry. Tens of thousands of children took part in this massive experiment; they sent me pictures, videos, and messages thanking us for what we organized and for providing low-income communities with lab kits to perform the experiment. I am extremely grateful to IUPAC for giving me the opportunity to lead this initiative that was so gratifying in many different ways.
Now, as a member of the Executive Committee, I also have the opportunity to steer chemistry in the direction that I find significant. I am very excited about this new stage of my experience serving the chemistry community.
How do you get people to engage with IUPAC? How can others get involved?
Despite some misconceptions, IUPAC is actually a very open organization that encourages chemists to join its Divisions and Committees through regular calls for elections that are based only on merit and diversity. However, the easiest way to become involved is to submit a project proposal. Everyone is invited to request IUPAC funding to work on an area of chemistry with other colleagues. The call for participants is always open. This is the core of what we do at IUPAC. Hundreds of scientists are working on emerging areas of chemistry or those that need clarification, data, or discussion thanks to the project system of IUPAC. Most of our members are involved in these projects; their results are published as IUPAC recommendations or technical reports in Pure and Applied Chemistry, which is our journal.
But there are also other opportunities to get involved. If you are interested in chemistry education, or in improving the relationship between academia and industry, or in the role of chemistry in tackling sustainable goals, we have very active groups working on these, and also many other areas. IUPAC is extremely well positioned to tackle our big global problems using the best chemistry available. For young chemists, there are initiatives specially designed to get involved in IUPAC. The Young Observer program is available for the most talented chemists under the age of 45 to become acquainted with IUPAC. In addition, and as I mentioned before, the International Younger Chemists Network (IYCN), is open to any young chemist and, as an Associated Organization of IUPAC, it is a great opportunity to be part of the broad IUPAC family and work in the different activities of the Union.
Anything else you would like readers of ChemViews Magazine to know?
Sure, I encourage your readers to become involved in the activities of IUPAC, to visit our website (iupac.org) to learn more about what we do, and to let us know how we can do better.
I also encourage everybody to nominate outstanding scientists for the many awards we have and to submit applications for sponsored conferences and projects. We are always looking for the best proposals and for bright chemists to join our divisions and committees.
In particular, I would like to mention the Green Chemistry for Life Grants that award up to US $30,000 to young scientists aged 35 years or under with a Ph.D. degree.
Thank you for the interview.
---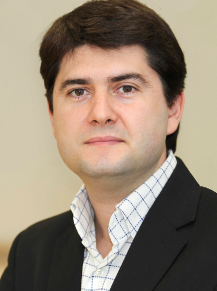 Javier García-Martínez received his Ph.D. in Chemistry from the University of Alicante, Spain, in 2000. From 2001 to 2003, he was a Fulbright Postdotoral Fellow to the Massachusetts Institute of Technology (MIT), Cambridge, MA, USA.
Currently, he is Professor of Inorganic Chemistry and leads the Laboratory of Molecular Nanotechnology at the University of Alicante, Spain. He is the founder of Rive Technology, Inc., Boston, MA, USA, an MIT spinoff commercializing nanomaterials for energy applications.
His research focuses on mesoporous materials and their modification with metal complexes and nanoparticles to improve their catalytic performance and reusability. He also works on mesoporous zeolites for refining applications and nanomaterials for catalysis, photocatalysis, and energy storage.
Selected Awards
Kathryn C. Hach Award for Entrepreneurial Success, American Chemical Society, 2018
Best Spanish Innovation in the US, ECUSA-MIT, 2017
Emerging Research Award, American Chemical Society, 2015
Rey Jaime I Award, 2014
Fellow, Royal Society of Chemistry, 2011