2011 is the International Year of Chemistry (IYC 2011) and the centenary of Marie Curie's Nobel prize in Chemistry. Therefore, ChemViews will introduce interesting women throughout the year.
Vivian W.-W. Yam is Chair Professor at the University of Hong Kong and was the youngest member to join the Chinese Academy of Sciences.
Please tell us a bit about how your career has developed?
I obtained both my BSc (Hons) and PhD from The University of Hong Kong. After spending two years as a faculty member in the then newly established Department of Applied Science at the City Polytechnic of Hong Kong (now City University of Hong Kong), I joined my alma mater, The University of Hong Kong, as a faculty member in the Department of Chemistry in 1990. I am now the Philip Wong Wilson Wong Professor in Chemistry and Energy and the Chair Professor of Chemistry there. I have served as Head of the Department for six years, spread over two terms.
What is your field of research?
I am a synthetic inorganic and organometallic chemist and am interested in discovering new classes of luminescent and chromophoric metal complexes and molecular functional materials. I investigate their photochemistry and photophysics, especially their phosphorescence properties, which can be exploited for the fabrication of organic light-emitting diodes (OLEDs) for display and solid-state lighting, and for the development of luminescence chemosensors. The study of these molecular functional materials for solar energy conversion and organic photovoltaics has also been pursued.
I am also interested in the supramolecular chemistry and assembly of metal complexes using non-covalent metal-metal and π-π stacking interactions, as their unique spectroscopic and luminescent properties can be exploited as reporters or probes of assembly and disassembly processes and as chemosensors and biosensors.
The discovery of novel chromophoric and luminescent metal-based materials with tunable absorption and emission colours, excited-state and redox properties, and their fundamental spectroscopic study, will lay the foundation for the development of new classes of solar-energy storage materials for organic photovoltaics and solar fuels as well as phosphorescent materials for OLED displays and white organic light-emitting diode (WOLED) solid-state lighting that are relevant to energy research.
What do you enjoy most about your career?
As an academic, I very much enjoy the freedom to work on research projects that I am interested in; both out of curiosity and those that can help tackle scientific challenges. I always enjoy discovering and creating new molecules, and doing exciting chemistry. Apart from research, I also enjoy teaching and interacting with students and young people. I enjoy the interaction with colleagues and peers from all over the world through visits, exchanges and conferences.
As academics, we are doing something interesting and, at the same time, creating new knowledge that will help to improve our understanding of science for the betterment of mankind and society as well as educating and inspiring new generations of young people and scientists.
When did your interest in science begin?
I have been amazed by the wonders of science and nature, especially the world full of colors, since I was very young. I have always been a rational person, even when I was small. I like to look at things and analyze things in an objective manner. I have always been fascinated by chemistry.
Chemistry is a science of great creativity. The beauty that distinguishes it from other subject disciplines involves its ability to create new molecules, the ability to understand and to manipulate molecules.
Chemistry is also a central science. We can work at the interface of chemistry, physics, and engineering in developing new materials and in tackling energy-and environmental-related problems. Alternatively, we can work at the interface of chemistry, biology, and medicine in developing new drugs and diagnostics for biomedical applications.
Do you think there are still differences between men and women in chemistry?
I do not think there is a difference between men and women, both in terms of their intellectual ability and capabilities for research in science. I am a firm believer that regardless of one's gender and race, as long as one has the passion, the dedication and determination, one can excel and produce work of high quality.
I think a lot of times women are discouraged by traditional social values and family pressures and sometimes they themselves choose to give up their dreams in order to fulfil the so-called and widely perceived "social and family role and duties of what women should be". I hope that more success stories of women in our society will encourage our young women to dare to pursue their dreams, and not to be discouraged by traditional social values and family pressures.
How do you combine family and job?
I am fortunate to have an understanding and supportive family. Now, I usually try my best to stay at home on holidays and to spend more time with my family. We go to the park in our spare time or we sometimes play badminton.
What would you like to be doing ten years from now?
I would like to have a major breakthrough in my research.
Thank you very much for this interview.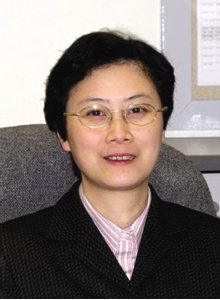 Vivian W.-W. Yam obtained her BSc (Hons) degree from The University of Hong Kong in 1985 with First Class Honours and her PhD degree on high-valent metal-oxo chemistry in 1988 from the same university. She is currently the Philip Wong Wilson Wong Professor in Chemistry and Energy and the Chair Professor of Chemistry at The University of Hong Kong. She was elected as a Member of the Chinese Academy of Sciences in 2001 as the youngest member of the Academy and has been a Fellow of TWAS, the Academy of Sciences for the Developing World, since 2006.
Her research interests include the photophysics and photochemistry of transition metal complexes and clusters, supramolecular chemistry, and metal-based molecular functional materials for luminescence sensing, optoelectronics, optical memory and solar energy conversion.
She is currently the associate editor of Inorganic Chemistry. She also serves or has served on a number of editorial and editorial advisory boards of international journals and series, including Coordination Chemistry Reviews, Chemical Science, ACS Nano, Organometallics.
Selected Awards
Laureate of the L'Oréal-UNESCO Awards For Women in Science (Asia-Pacific Region) (2011)
Hong Kong Outstanding Women Professionals and Entrepreneurs Award (2008)
Hong Kong Fulbright Distinguished Scholar (2007)
Japanese Photochemistry Association (JPA) Lectureship Award for Asian and Oceanian Photochemist (Eikohsha Award) (2006)
State Natural Science Award (2nd Class) (2005)
Royal Society of Chemistry Centenary Lectureship & Medal (2005/06)
Ten Outstanding Young Persons (Professional) of Hong Kong (2002)
Selected Publications
---
---

European Women in Chemistry
Published: 11 November 2010
ISBN: 978-3-527-32956-4
Author: Jan Apotheker, Livia Simon Sarkadi