Caterina Benincasa and Rodrigo Pérez-García, Max Planck Institute of Colloids and Interfaces, Potsdam, Germany, founded the Knowledge Link through Art and Science (KLAS) program with support from the Schering Foundation and the Max Planck Society. It acts as a program to acquaint artists and scientists working at two research institutes in Germany and The Netherlands, and it aims to initiate discussions between science and society. Throughout 2017, KLAS Artist-in-Residence program has funded a number of artists to work alongside researchers to help inspire their artwork. Through this, they aim to emphasize science outreach, education, and discussion between many disciplines.
KLAS has recently hosted a workshop at the Max-Planck Institute for Colloids and Interfaces. Following this workshop, Elliot Steeples talked to Rodrigo and Caterina for ChemViews Magazine about how their initiative works, and what they have achieved so far.
What is the objective of KLAS?
Rodrigo: KLAS aims to facilitate a sustainable and fruitful dialogue between the research institutes, as well as the rest of society. We also hope to emphasize synthetic biology on a broad perspective, not only in society but also among scientists of diverse disciplines.
Caterina: The idea is to bring outstanding artists into science labs to engage with various research groups, thereby promoting dialogue and the creation of new artwork or scientific projects. The artworks will then be exhibited in established cultural or artistic institutions.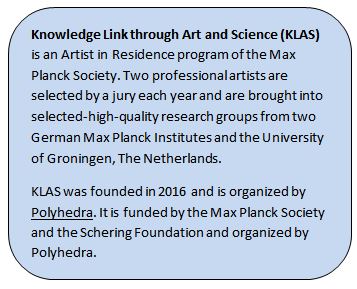 The workshop pooled together a number of acclaimed personalities and scholars from the arts, sciences, and humanities, to discuss the role of artists and scientists in their respective fields. We also hosted an open discussion about the various hot topics that synthetic biology poses, bioethics for instance.
What do you hope to achieve with it?
Caterina: To encourage creativity, a broadening of horizons, a new sensibility, and awareness of the awesome stuff that people do in other disciplines. Scientific research and artistic practice are two highly inventive and powerful human enterprises, and we hope for them to be able to share each other's passion and inspiration! These collaborations encourage critical-thinking and reinforce transdisciplinarity.
How did you come up with the idea?
Caterina: We've been working at the intersections of arts and science for some years now because of the profound fascination and feeling to understand more. It is always really exciting to open up discussions between big thinkers.
Rodrigo: At the Max-Planck Institute, we saw that these extremely intelligent scientists also have an interest for cultural, societal, and political issues, and that initiating a dialogue with experts in another field would be useful for them – and us of course. We often tend to believe that scientific reasoning is considered the only valid and "true" reasoning. This stubbornness can be helped by starting a dialogue with people from varying cultural and disciplinary backgrounds; this can also lead to a new standpoint on your own field. We found that synthetic biology was the perfect topic to illustrate this; particularly because of the implications it may have on society. It needs a bigger platform than just science.
The project started as a small idea. We got in touch with numerous experts in their fields if they were interested in assembling a committee. This immediately attracted attention, and we realized we needed to make it into a bigger project.
What exactly is synthetic biology?
Rodrigo: Professor Reinhard Lipowsky, Director of our Max-Planck institute, describes it like this: Synthetic biology dissects the architecture of the living cell and aims to reconstruct it using natural and synthetic building blocks. On the one hand, this reconstruction improves our understanding of life; on the other hand, the integration of synthetic components enables us to integrate new functionality. Because of these methodologies, synthetic biology seems a perfect framework for artists to be inspired and to develop their own interpretation.
Inspired by their experience in the laboratory, artists will offer original points of view and operational perspectives in the form of art pieces. Hopefully, this will ultimately serve to inspire the hosting scientific teams in their own work and investigations.
Caterina: KLAS raises questions about research and innovation and the ethics of it; as Frank Raes from the European Commission put it: "In an area like synthetic biology, with all its possible questions about life and being human, collaborations between scientists, artists, and society are not only interesting but needed".
Tell us about the research groups involved in the program.
Rodrigo: The research groups span quite a wide range of research topics, so I'll give a short summary of each of them:
Arren Bar-Even, from the Max-Planck Institute of Plant Physiology, and his group, study cellular metabolism, and how microbes can be engineered to produce value-added biorefined chemicals. Their aim is to address sustainability challenges in energy storage and chemical production. In particular, they study the conversion of one-carbon feedstocks with microbes, using computational techniques to identify metabolic pathways.

Tom Robinson, from the Max-Planck Institute of Colloids and Interfaces, and his group, aim to build membrane structures using lipid vesicles, which mimic biological cell organelles. The goal is to understand how enzyme-catalyzed metabolic processes occur within confined organelles; and eventually, construct a cell using artificial membranes in order to understand how a cell functions.

Alex de Vries, from the University of Groningen, The Netherlands, and his group, work with a "computational microscope", whereby they are able to simulate the motions of membranes, and how small molecules move between them. Of particular interest is how this movement is effected by small molecules such as alcohols and sugars. These simulations are being used to interpret experimental results observed in the lab.
Jan Kok and his group, University of Groningen, work in the field of molecular genetics. Their aim is to study molecular mechanisms of model bacteria, and how they change with external stimuli. Of particular interest for them are Bacillus subtilis as a potential factory for enzymes and vaccines, and Lactococcus lactis as a model system for research on gene regulation.
You have recently hosted some artists in residence programs within a few of these groups. How did this work?
Rodrigo: Firstly, the artists were introduced to the research groups, and this began the discussions. At the institutes, the artists could move around the labs, try out some experimental work, use all the facilities, ask plenty of questions, and interact with all the scientists. Otavio Schipper flew in from Rio de Janeiro, Brazil, and was at the MPI for fifteen days. He was constantly in contact with his partner Sergio Krakowski, who is currently based in New York. They came up with a few ideas that were later developed when back in his studio in Brazil. The first part of their residency was in July. Their second residency, at the University of Groningen, took place in November shortly before the KLAS workshop. They were in contact with the scientists prior to going there, and already evaluating the possibility of working on specific ideas. So once in Groningen, they spent some time with scientist Alex de Vries, and after one week they came up already with their first simulations and sound samples. Sergio and Otavio presented their current ideas for their final artwork at the KLAS Workshop.
In the case of Agnes Meyer-Brandis, her first residency took place at the University of Groningen. She stayed there for a couple of weeks, and, in collaboration with Alex de Vries, they developed the first models of their tree-molecules project. We really look forward to seeing this developed. Agnes is now completing her residency at the Max-Planck Campus, but since she is based in Berlin, she decided to extend her two-week residency for a few months.
The first KLAS workshop took place at the end of November. What kind of topics did you discuss?
Rodrigo: The workshop was an eclectic and pleasant gathering of specialists and non-specialists. The topics ranged from the ethical implications of biohacking to restructuring of education curricula. It attracted a large interest, which we saw as something positive, since it emphasizes the need of programs like KLAS.
Caterina: I think the workshop was very well received. Over 200 people registered, and around 150 international participants joined from all over the globe, amongst which were young scientists, artists, art-science experts, scholars, curators, and representatives from industry, local government, and private initiatives. All coming together around a common theme brought about by the engaged passion, curiosity, and knowledge of these amazing presenters.
How do you expect these interactions to influence scientific research?
Rodrigo: As mentioned before, working together with an expert in another field makes you see your work in a different light, sometimes illuminating aspects that weren't your initial focus. Let's face it–even if the idea of being a scientist is exciting, the actual work is not always so thrilling, and as in any other field, things can start getting a bit dull after a while. Who wouldn't enjoy the idea of having an artist in residence to change things up a little?
Caterina: Additionally, this project has pretty big implications for science communication. We hope for the work here to be discussed on a grander scale; and what better way to do this than through exhibitions and displays in museums and galleries?
What kind of artwork has been produced so far? Can we see some of it?
Caterina: Otavio is fascinated by the history of objects and memory, Sergio by sound, percussion-machine interaction, and the limit between rhythm and spoken language. Together they aim to develop artwork that explores the origins of life. Their exhibition project consists of a large room-size glass pipette suspended in air, from which water droplets slowly fall onto a large surface covered with mud. The work embodies the conditions required for life, and the research of chemist James Ferris, who created long chains of RNA molecules in the lab decades ago, using simple clay materials and basic organic molecules as a catalyst.
Alongside the visual component, the installation also includes a sonic landscape, based on the research currently being developed by Alex de Vries. Based on his idea of a "computational microscope", he is looking at the translation of the vibration of the molecules of life into sound, based on the computation of the natural modes of vibration of such molecules using quantum chemistry. This is illustrated in the artwork by hearing audible frequencies, based on the vibrations of the molecules themselves.
The works of Otavio and Sergio are always very suggestive and potent. You can check out their latest work "Smoking Mirror", in the context of a larger exhibition called "Mirror Images in Art and Medicine", supported by the Schering foundation.
You can find a brief video on YouTube, in which some of the results they developed in collaboration with Alex de Vries are presented. This was also presented at the workshop.

YouTube video showing Alex de Vries' results.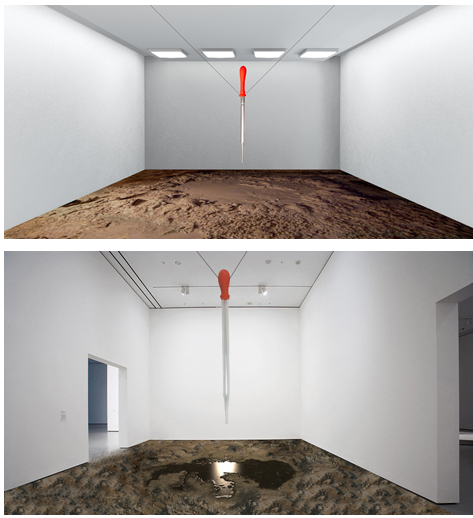 Plans for the work of Otavio Schipper and Sergio Krakowski. Photos: Otavio Schipper
In the case of Agnes Meyer Brandis, she uses her background both in science and art to combine pure science and fantasy. In this line, she explores the playfulness between fact and fiction with an ironic look. Her works are usually participatory urban interventions, and we are very much looking forward to her final exhibit.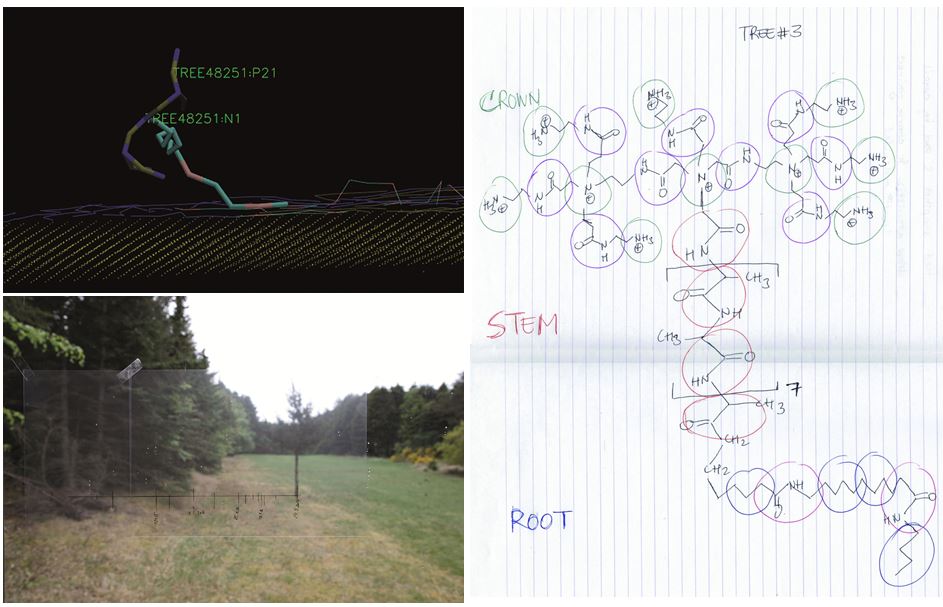 Plans of Agnes' work.
top left: Molecular Tree #20170807", screenshot, Office for Tree Migration, Groningen, NL, 2017, in cooperation with Alex de Vries, RUG, NL © Office for Tree Migration, Agnes Meyer-Brandis, VG Bildkunst 2017.
bottom left: Wandering Pine Tree, Office for Tree Migration, Blokhus, DK, 2016. © Office for Tree Migration, Agnes Meyer-Brandis, VG Bildkunst 2017.
right: Molecular Tree #3", drawing, Office for Tree Migration, Groningen, NL, 2017, in cooperation with Alex de Vries, RUG, NL © Office for Tree Migration, Agnes Meyer-Brandis, VG Bildkunst 2017.
Earlier works of the artists: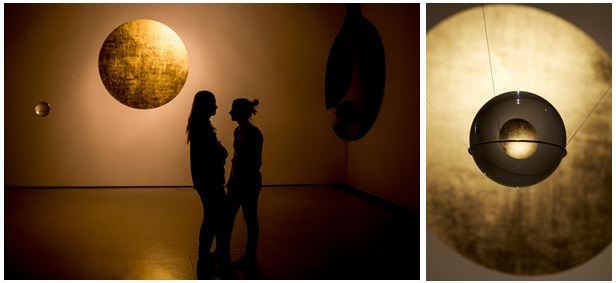 Smoking Mirror. Installation: mixed media and sound from 2015 by Otavio Schipper and Sergio Krakowski. Photos: Nick Ash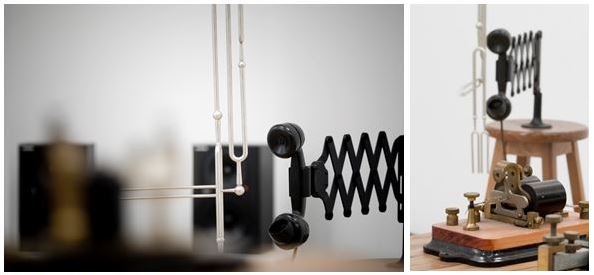 Mecanismos. Installation from 2013 by Otavio Schipper and Sergio Krakowski. Photos: Gabi Carrera

Mechanical Unconscious. Installation: telegraph machines, wood tables, software, light bulb, sound from 2010 by Otavio Schipper and Sergio Krakowski.Photos: Otavio Schipper
Tell us a bit about your scientific backgrounds.
Rodrigo: I am a chemist, currently working at the Max Planck Institute for Colloids and Interfaces, Germany, where I study nucleation phenomena. In a nutshell, I try to elucidate how topographic modifications of a surface can direct aggregation of nanoparticles, such as fullerenes, and how we can use these findings for new materials. Before arriving in Germany, I completed an Erasmus Master's program in Theoretical Chemistry and Computational Modelling in the Netherlands and Italy, as well as research residencies in Bristol, UK, Barcelona, Spain, Ispra, Italy, and Kyoto, Japan.
Caterina: My dad is an art historian and curator, and I have always been surrounded by art, books, artists, researchers, writers, and gallerists. I've always had a genuine passion for the arts but couldn't give up my fascination and curiosity for science and scientific reasoning, physics specifically. So as soon as I finished my Bachelor's in Physics and Philosophy in the UK, I went on to study a Master's in History of Science in Italy, followed by a second Master's in Aesthetics and the Theory of Contemporary Art in Barcelona in an attempt to quench my thirst for more understanding of the artistic and scientific. I've also been a visiting lecturer and researcher in a number of different institutions around Germany, Italy, and France. I've been working on projects ever since then, alongside internationally renowned artists, architects, fashion designers, gallerists, neurologists, historians, physicists, all sorts really. These have mostly been related to exhibitions and giving talks, which has developed more into fundraising and coordination capacity. This is something I'd like to take a step back from eventually, and focus more on
Thank you for the interview!
Thanks for having us! Please check out the homepages of the artists and researchers!
---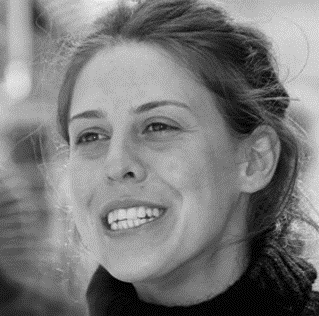 Caterina Benincasa, born in Rome, Italy, studied physics and philosophy at Bristol University, UK, and specialized in Aesthetics & Theory of Contemporary Art (MD), History of Science (MD) and World Heritage Studies (MD). She has been visiting lecturer at the Academy of Fine Arts in Sassari, Italy, researcher in Contemporary Visual Art, France, researcher in Neuroaesthetics at Don Gnocchi Foundation, Italy, and recently worked for the 'Modern Geometry and the Concept of Space' research group at the Max Planck Institute for the History of Science, Germany.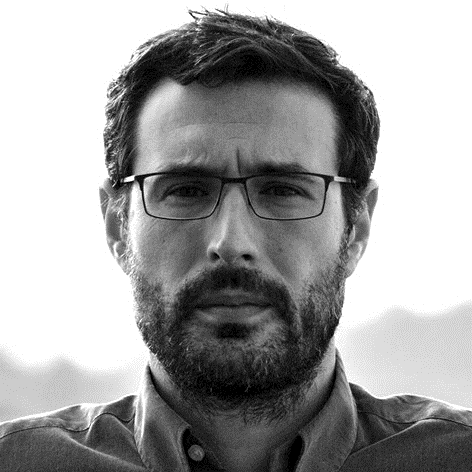 Rodrigo Pérez-García, born in Spain, studied chemistry at University of Madrid, Spain. He received his Master in Theoretical Chemistry and Computational Modeling from the University of Groningen, The Netherlands, and the University of Perugia, Italy. Currently, he is a Ph.D. student at the TU Berlin and works at the Max Planck Institute of Colloids and Interfaces, Potsdam, Germany.
Artists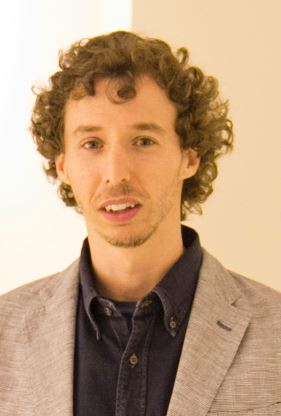 Photo: Aline Müller
Otavio Schipper, born 1979 in Rio de Janeiro, Brazil, sudied Physics at the Universidade Federal do Rio de Janeiro and has received the 2015 Fellowship from the Akademie der Künste Berlin, Germany.
He exhibits his works worldwide, including at the Kunstmuseim Winterthur, Switzerland, or Galeria Millan, Sao Paulo, Brazil.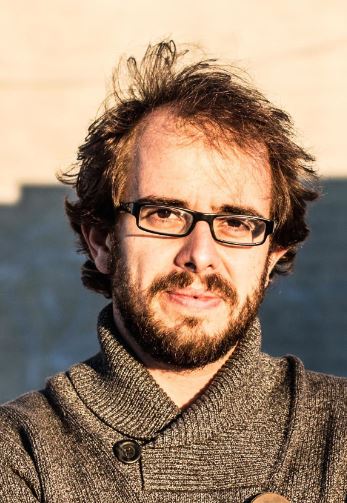 Photo: Cris Komesu
Sergio Krakowski, born 1979 in Brazil, gained his PhD. in computer music and mathematics from the Sony Computer Science Laboratory, Brazil and France. Currently, he lives as a musician and composer in New York City, USA, perfoming a career both as a jazz instrumentalist and contemporary sound artist.
He exhibits his works worldwide, including at the Guggenheim Museum, Bilbao, Spain.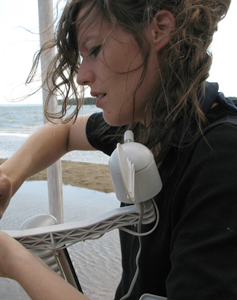 Photo: Ulla Taipale
Agnes Meyer-Brandis, born in Berlin, Germany, studied sculpture at the Kunstakademie Maastricht, The Netherlands, from 1993 to 1995, was a master-student of Magdalena Jetelovà at Kunstakademie Düsseldorf, Germany, in 2000, and received a diploma in Audio Visual Media from the Kunsthochschule für Medien, Köln, Germany, in 2003.
She exhibits her work worldwide, including at the Goethe Institut, Porto Alegre, Brasil, and the National Taiwan Museum of Fine Arts.

Also of Interest