The fluidized bed technology is frequently applied for largescale production of granular materials due to its versatility and potential to conduct granulation or agglomeration at low costs. To gain the desired product properties based on specific structures, different fluidized-bed configurations can be used such as batch or continuous, top-spray or bottom-spray configurations, and many more.
A team around E. Tsotsas, Otto-von-Guericke University, Germany, investigated the particle residence and recirculation times in various types of fluidized beds used for granulation. Following a two-compartment approach – namely the spray compartment and the drying compartment – distinctions are made between spray zone residence time and drying zone residence time.
These compartment residence times can be influenced by process conditions, including the gas flow rate for fluidization and for atomization through the nozzle. Compartment residence times can also be influenced by the type of equipment, such as a top-spray configuration (below, (a)), spout fluidized bed (below, (b)), spout fluidized bed with internal riser, or a spouted bed.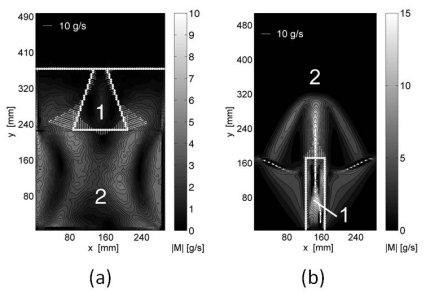 Image: Zone partition of (a) top-spray process; (b) spout fluidized bed. © Wiley-VCH
---