2011 is the International Year of Chemistry (IYC 2011) and the centenary of Marie Curie's Nobel prize in Chemistry. Therefore, ChemViews will introduce interesting women throughout the year.
Supawan Tantayanon is Associate Professor of Chemistry of the Faculty of Science and the Director of Technopreneurship and Innovation Management Program of the Graduate School at Chulalongkorn University, Thailand. She has designed and initiated many successful courses that focus on the applications of chemistry and will become the first female president of the Federation of Asian Chemical Societies in September.
Please tell us a bit about how your career has developed?
I joined the Department of Chemistry, Chulalongkorn University, Thailand, as an instructor right after obtaining my master's degree. Because I was young and new there, I was assigned to proctor the labs only. I had much free time and so I volunteered to help the Professor Dr. Tab Nilanidhi Foundation during my first year and the association has continued until now. The Foundation promotes and awards the top first-year undergraduates in science and the top fourth-year students in chemistry and this has recently been expanded to all areas of science in all the universities in Thailand.
I then obtained a Fulbright scholarship to study for my PhD degree in Worcester Polytechnic Institute, USA, where the circumstances enabled me to grow in many other aspects besides academic and research work, which built up my confidence.
When I returned to Chulalongkorn University, it was the year that the government decided to develop the first petrochemical complex in Thailand. I was assigned, as one of the four faculty members from different disciplines, to design and teach the multidisciplinary master's program on Petrochemistry and Polymer Science. Later, I was appointed to be the Founding Director of the Petroleum and Petrochemical College, which offered the first program of its kind in the country. It gave me the great opportunity to have contact with and get to know many executives from industry and business.
When the college was successfully established, I was approached by a few petrochemical companies to join them. However, I chose to stay with the university and worked with one group of petrochemical companies as a consultant for 11 years. Again, this opportunity allowed me to learn many other aspects besides chemistry and to link chemistry education to industry and business. I thus suggested to the university to begin a weekend master's degree program of petrochemistry and polymer science which has proven popular.
I also initiated another international undergraduate program in applied chemistry which the Department of Chemistry has offered since 2005. It is the first and only undergraduate program to be taught in English at Faculty of Science to date. The recent master's and PhD program of Technopreneurship and Innovation Management Program, also led by me, started to accept students in 2007. It is a multidisciplinary program with the concept of bringing lab-bench work to the market, but it is not only focused on business consideration as many other business programs are offered elsewhere. Instead, the students must work with a research group to apply their findings to suit the needs of the markets. Each student has a team of advisors of up to three people from different disciplines, for example, science or engineering, architecture and marketing or economics. The student must find an application of the basic research result, study the planning and development of its product or service, and prove its market value.
All these innovations faced lots of resistance from faculty menbers before getting approval.
How has all of this affected your work?
My experiences have given me the opportunity to learn more about how chemistry applies in the real world. The result is that, in the last two decades of my chemistry teaching, I have taught in rather applied chemistry subjects, like Green Chemistry, Industrial Chemistry, Petrochemistry, Chemical Hazard Management, Chemical Safety, and Innovation Syntheses.
What do you enjoy most about your career?
In the beginning I just taught basic chemistry, but I enjoyed it more when I could give examples and explain the inherent reasons why industry has done something in a certain way. This can often be influenced by factors besides the theoretical viewpoint of chemistry. I always take the students in each class out to visit at least two chemical industrial plants to experience the real world. I challenge them to find out information about the plants relevant to the subjects I taught before, and the ones I will teach after the visit. During discussions, I can see how much they appreciate my class. I am always so happy to hear that they like my class and they almost never miss it. It has been like this for many years now and this is what I enjoy most.
How did you decide to become a chemist?
According to the educational system in Thailand, a student must make a decision to continue studying a science or non-science major after Grade 12. I thought a scientific education would give me a greater choice of jobs, like an engineer or a physician, and so I continued my study in high school majoring in science. After the first undergraduate year, the students then select their further field of study. I chose chemistry because it was the subject that I understood very well compared to the others. After graduation, I could not see any career for a chemist other than as a lab technician or find any jobs for large chemical companies except the oil companies which wanted chemical engineers rather than chemists at that time. I thus decided to go for a teaching career and so I continued my master's and PhD degrees in organic chemistry.
What is your biggest influence?
I believe that my first involvement with the non-profit organization, the Professor Dr. Tab Nilanidhi Foundation, inspired me to contribute more to the society. I am proud to work with Professor Dr. Tab Nilanidhi, who received his PhD from Cornell University, USA, was the first Professor teaching Chemistry in Thailand, and is very well known in the Thai science community. I was the only young person volunteering for this foundation at that time — almost all the comittee members were more than 50 years old.
Do you think there are still differences between men and women in chemistry?
In general, I do not think there are any differences between men and women in chemistry — or in other fields — in terms of capability. However, there is the matter of available time and responsibilities at home, particularly for married women. Some women may not agree with me, but I give the priority to my family. It is thus challenging for me to maintain the quality of my teaching and research work and to satisfy my family at the same time.
How do you combine family and job?
I am fortunate that my husband obtained his PhD in chemistry together with me. He understands my role and responsibilty very well and he always supports me and helps in many ways. I have two sons and I always bring them along for plant visits and oversea business trips whenever practicable. They have understood how much I work since they were children and are still understanding.
I plan well and prepare all the daily house work including meals and household chores, so my family will not feel neglected. I normally think of meals and do the preparation or even cook the meals one day ahead, so that I can finish the meal quickly when I return home. I also buy some delicious and famous dishes whenever I have a chance to. Occasionally we will eat out also. When I will be away, I prepare as many things for them as possible. I will also arrange one overseas trip for a week each year for my family. I have done this for more than 15 years and it is the only time that we spend together without any other distractions.
Have you experienced any personal struggles typical for women in sciences?
I would say that the struggles typical for women in science are "time" and "family responsibility". I wish I could have more hours in a day, so I can do all the work more comfortably. I have had to hire a recent graduate as my personal secretary to do all the administrative work, in order to retreive some time for all my other work and family responsibilities. Even so, I still face a problem sometimes. Therefore, it is important to plan and manage well for each type of work to be done.
What advice would you give other women thinking of embarking on a scientific career?
Everyone can contribute to science and chemistry in many ways. However, you need to have the passion and the determination within yourself. For women in science, the family responsiblity is another parameter to think about. If you can make it balance well with your work, you will be one of the happiest women in the world.
What do you do in your spare time?
Although I cook every day, I get a lot of enjoyment from it. However, I sometimes feel fustrated when the time is so short that I can not plan well enough.
I also like listening to music and singing songs, which I will often do while I am working alone. I used to watch movies when I had some spare time, but I have not found time to do this for about a decade, except on planes and during family trips.
What would you like to be doing ten years from now?
I have never thought about what I shall do after retirement until now. I enjoy every moment of teaching, doing research, creating special chemistry-related projects, and contributing to the foundations and professional societies. I hope I can continue doing these things, perhaps in other roles, wherever and whenever practicable, while still having a happy family.
What else would you like readers of ChemViews to know about you, your experiences, or women in sciences in your country or in general?
I always take an opportunity when it arises. For instance, when I was the Deputy Dean for Academic Affairs, I created the Mathematic Physical Science Graduate Congress (MPSGC) and Biological Science Graduate Congress (BSGC) organized in rotation among three universities, i.e., Chulalongkorn University, National University of Singapore and University of Malaya. I can see a lot of benefit for all the students, who are our next generation, involved in these congresses — not only for the academic experience, but also to increase their exposure internationally which will create networks and collaborations in the future. Both congresses are held every year and have proved to be successful according to the increasing number of participants, particularly from other universities worldwide.
I also organized two short courses on Entrepreneurship for Science for members of science and science-related faculties across Thailand, with 60 participants each time. The main objective was to allow the faculty members to explore the possibility to utilize their research findings in a new business development. I expect that they will be able to teach and design their research in a more applicable direction than before.
Another piece of work that I am proud of is the invention of the Small-Lab Kit. This originated from my concern about the chemical safety issues surrounding students doing experiments in the lab. I thus requested the Thailand Research Fund for a grant for a project entitled Chemistry Laboratory on the Basis of Chemical Safety and Pollution Minimization, which was a collaboration of 14 faculties from 7 universities in Thailand. We selected and tested the experiments for both general chemistry and organic chemistry labs based on small scale chemistry and green chemistry. However, we were faced with the lack of availability of small-scale glassware and neccessary equipment for organic experiments. Finally, I designed and made a prototype of a complete and portable set of small-scale organic kit, which is now patented and commercially available. The experiments using the Small-Lab Kit can be accessed and downloaded from the UNESCO website.
Besides academic work, I have volunteered to work for societies related to chemistry and science. I was the Founding President and later the first President of the Polymer Society of Thailand. I was a member of the Board Committee of the Science Society of Thailand under the Patronage of His Majesty the King for several years, then I became the Chair of the Chemistry section and the Vice President of this society as well. I am currently the tenth President of the Chemical Society of Thailand under the Patronage of Her Royal Highness Princess Chulabhorn Mahidol. I am the first woman to hold this position.
In international roles, I was the eighth President of the Pacific Polymer Federation and again the first woman to hold this position, the Director of Green Chemistry Institute (Thailand Chapter), the Director of Low-cost Instrumentation and Microscale Chemistry of the Federation of Asian Chemical Societies.
Currently, I am an Editorial Board Member of the Polymer International Journal and the President-Elect of the Federation of Asian Chemical Societies (FACS). I will assume the role of seventeenth President of FACS this September, once again as the first woman to hold this position.
Thank you very much for this interview.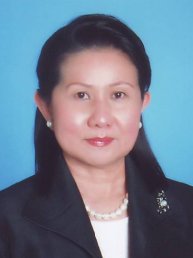 Associate Professor Supawan Tantayanon studied chemistry at Chulalongkorn University, Thailand, graduating in 1973 with a BSc (Hons). She obtained her MSc at Mahidol University, Thailand, after which she returned to Chulalongkorn University to take up a position as an Instructor in the Department of Chemistry. She moved to Worcester Polytechnic Institute, USA, for her PhD which she completed in 1982. On return to Chulalongkorn University, she became Assistant Professor, being promoted to Associate Professor in 1990.
Tantayanon currently holds the position of Director of the Technopreneureship and Innovation Management Programs of the Graduate School at Chulalongkorn University and is the President of the Chemical Society of Thailand. She is an active member of several Thai and International chemical societies and will accede to the presidency of the Federation of Asian Chemical Societies in September.
Selected Publications
---
---

European Women in Chemistry
Published: 11 November 2010
ISBN: 978-3-527-32956-4
Author: Jan Apotheker, Livia Simon Sarkadi