Weifeng Ding, Scientific Editor of the Chinese Journal of Chemistry, recently visited the editorial office of Wiley-VCH, Weinheim, Germany. ChemViews took the opportunity to speak to him about the differences between the editorial offices and what he is taking home from his visit.
You are Scientific Editor of the Chinese Journal of Chemistry. Tell us a bit about how your career developed, please.
I received my master's degree in Chemistry from Shantou University, China. As my major is chemistry and I have always been interested in literature, I joined the editorial office of the Chinese Journal of Chemistry as Assistant Editor in 2005. This means I assisted the Editor-in-Chief in the peer review process, was involved in the type-setting of accepted manuscripts, took care of figure corrections, and prepared manuscript data for the online publication.
In 2009, I was promoted to Scientific Editor. Since then, my editorial responsibilities have increased and I have also started to attend academic conferences, in order to meet with researchers and invite potential new authors.
Can you tell us a bit about the development or history of the journal?
The Chinese Journal of Chemistry is an international peer-reviewed journal publishing English articles in all fields of chemistry. It is jointly published by the Shanghai Institute of Organic Chemistry (SIOC), Chinese Academy of Sciences (CAS) and Wiley-VCH on behalf of the Chinese Chemical Society (CCS). It is supported by the Chinese Association of Science and Technology and the National Natural Science Foundation of China.
The

history of the Chinese Journal of Chemistry goes back to the year 1933 when the CCS launched the Journal of the Chinese Chemical Society which was published in Peking University in English until 1951. In 1952, the CCS relaunched the journal as Huaxuexuebao (Acta Chimica Sinica) and transformed it into a Chinese-language publication. The editorial office was first located at the Institute of Chemistry, CAS, but it was moved to the SIOC in 1965.
In 1983, the CCS together with the SIOC launched a new journal, entitled Acta Chimica Sinica English Edition, publishing English translations of selected Acta Chimica Sinica articles. The English edition was renamed as Chinese Journal of Chemistry in 1990. At the same time it became an independent journal, meaning that it stopped publishing translated articles that originally appeared in Acta Chimica Sinica. In 2005, we started to cooperate with Wiley-VCH, including close editorial relationships between the editorial office in Shanghai and Wiley-VCH editorial colleagues in Weinheim, online publication of the journal in Wiley Online Library, and global marketing and distribution.
You are visiting the Weinheim Wiley-VCH office for two and a half months to further develop the journal. What are the next steps planned?
Even though the readers of the Chinese Journal of Chemistry come from all over the world these days, it is my main concern to continue the journal's development into a truly international and world-renowned publication. When I am back in my Shanghai office, I plan to attend several academic conferences and to invite more Chinese and international professors to submit high-quality manuscripts to our journal. We will also cancel the page charges, to make publication in the journal more attractive. In order to further reduce the publication times we will start using a new web-based online submission and peer-review system and we will introduce EarlyView to the Chinese Journal of Chemistry, i.e., the online publication of individual articles prior to the publication of complete issues.
How does working here in Weinheim differ from your office at home?
The main difference is that in Weinheim the editors always look for good papers in the world, whereas in Shanghai the editors wait for good papers to be submitted. These are the most important things I have learned here: go out and look for good authors, meet and talk with them, invite them to submit their manuscripts, and offer them the best service and author experience possible.
How do you like Weinheim? How different is it from Shanghai?
Weinheim is a small city with about 43,000 inhabitants, but it is very beautiful. The people in Weinheim are always very friendly and smile at me. Everything seems very quiet. Shanghai is a large city with about 23 million inhabitants. It is very modern with many high buildings, many subways, stores and companies. The people in Shanghai are always very busy. In Weinheim on holidays or weekends, barely anybody is on the street. This never happens in Shanghai. In Weinheim, it also seems that nothing changes, whereas in Shanghai development of the city is very fast as new buildings are built and finalized every day.
Is there anything you will miss when returning to China?
Some German friends like Carina Kniep, Josefa Fernández, Peter Gölitz, Eva Wille, Brian Johnson, Stefan Körnig, Sabrina Turba and so on. And the birthday celebrations of colleagues in the office — I like the tradition of everybody meeting at the same time to congratulate and wish the person a happy birthday.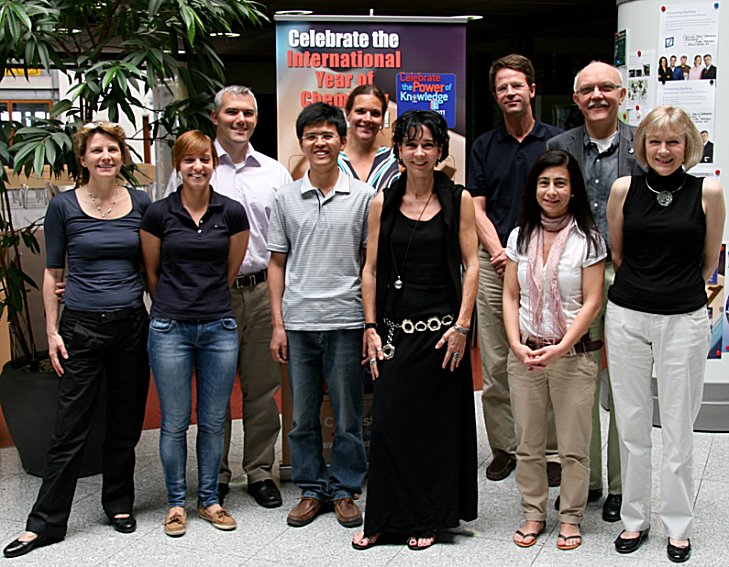 Figure 2. Among Weinheim colleagues: Eva Wille, Stefanie Klein, Brian Johnson, Weifeng Ding, Sabrina Turba, Carina Kniep, Stefan Körnig, Josefa Fernández, Peter Gölitz, and Margitta Schmitt (from left to right).
I will also miss some beautiful German cities or places such as Weinheim, Heidelberg, Mannheim, the Schlosspark in Schwetzingen, the lake near the Wiley-VCH office, the Neckar River in Heidelberg, and the old bridge and castle in Heidelberg.
I once rode my bike from Weinheim to Heidelberg. It took me about 1 ½ hours and I very much enjoyed the beautiful scenery. I also enjoyed attending a concert with Eva and Peter, visiting Carina's home for an interesting barbecue, and going out with Josefa and her family who took me to a brewery in Weinheim.
What do you do in your spare time in Shanghai?
I like reading books, writing novels or poems, listening to classic or popular music. I also enjoy some sports like Chinese Chess, table tennis, basket ball, running, and riding my bike. When I have time, I visit old friends or my parents, take part in social activities. I also like travelling, science, culture, economy, history and so on. 
Thank you very much for this interview.
---