Neonicotinoids
Neonicotinoids are a class of neuro-active insecticides. The EU Member States have restricted the use of certain neonicotinoids to applications in greenhouses across the EU. Almost all outdoor uses are banned within the EU. Two neonicotinoids can still be used: acetamiprid has been re-approved for use until 2033 and thiacloprid is under review. The ban is a major extension of existing restrictions, in place since 2013. The new regulation will be adopted by the European Commission in the coming weeks and will be applicable by the end of the year.
The development of neonicotinoids such as acetamiprid, clothianidin, imidacloprid, nitenpyram, thiacloprid, and thiamethoxam, started with chemists at Shell Development Company, Modesto, CA, USA, and Nihon Bayer Agrochem, Japan [1–3]. Neonicotinoids were first used in the 1990s. Today, imidacloprid, developed by Bayer CropScience and still the primary manufacturer, is the most widely used insecticide in the world. They are effective against a wide range of different pests. Application as a spray, by seed treatment, or by direct application to soil is possible. Neonicotinoids are systemic pesticides. This means they are taken up by the plant and transported throughout the plant into leaves, flowers, roots, stems, as well as pollen and nectar. Other insecticides, contact pesticides, stay on the surface of the treated leaves. In insects, neonicotinoids block the nicotinic receptors for the neurotransmitter acetylcholine. This leads to overstimulation, paralysis, and death.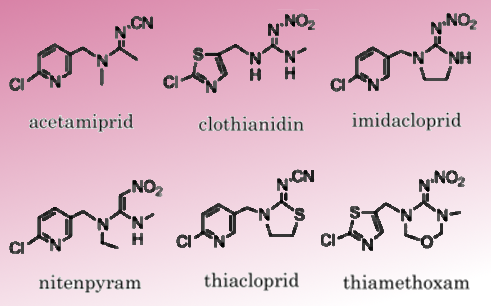 Ecological Effects
Starting about 20 years ago, neonicotinoids are linked to adverse ecological effects, including honey-bee colony collapse disorder (CCD) [4]. The reduction in insect populations also resulted in a loss of birds. According to lab studies, ingestion of 4–5 ng neonicotinoid is lethal for honeybees. However, it is unclear if bees are actually exposed to such doses. A small risk for bees is unavoidable with insecticides.
Ecological effects are discussed controversially [5]. Bayer, for example, says neonicotinoids are safe when used in accordance with the label instructions [6]. The most recent bee risk assessment reports of the European Food Safety Authority (EFSA) in Parma, Italy, finds that the majority of applications of neonicotinoid-containing pesticides pose a risk to wild and honey bees [7–9].
Manufacturers Perspective
According to Bayer and other manufacturers as well as some farming groups, the ban is a bad decision for the European agricultural sector and the environment. They say that the science remains uncertain and they do not think that this decision will help bees or other pollinators.
Bayer argues that the decision will increase costs for farmers in the EU and lead to unintended consequences. With no alternative treatments in place, it will become more difficult to deal with pests. A return to older, less-effective, and also harmful chemicals such as pyrethroid will take place, and more spray applications will be needed. This leads to more CO2 emissions and an increased risk of resistant pest insects [6, 10]. The ban will probably impact the types of crops grown across Europe. But, as consumption is not decreasing, imports from outside the EU, where treatment with neonicotinoids is allowed, will increase.
References
[1] S. B. Soloway, A. C. Henry, W. D. Kollmeyer, W. M. Padgett, J. E. Powell, S. A. Roman, et al., Nitromethylene insecticides, Adv. Pestic. Sci. 1978, 4, 206–217.
[2] M. E. Schroeder, R. F. Flattum, The mode of action and neurotoxic properties of the nitromethylene heterocycle insecticides, Pest. Biochem. Physiol. 1984, 22, 148–160. https://doi.org/10.1016/0048-3575(84)90084-1
[3] H. Takahashi, J. Mitsui, N. Takausa, M. Matsud, H. Yoneda, J. Suszuki, K. Ishimitsi, T. Kishimoto, NI-25, a new type of systemic and broad spectrum insecticide, Proc 1992 Brighton Crop Prot Conf – Pests and diseases 1992, 1, 88–96.
[4] Galen P. Dively, Michael S. Embrey, Alaa Kamel, David J. Hawthorne, Jeffery S. Pettis, Assessment of Chronic Sublethal Effects of Imidacloprid on Honey Bee Colony Health, PLOS 2015. https://doi.org/10.1371/journal.pone.0118748
[5] Chensheng Lu, Kenneth M. Warchol, Richard A. Callahan, In situ replication of honey bee colony collapse disorder, Bulletin of Insectology 2012, 65 (1).
[6] Neonicotinoid ban: a sad day for farmers and a bad deal for Europe, Bayer Press Release, April 27, 2018.
[7] European Food Safety Authority (EFSA), Peer review of the pesticide risk assessment for bees for the active substance clothianidin considering the uses as seed treatments and granules, EFSA J. 2018, 16(2). https://doi.org/10.2903/j.efsa.2018.5177
[8] European Food Safety Authority (EFSA), Peer review of the pesticide risk assessment for bees for the active substance imidacloprid considering the uses as seed treatments and granules, EFSA J. 2018, 16(2). https://doi.org/10.2903/j.efsa.2018.5178
[9] European Food Safety Authority (EFSA), Peer review of the pesticide risk assessment for bees for the active substance thiamethoxam considering the uses as seed treatments and granules, EFSA J. 2018, 16(2). https://doi.org/10.2903/j.efsa.2018.5179
[10] J. Kathage, P. Castañera, J. L. Alonso-Prados, M. Gómez-Barbero, E. Rodríguez-Cerezo, The impact of restrictions on neonicotinoid and fipronil insecticides on pest management in maize, oilseed rape and sunflower in eight European Union regions, Pest. Manag. Sci. 2017. https://doi.org/ 10.1002/ps.4715