ChemPubSoc Europe is proud to announce its new Fellows at the 7th EuChemS Congress for their outstanding services. The Fellows listed below were nominated to honor their extraordinary support and contributions towards the European joint publishing venture ChemPubSoc Europe.
The Fellowship is the highest award given by ChemPubSoc Europe. It was established in 2015 and is announced in the run-up to the biannual EuChemS congresses. This year, the nomination of the Fellows will be celebrated at a reception during the 7th EuChemS Congress in Liverpool, UK, on August 28, 2018.
ChemPubSoc Europe is the partnership of 16 European chemical societies with ca. 70,000 members that publish 15 high-quality journals and its free-to-read magazine ChemViews Magazine (integrated into the ChemistryViews.org platform). ChemPubSoc Europe supports the chemical societies both financially and in all publishing issues that support their aims to facilitate the dissemination of chemical knowledge within the European countries and worldwide.
ChemPubSoc Europe Fellows 2016/2017
Professor Karl-Heinz Altmann (Switzerland)
Professor Didier Astruc (France)
Professor Piotr Balczewski (Poland)
Professor Vincenzo Balzani (Italy)
Professor Koen Binnemans (Belgium)
Professor Elisabeth Bouwman (The Netherlands)
Professor Maria José Calhorda (Portugal)
Professor Ben Lucas Feringa (The Netherlands)
Professor Ferenc Fülöp (Hungary)
Professor Leticia González (Austria)
Professor Michael Grätzel (Switzerland)
Professor Günther Grampp (Austria)
Professor Karol Grela (Poland)
Professor Daniel Gryko (Poland)
Professor Stephen Hashmi (Germany)
Professor Hermenegildo Garcia (Spain)
Professor Evamarie Hey-Hawkins (Germany)
Professor Anny Jutand (France)
Professor C. Oliver Kappe (Austria)

Professor Peter Kündig (Switzerland)
Professor Bert Meijer (The Netherlands)
Professor Carmen Nájera (Spain)
Professor Martin Nazario (Spain)
Professor Kyriacos Costa Nicolaou (USA)
Professor Per-Ola Norrby (Sweden)
Professor Berit Olofsson (Sweden)
Professor Spyros Perlepes (Greece)
Professor Rinaldo Poli (France)
Professor Maurizio Prato (Italy)
Professor Jana Roithova (Czech Republic)
Professor Wolfgang Schuhmann (Germany
Professor Radovan Sebesta (Slovakia)
Professor Roberta Sessoli (Italy)
Professor Artur M. S. Silva (Portugal)
Professor Licheng Sun (Sweden)
Professor Veronique Van Speybroeck (Belgium)
Professor Dusan Velic (Slovakia)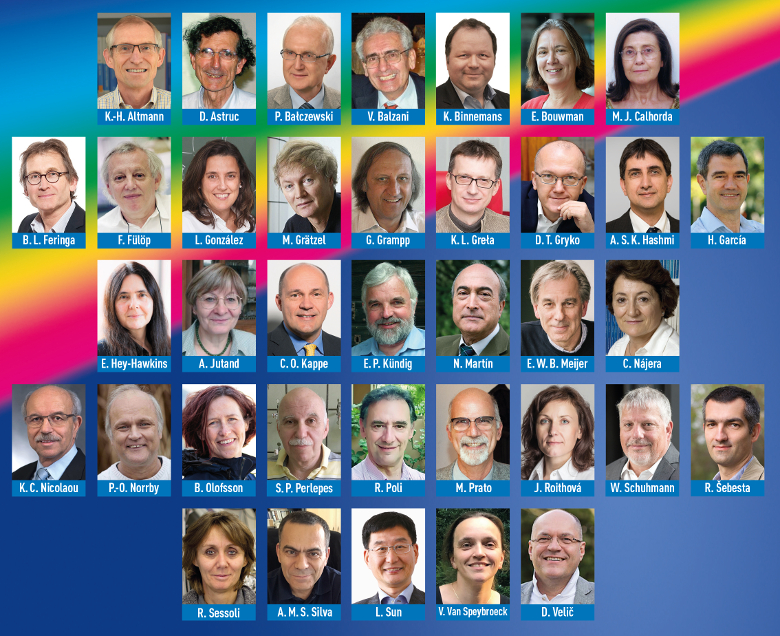 ---