Versatile ligands with multiple coordination sites can be useful, e.g., in catalysis. This is due to their ability to coordinate to a variety of metal ions and main group elements in various oxidation states, which can mutually affect each other.
Soji Shimizu, Hiroyuki Furuta, and colleagues, Kyushu University, Japan, have combined an N-confused porphyrin (NCP) and an aza-dipyrrin-like (ADP) group to form a versatile "chimera" molecule (pictured above). The NH-tautomerism of NCP usually provides two different tautomers. In the "chimera" molecule, there are four possible tautomeric structures (pictured below), which can coordinate metal ions in a variety of oxidation states not only inside the NCP core, but also at the ADP moiety outside.
The coordination of metal ions inside the NCP core determines the ligand properties of the ADP moiety and vice versa. In the A-form, form example, the inner cavity and the outer group can function as trivalent tetradentate and monovalent bidentate ligands, respectively. Three different NH-tautomeric forms were isolated as stable complexes.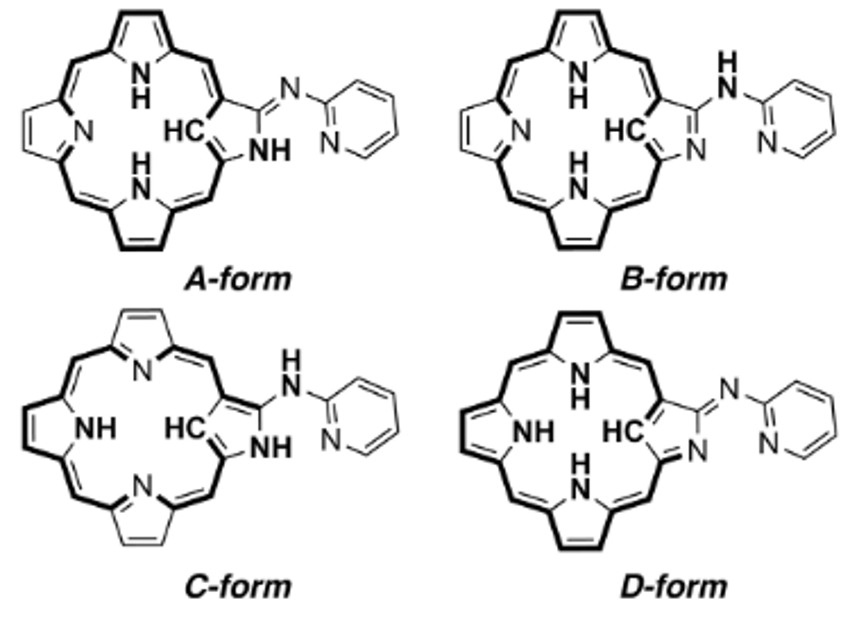 ---