Small inorganic anions in solution are ubiquitous in nature. Developing binding agents to identify or trap these anions is of considerable interest. While host systems that function through N–H bond donors such as amides are common, such that use O–H donors have received less attention.
Nicholas White, Australian National University, Canberra, and colleagues have prepared two cationic hydroxy-containing anion host systems (pictured below). The receptors contain a pyridinium bis(amide) motif as well as hydroxyphenyl groups. The receptors were prepared readily from inexpensive precursors without the need for chromatographic purification.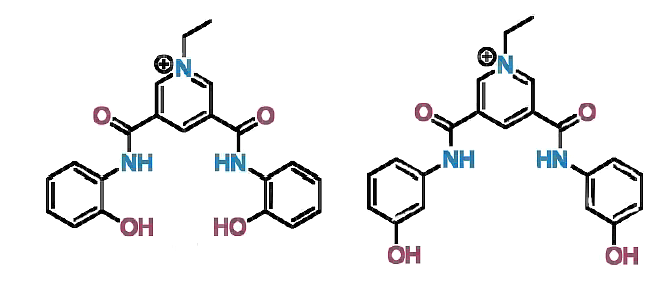 The team has demonstrated that the compounds can complex a range of anions in acetonitrile containing 10 % water. The receptors show a strong preference for the sulfate ion. The team found that the systems seem to tolerate increasing amounts of water. Molecular dynamics simulations suggest that the structures are far from ideal for anion binding. Therefore, future work concentrates on the preparation of more sophisticated receptors that may be able to bind anions in media containing significantly more water.
---