German R&D Record
Germany remains one of the most important R&D locations for the chemical and pharmaceutical industry worldwide. The German chemical industry association Verband der Chemischen Industrie (VCI) announced at their press conference a new record in the German R&D budget: In 2018, the German chemical and pharmaceutical companies increased their research expenditure to ca. 11.8 billion euros (7.1 from pharma and 4.7 from chemical industry). In doing so, the industry has allocated more than 5 % of its turnover to R&D. The VCI predicts that in 2019 the R&D budget will reach the 12 billion euro mark.
R&D primarily concentrates on the fields of health, nanotechnology and materials, energy transformation (Energiewende) and climate protection, circular economy and sustainability, bio-economy. The number of employees in R&D laboratories has increased by a good 2 % to 43,000 compared to the previous year. The VCI infers from this that the companies research in Germany. However, this is not only done in-house. About a quarter of the R&D expenditure is being allocated externally. Universities, other companies, or start-ups have taken on some of this research. This trend is increasing, according to the VCI.
The VCI thinks that start-ups are increasingly important to boost the innovation performance of the chemical industry. Start-ups are agile and fast players in innovation. They advance new ideas quicker and stimulate competition for the best solutions. Start-ups also play a key role in the development of new applications and technologies.
An international comparison shows that Germany remains the fourth biggest chemical and pharmaceutical location worldwide after the USA, China, and Japan (pictured above). Thomas Wessel, Chairman of the VCI Committee for Research, Science and Education and Member of the Executive Board of Evonik Industries AG, Essen, Germany, explained that R&D investments make a major contribution to products which are successful worldwide. The chemical and pharmaceutical industry is Germany's third-largest industry branch.
Strong Competitive Pressure
Despite this good news, Thomas Wessel warned that Germany must not miss its future. To ensure that Germany remains an attractive high-tech location, "we must promote new ideas, products, and procedures much more strongly, and also make it easier to set up new businesses."
Many industrial and emerging countries support the innovative strength of their businesses as a pre-requisite for growth and prosperity. China, in particular, has a huge expenditure on research. In only 17 years, it has managed to become the number two international R&D location in the chemical industry after the USA. China is the leader in scientific publications and holds the third position when looking at chemical and pharmaceutical patents.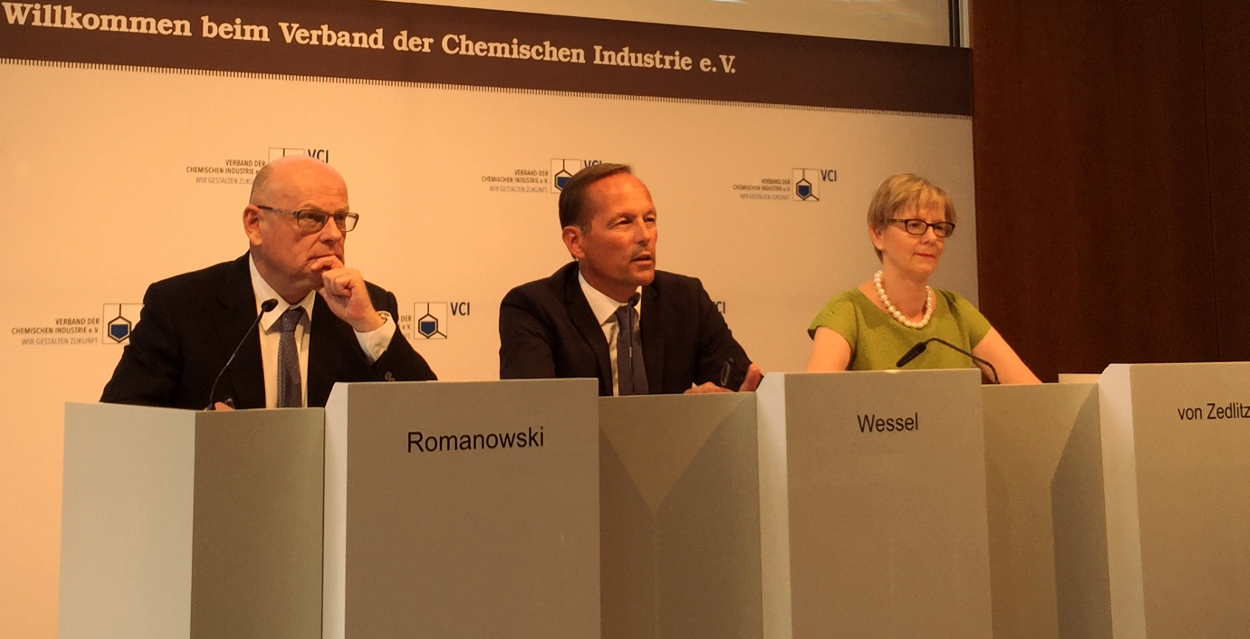 Figure 1. During the press conference (left to right): Dr. Gerd Romanowski, Director of VCI's Department of Science, Technology and Environment, Thomas Wessel, Chairman of the VCI Committee for Research, Science and Education and Member of the Executive Board of Evonik Industries AG, Essen, Germany, and Monika von Zedlitz, VCI Press Department.
The VCI has compiled recommendations for a to-do list for the German federal government. The federal government plans to invest 3.5 % of the gross domestic product (GDP) in R&D. The VCI welcomes this but also thinks that the government should continuously intensify the tax incentives for research over time to encourage companies to invest more money in R&D. Currently, two-thirds of the overall total funding for research in Germany is raised by the companies.
Funding programs need to be well-funded, otherwise R&D projects stop just because of a lack of money. Between 2009 and 2016, the funding for industry from the Federal Ministry of Research, for example, decreased by 9 %. Existing and future regulations need to be in line with current scientific findings and applicable in practice. Thomas Wessel mentioned as an example the 2018 judgment of the European Court of Justice (ECJ) that ruled that CRISPR/Cas should be categorized as genetic engineering without taking current scientific evaluations and findings into consideration (Case C-528/16).
Strengthen the Entrepreneurial Spirit
To make it easier for start-ups, the VCI recommends to simplify bureaucracy: Funding programs, for example, are too complicated, and the transfer of property rights to founders is partly difficult. Chemical start-ups need time for technological development and, therefore, require considerable capital over a quite long time, for example, for development costs, patent registrations, and the building of production facilities. Chemical start-ups also require a professional infrastructure which includes, for example, laboratory facilities or pilot plants. "A garage is not sufficient", Wessel remarked.
In addition, the entrepreneurial spirit has to be strengthened. Setting up their own business does not seem to be particularly appealing for most German chemistry graduates. The VCI praises the Chemical Invention Factory established on the campus of the Technical University (TU) Berlin. The state of Berlin and TU Berlin are investing 11 million euros in the building of a start-up center for green chemicals. The VCI encourages universities to establish and develop seminars and courses on entrepreneurship.
In cooperation with partners from start-ups, science, and the venture capital field, the VCI establishes with Forum Startup Chemie, a support network for start-ups in all phases. Partners are the German Chemical Society (GDCh), DECHEMA, High-Tech Gründerfonds (HTGF), Business Angels Netzwerk Deutschland e.V., and the Bundesverband Deutsche Startups e.V.
---
German Chemical Industry Association (VCI; Verband der Chemischen Industrie), Frankfurt, Germany