2019 is drawing to a close. ChemViews Magazine presents some of this year's highlights and special issues from ChemPubSoc Europe's national membership magazines to showcase the work of our chemical society partners. New articles will be published every Thursday in November and December. This time, it's the GDCh's turn:
My name is Christian Remenyi. I am a chemist and Editor-in-Chief of Nachrichten aus der Chemie. The chemistry magazine Nachrichten aus der Chemie has been the members' journal of the German Chemical Society (GDCh) since 1953. It appears eleven times a year with a circulation of approx. 30,000.
The editorial office is in Frankfurt am Main. For an impression of our editorial office, including its "inhabitants", have a look at: https://onlinelibrary.wiley.com/doi/10.1002/nadc.20194083493

New Layout
2019 was a special yea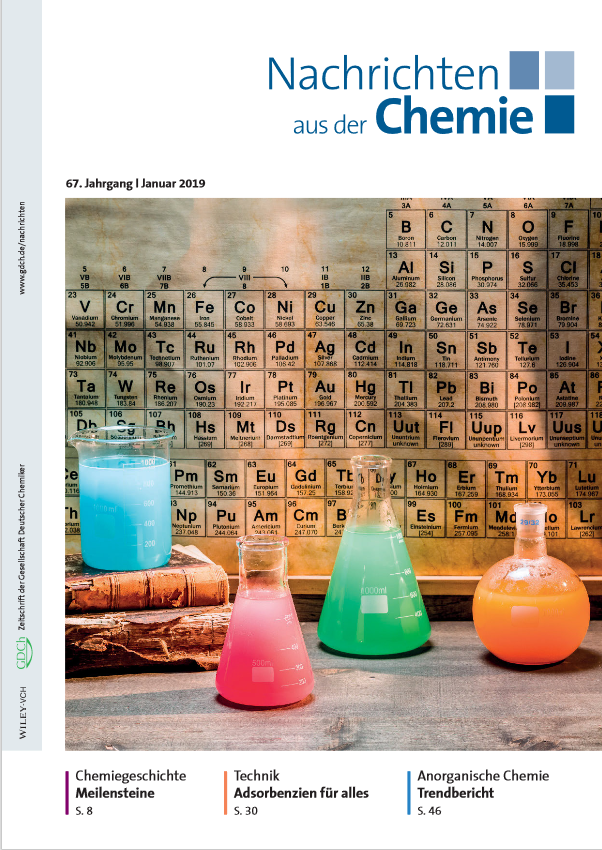 r for us because we started the year with a relaunch: A new layout, new fonts, a new structure of sections. For an example, see our January 2019 issue.
Among the (mostly enthusiastic) reactions this was my favorite one: "Congratulations on the fresh new look for the Nachrichten. Got my issue 1 in the post between Christmas and new year. Looks great and much more modern. Cool cover to start IYPT19."
Element Quizzes
The above-mentioned cover (pictured right) featured, of course, a periodic table of elements. Furthermore, we celebrate the International Year of the Periodic Table with several articles and our "Elementerätsel" (element quizzes).
Maybe you want to have a go at the two latest ones?

1st Quiz:
Who am I?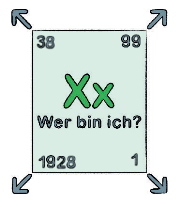 About 38 % of the amount that industry produced of me in 2000 went into flame retardants.
Don't worry, one of my compounds can help.
In 1928, one out of five prescriptions in the USA was issued for drugs that contained compounds with me.
About 99 % of the amount I have on earth is probably found in oceans.
In 1824, Justus von Liebig made me without knowing it.
My compounds account for about 1 % of the Dead Sea.
Who am I?
100 g of oats contain about 425 mg of me.
When I am pure, I can carve glass, and I am important to calm steel.
I was made in pure form for the first time in 1854 by a French chemist using electrolysis.
With their urine, people excrete about 9 mg per day of me.
When liquid I am denser than when I am solid.
Some of my compounds have an E number as a dietary supplement, but always without a 7.
Send your answers to [email protected] by November 25, 2019. A winner will be drawn from the correct entries. Prizes are a GDCh periodic system as a DIN-A0 poster or a mousepad, or the GDCh cup with the Erlenmeyerchen mascot. The Erlenmeyerchen is also available as a plushie.
The correct elements will be published in the Interscriptum of the December issue of Nachrichten aus der Chemie.
---
More Highlights of special issues of ChemPubSoc Europe's national membership magazines
will be published every Thursday in November and December 2019