Reactions driven by electricity are clean, easy to tune, and can be sustainable when coupled with renewable energy sources. Enzymatic reactions can be combined with this approach in a bioelectrochemical cell. Such cells are powered by electricity, and they can be used to selectively synthesize fine chemicals.
Lars Lauterbach, Technical University of Berlin, Germany, and colleagues have developed a scalable system that uses the gaseous products of electrolysis to power a synthetic enzymatic cascade in a continuous flow reactor. The enzymatic cascade is used to convert diamines into methylated N-heterocycles. H2 and O2 are generated by electrochemical water splitting using an iron–nickel sulfide (pentlandite) and a nickel catalyst for the H2– and O2-evolving reactions, respectively. The gases are then transferred into a flow system via a permeable membrane.
The electrolytic cell (pictured in yellow) is coupled to a packed column (pictured in green) containing a hydrogenase and catalase, immobilized on Amberlite, and an amine oxidase and imine reductase (IRED), immobilized on an the enzyme carrier EziGTM. The enzyme cascade functions with the help of a cofactor, nicotinamide adenine dinucleotide (NAD).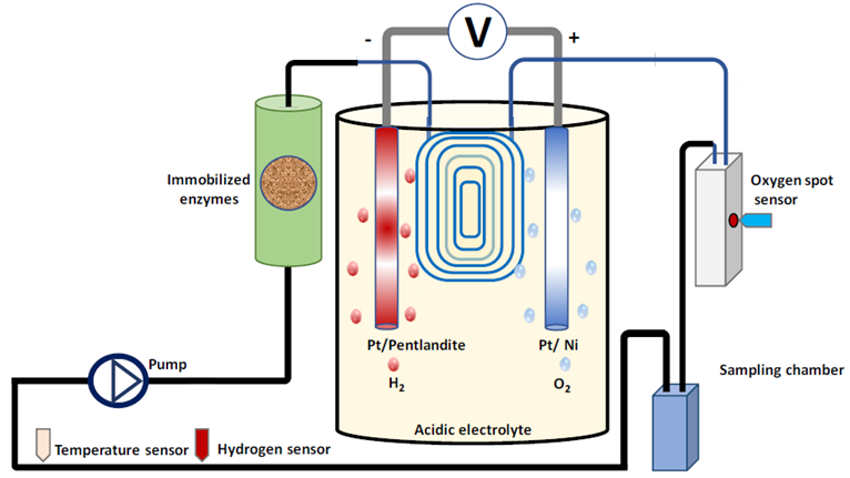 Using this setup, the team synthesized a range of methylated piperidines from diamines and, by including D2O in the biotransformation, they performed regioselective isotopic labeling (pictured below).

---