Professor Karl Anker Jørgensen, Aarhus University, Denmark, chemist and former athlete, was awarded a Chemistry Europe Fellowship earlier this year [1]. Every two years, Chemistry Europe honors chemists for their outstanding support for and contributions towards the European joint publishing venture. Chemistry Europe is a partnership of 16 European chemical societies that owns a family of high-quality chemistry journals.
Here, Karl Anker Jørgensen speaks to Dr. Vera Koester for ChemistryViews about his research focussing on enantioselective organocatalysis, his postdoc mentor and very close friend Roald Hoffmann, as well as the chemistry of frescos.
Do you remember your first contact with what is now called Chemistry Europe?
Yes, my first contact was when national society-owned journals in Europe merged into European journals. This resulted in Chemistry – A European Journal in 1985, and the European Journal of Organic Chemistry and European Journal of Inorganic Chemistry in 1989. I felt that this was important to strengthen European chemistry, which we have also observed by establishing other European journals dealing with various subjects of chemistry.
And how do you think Chemistry Europe should develop today, 25 years after Chemistry – A European journal has been launched?
Chemistry – A European Journal shall still work to place the scientific bar as high as possible. It is also important for European journals to work with young chemists to encourage them to publish in high-ranking journals. They have to learn to present their science properly so they can move up to higher and higher ranking journals.
What is your opinion on the impact of scientific societies in today's world?
Scientific societies should aim to improve the understanding of society for the importance of science. We are living in a period where scientific facts easily can be ignored. However, our society is based on science, and science is necessary for solving some of the important challenges we are facing.
You were awarded the Maria Skłodowska-Curie Medal by the Polish Chemical Society in September. It is one of the highest awards given by the society. Last year it was awarded to Roald Hoffmann, with whom you are closely associated. What does this mean to you?
I was very honored when I was informed that I was going to receive the Maria Skłodowska-Curie Medal. The award ceremony should have taken place in September, but due to COVID-19, the ceremony has been postponed to 2021. Receiving this Maria Skłodowska-Curie Medal the year after my postdoc mentor and very close friend Roald Hoffmann received the medal adds a further dimension to the prize.
Last summer, we were spending some time together and were digging into his old notebooks to prepare for a paper. It was fantastic to sit there and clearly see that the theory was already established in the 1960s and now we are able to use organocatalysis to do this experimentally and to control the stereoselectivity and regioselectivity in novel manners. As we now are "solving" challenges in controlling cycloadditions for conjugated systems with more than six π-electrons as postulated by Roald Hoffmann in February 1965 in his notebook 16, we might expand the frontier of cycloadditions [2].
Can you say a bit about your research please?
We are at the moment very focused on trying to expand the borders of cycloaddition to try to control the formation of complex molecular scaffolds in an atom-economic and hopefully more environmentally-friendly manner. These investigations include both experimental and computational studies, and we are very excited about the collaboration we have initiated with Ken Houk and his group [from the University of California, Los Angeles (UCLA), USA].
The other important avenue of developments taking place is the organocatalytic oxidative coupling reactions, where we recently have shown an exciting translational bridge to stereocontrolled bioconjugation.
When did your interest in the sciences begin?
In high school, I had a very inspiring teacher who was able to change my ambition of being an MD [doctor of medicine] to become interested in chemistry. However, when I was young, I used most of my time in high school and at university performing track and field (decathlon and 110 m hurdles). I represented Denmark on an international level. It was only after my last European Cup in 1981 that I started to become seriously interested in science.
What have been the highlights of your career in chemistry?
To be able to develop chemistry, which has been applied not only in academia but also in industry, and—most importantly—having the privilege to work with fantastic students and postdocs from all over the world.
What has been your biggest motivation?
The students!
What do you do in your spare time?
I am very interested in creative fields—art: mainly rock music, paintings, and sculptures.
Do you have a favorite artist?
No. I have several close friends who are deeply involved in the music business, so I have a lot of options for attending concerts, mainly rock. I normally go to concerts several times per month, but now this is very limited due to COVID-19.
In the field of painters and sculptors, I would like to share an art-chemistry project I am involved in at the moment. One of my friends—the painter Erik A. Frandsen who, e.g., has decorated The Crown Prince and Princesses Palace in Copenhagen, Denmark, the Parliament, and now is working on an installation of Churchill College, Cambridge University, UK—has the dream of trying to understand the chemistry of making frescos. As a chemist, I find it is very inspiring to be involved in this project. To be able to create a fresco, one has to control the chemistry—the reaction rate of lime (CaO) reacting with water and capturing CO2 from the air, and, at the same time, integrating pigments that coordinate to the calcium carbonate crystals, and, thereby, generating the unique colors and structures of fresco.
Indeed, an exciting field also for chemists. Thank you very much for the interview.
References
[1] Chemistry Europe Fellows 2018/2019, ChemistryViews 2020.
[2] D. McLeod, M. K. Thøgersen, N. Inunnguaq Jessen, K. A. Jørgensen, C. S. Jamieson, X.-S. Xue, K. N. Houk, F. Liu, R. Hoffmann, Expanding the Frontiers of Higher-Order Cycloadditions, Acc. Chem. Res. 2019, 52, 3488–3501. https://doi.org/10.1021/acs.accounts.9b00498
---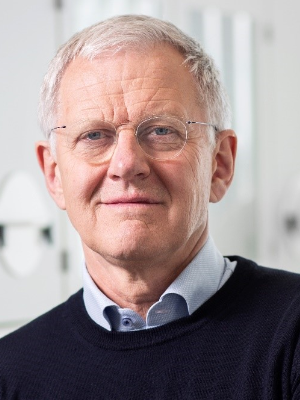 Karl Anker Jørgensen, born in Born, Aarhus, Denmark, in 1955, studied chemistry and physics at Aarhus University. In 1979/80, he took a sabbatical due to sports activities and won at the Danish Championships several times the 110-meter hurdles and a gold medal in decathlon (tikamp).
In 1984, he gained his Ph.D. there for work combining organic and theoretical chemistry. After postdoctoral work with Nobel Laureate Roald Hoffmann, Cornell University, Ithaca, NY, USA, he became Assistant Professor at Aarhus University in 1985, Associate Professor in 1989, and
Research Professor at Aarhus University in 1992. Since 1993, he is Professor at Aarhus University.
Karl Anker Jørgensen is a member of the Royal Danish Society of Sciences, the Royal Swedish Academy of Sciences, a Fellow of the Royal Society of Chemistry (RSC), and a Fellow of Chemistry Europe. He is a Knight of Dannebrog of 1st degree.
(Photo: © Lars Kruse, AU Photo)
Selected Awards
1995 Awarded the Bjerrum Medal
2004 Awarded Commander of the Order of Rubén Darío (Nicaragua)
2004 Awarded Knight's Cross of the Order of the Dannebrog
2016 Awarded The Rigmor and Carl Holst-Knudsen Science Prize
2016 Awarded Knight's Cross 1st Class of the Order of the Dannebrog
2017 The Carlsberg Foundation Research Prize
2019 Villum Investigator and a grant of 40 mio. D.Kr.
2019 The H. C. Ørsted Medal in Gold (awarded for the first time in 30 years)
2020 The Maria Skłodowska-Curie Medal of the Polish Chemical Society (award ceremony postponed to 2021 due to COVID-19)
Selected Publications