The COVID-19 pandemic is caused by the coronavirus SARS-CoV-2. Drugs for the treatment of this disease are urgently needed. The antiviral compound EIDD-2801 (molnupiravir, pictured above) has been identified as a potential drug candidate against COVID-19 and is currently in phase II clinical trials. The existing route for its synthesis, however, gives EIDD-2801 from uridine in a rather low yield of 17 %.
C. Oliver Kappe, Doris Dallinger, University of Graz, Austria, and colleagues have developed an improved synthesis of EIDD-2801 from uridine (pictured below) by strategically reordering the synthetic steps. The reaction sequence starts with the activation of uridine with 1,2,4-triazole and continues with a telescoped acetonide protection/esterification and a telescoped hydroxyamination/acetonide deprotection. Telescoped reaction sequences consist of two or more than one one-pot procedures that are performed back-to-back without a work-up step in-between. A continuous flow process was used for the final acetonide deprotection, which improved selectivity and reproducibility.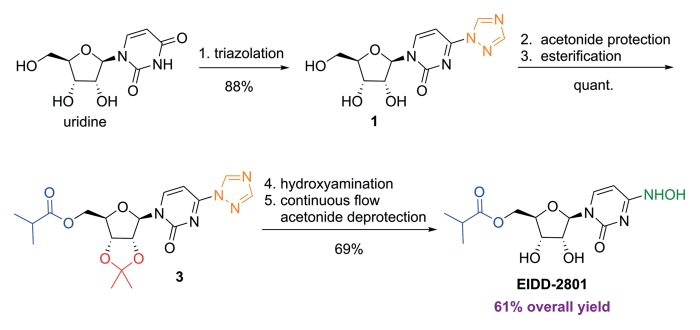 Compared to the original route, the yield of EIDD-2801 was improved to 61 %. This strategy also requires fewer isolation steps because of the two telescoped procedures (acetonide protection/esterification and hydroxyamination/acetonide deprotection) included within the five‐step route.
---
Also of Interest