Evamarie Hey-Hawkins, University of Leipzig, Germany, has received the Karl Ziegler Prize 2021 from the Gesellschaft Deutscher Chemiker (GDCh, German Chemical Society) and the Karl Ziegler Foundation. The award is one of the most highly endowed German awards in the field of chemistry (with EUR 50,000 and a gold medal) and was presented at the GDCh Wissenschaftsforum 2021 on August 29, 2021.
Evamarie Hey-Hawkins conducts research in the fields of organophosphorus chemistry, biologically active boron- and transition-metal compounds, as well as heterometallic transition-metal complexes and catalysis. She is a pioneer in the field of reactive transition-metal–phosphorus bonds in metal-phosphanido complexes and uses innovative research approaches. A large number of patents are based on her scientific achievements. She is also very committed to the chemical community.
Evamarie Hey-Hawkins studied chemistry at the University of Marburg, Germany, where she received her Ph.D. in 1983. After postdoctoral stays at the University of Sussex, UK, the University of Western Australia, Perth, and the Australian National University, Canberra, she completed her habilitation in Marburg in 1988. Then she served as a Research Associate at the Max Planck Institute for Solid State Chemistry, Stuttgart, Germany, from 1988 to 1990, and as a Guest Researcher at the University of Karlsruhe, Germany, from 1990 to 1993. In 1993, Evamarie Hey-Hawkins joined the University of Leipzig as Full Professor of Inorganic Chemistry, where she still works today. There, she served as Executive Director of the Department of Inorganic Chemistry from 1997 to 1999, as Dean of the Faculty of Chemistry and Mineralogy in 2001/2002, and as Vice Dean of the Faculty of Chemistry and Mineralogy from 2002 to 2005.
Hey-Hawkins has received numerous awards, including the IUPAC Distinguished Woman in Chemistry or Chemical Engineering Award in 2013, a Fellowship of the Japanese Society for the Promotion of Science (JSPS) in 2016, the Order of Merit of the Free State of Saxony, Germany, in 2017, the University Medal from the University of Leipzig in 2018, the Leipzig Science Prize in 2019, and multiple honorary doctorates. She is a Fellow of Chemistry Europe and of the European Academy of Sciences. She is also involved in numerous editorial boards, award committees, and organizations, such as the GDCh working group "Phosphorus Chemistry", the German Research Council (DFG).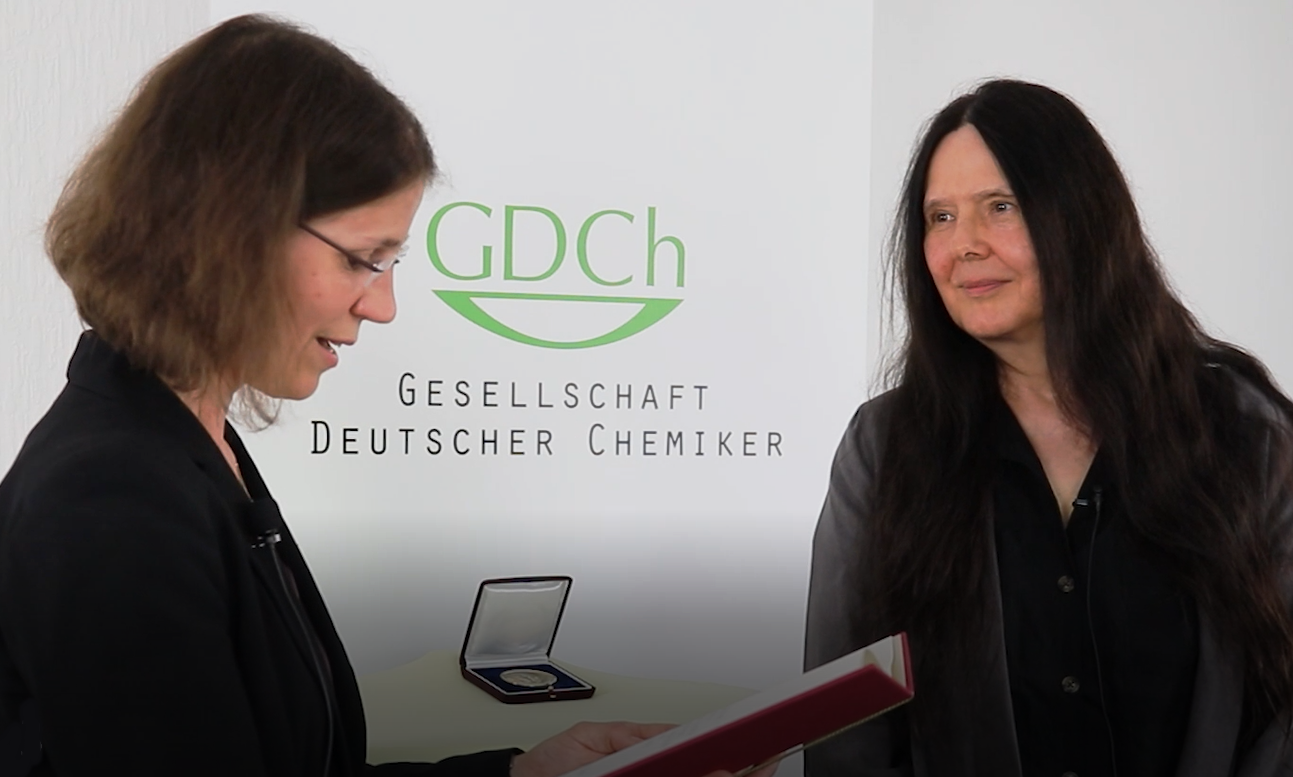 Award ceremony: Evamarie Hey-Hawkins receives the Karl Ziegler Award from Stefanie Dehnen, Vice President of the GDCh
---
Selected Publications
Also of Interest