The Karl Ziegler Prize of the Gesellschaft Deutscher Chemiker (GDCh, German Chemical Society) has been awarded to Professor Alois Fürstner, Director at the Max Planck Institute for Coal Research, Mülheim an der Ruhr, Germany. The award is endowed with 50,000 Euros and a gold medal. It was presented at the opening ceremony of the Wissenschaftsforum in Darmstadt, Germany, on September 1, 2013 by Professor Barbara Albert, President of the GDCh and University of Darmstadt, Germany (pictured below).
Alois Fürstner receives the prize for his work on alkene and alkyne metathesis for the preparation of medium-sized and macrocyclic rings. In addition to developing metathesis catalysts, he has demonstrated the synthetic utility of metathesis reactions through the synthesis of a range of natural products, and the reaction has now become a common tool for synthetic organic chemists.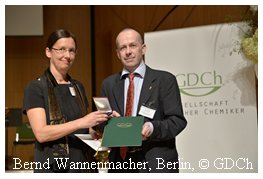 Alois Fürstner studied at the Technical University of Graz, Austria, where he gained his Ph.D. in organic chemistry in 1987. He spent a year as a postdoctoral fellow at the University of Geneva, Switzerland, before returning to Graz to complete his Habilitation. In 1993, he became group leader at the Max Planck Institute for Coal Research and Lecturer at the University of Dortmund, Germany. Since 1998, he has been Professor at the Technical University of Dortmund and Director at the Max Planck Institute for Coal Research.
From 2004–2011, Fürstner served as a Board Member of the GDCh. He is currently a member of the Advisory and Editorial Boards of several journals, including Angewandte Chemie, ChemCatChem, and ChemPlusChem.
Fürstner's current research interest centers on organometallic catalysts and catalytic methods for C–C-bond formation. This includes alkene and alkyne metathesis, the development and use of π-acids (platinum, gold, etc.), iron catalysis, and cross coupling reactions in general.
---
Also of interest: