Professor Emeritus Ernst Peter Kündig, University of Geneva, Switzerland, celebrates his 75th birthday on September 2, 2021.
Peter Kündig's research focuses on organic synthesis and transition-metal catalysis. He has worked on, e.g., preparative organometallic chemistry, arene transition-metal complexes, iron and ruthenium Lewis acids in asymmetric catalysis, and chiral N-heterocyclic carbenes and their applications as ligands in Pd-catalyzed reactions.

E. Peter Kündig studied chemistry at the Swiss Federal Institute of Technology (ETH) Zurich and received his Ph.D. from the University of Toronto, ON, Canada, in 1975. After postdoctoral research with Peter Timms at the University of Bristol, UK, Kündig joined the University of Geneva as Assistant Professor in 1978. He was promoted Associate Professor in 1986 and to Full Professor of Organic Chemistry in 1990. He remained in Geneva until his retirement in 2012.
Peter Kündig served as a Member of the Organizing Committee of the Bürgenstock Conference from 1995 to 2008, President of the School of Chemistry at the University of Geneva from 2002 to 2006, Board Member of the Swiss Chemical Society (SCS) from 2008 to 2015, and President of the SCS from 2010 to 2015, among many other commitments. He is a Member of the International Editorial Advisory Board of Helvetica Chimica Acta.
Among other honors, Professor Kündig has received the Werner Prize from the SCS in 1986, the Honorary Badge of the Institute of Organic Chemistry of the Bulgarian Academy of Science in 2007, the EuChemS Award from the European Chemical Society (formerly European Association for Chemical and Molecular Sciences) in 2007, and a Fellowship from the Japan Society for the Promotion of Science (Riken) in 2012. He is a Chemistry Europe Fellow.
Special Issue dedicated to E. Peter Kündig
Helvetica Chimica Acta has dedicated a special issue to Peter Kündig with contributions from his former students, collaborators, and friends. Dr. Richard J. Smith, Managing Editor of Helvetica Chimica Acta, said at a the EPK Symposium at the University of Geneva, Switzerland: "With his research he has inspired many."
Peter Kündig and Richard J. Smith, Managing Editor of Helvetica Chimica Acta. Photos © Clément Mazet, University of Geneva.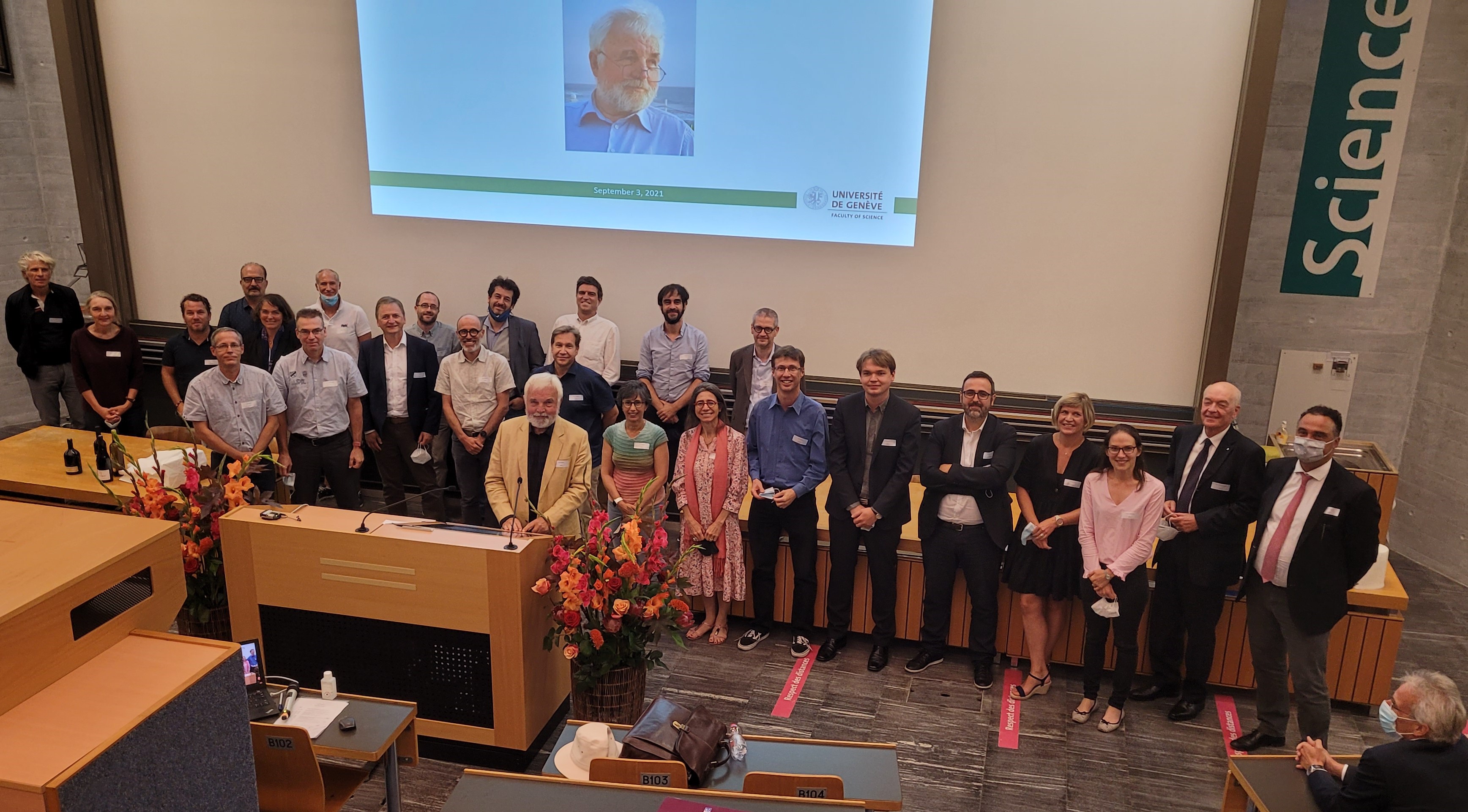 From left to right: Patrick Paglia, Barbara Schnell, Florian Monnier (University of Montpellier, France), Peter Meyer, Björn Treptow, Valérie Alezra (University of Paris-Saclay, France), Eric Thiemermann (La Roche), Stephane Grass (University of Geneva), Ivo Stary (Czech Academy of Sciences), Graham Cumming (Scotland, Fabrice Robvieux, Martial Vallet (Metalor Technologies), E. Peter Kündig (University of Geneva, Switzerland), James Leresche (Lonza), Alvaro Enriquez (Spain), Rita Cannas (Sika Technology), Clément Mazet (University of Geneva), Anna Quattropani (Draupnir Bio), Christophe Copéret (ETH Zurich, Switzerland), Lionel Saudan (Firmenich), Dmitry Katayev (University of Fribourg, Switzerland), Xavier Urbaneja (SICPA), Séverine Lavy (Firmenich), Audrey Langlois-Mercier (Novartis), Alain de Mesmaeker (President of SCS), and Jérome Lacour (University of Geneva). Photo © Richard J. Smith
---
Selected Publications

Also of Interest