Professor E. Peter Kündig, University of Geneva, Switzerland, talks with Dr. Vera Köster for ChemViews Magazine about his role as the President of the Swiss Chemical Society (SCS), how the society embarks on a program of reform, and that the fascination of discovery has never left him.
What originally got you interested in chemistry?
It was the excitement of making new compounds, initially, at age 14, these focused on nitration of cellulose and on explosives made from (then) readily available precursors. The curiosity of knowing about the processes involved and the transformation of matter at the molecular level led me to study chemistry. The fascination of discovery has never left me. The business of chemistry hardly entered this equation.
Today, you are President of the Swiss Chemical Society (SCS). What is this like?
The Swiss Chemical Society's office in Bern is staffed by a full-time executive director, and a part-time secretary. The technical editor of the journal CHIMIA apart, all other activities of the SCS and its five divisions are organized and run pro bono.
With such a streamlined organization, the office of the president is not just a representational job but is very much 'hands-on'.
What are the main objectives of the SCS?
The SCS represents chemists and scientists from chemistry-related fields in national and international organizations.
It supports the exchange of scientific and technical know-how and offers corresponding networking possibilities to the academic and industrial communities. It has members in more than 50 countries and represents about 2,700 individual and institutional members.
The SCS is, for example, a member of the European Association for Chemical and Molecular Sciences (EuCheMS), the Swiss Academy of Sciences (SCNAT), and the Swiss Academy of Engineering Sciences (SATW). It is also connected to the International Union of Pure and Applied Chemistry (IUPAC) with the Platform Chemistry of the SCNAT being the Swiss representative.

Can you give examples of activities?
The key activities of the SCS include:
scientific meetings, congresses, and courses to assist, inform, and educate the community in all fields of pure and applied chemistry;
awards for outstanding contributions in a wide range of chemical fields; and
publication of the scientific journal CHIMIA and the involvement in associated journals: e.g., Helvetica Chemica Acta (HCA), Analytical and Bioanalytical Chemistry, Physical Chemistry Chemical Physics (PCCP), and the journals of ChemPubSoc Europe and the ChemViews magazine.
A special focus is on young scientists. The Fall Meeting of the SCS, with some 800 participants and close to 600 scientific presentations, is the largest annual scientific event in Switzerland. Ph.D. students and postdocs give short oral presentations in nine parallel sessions and poster sessions.
The meeting is held alternatively in Zurich at the Swiss Federal Institute of Technology (ETH)/University of Zürich and Lausanne at the École Polytechnique Fédérale de Lausanne (EPFL) in early September. Thanks to our sponsors, very attractive prizes are given to the best posters and oral presentations.
Another example is that together with its partner organizations – the 'Platform Chemistry of the Swiss Academy of Sciences' and the 'Swiss Society for Food and Environmental Chemistry' – the SCS gives some 45 travel awards to Ph.D. students to enable them to participate actively at international congresses.
What is your idea of your role as President?

Together with the executive director, David Spichiger, and the members of the Board, we have embarked on a program of reform. Thus, the SCS has recently enlarged the Division's activities to areas previously insufficiently covered. Examples are the creation of a 'Section of Catalysis' within the Division of Fundamental Research, changes in activities that have led to the renaming of the Division of Medicinal Chemistry to the Division of Medicinal Chemistry and Chemical Biology; the Division of Industrial Chemistry has become the Division of Industrial and Applied Chemistry.
These changes are part of opening up to scientists working in fields adjacent to core areas of chemistry and to colleagues in Universities of Applied Sciences.
CHIMIA, aside from its role as the information journal of the SCS, now publishes in each issue articles on a specific topic of current interest.
We also have actively sought closer contacts to industry. Very visible results of this are the creation of the KGF/SCS Industrial Awards in collaboration with the Contact Group for Research Matters (KGF: BASF, Merck-Serono, Novartis, Roche, Syngenta) and the biannual SCS/Syngenta Scientific Symposium.
Recently, the SCS has created the SCS Lectureships to bring outstanding researchers to Switzerland for a series of lectures. Other successful events are the Spring Meetings, a one day event dedicated to a single topic, the GDCh–SCG Heilbronner–Hückel Lectures, the Snow Symposium organized by the Swiss Young Chemists' Association, and a number of symposia and courses offered by the various divisions.

What is the most interesting part of your position as President of SCS?
The creation of new sectors, events, and links, as well as personal interaction with a dedicated and able team.
And what is the greatest challenge?
To increase activities and contacts without exceeding the budget.

You organized the
1st EuCheMS congress in 2006 in Budapest.
What is the role of EuCheMS, in your opinion?
Chemistry is a powerful enabling science with an extremely wide range of topics and potential impact. It plays a leading role in questions of health, food supply and safety, energy sufficiency, and materials and products for our daily life. EuCheMS must ensure that policy makers become aware of the challenges we face and address the short, medium, and long term measures that need be taken to ensure the continued development of the scientific and technological bases of solving problems and advancing mankind. By representing Europe's large and diverse community of chemical societies EuCheMS has an important political responsibility.
EuCheMS must also act as leader in favoring academic excellence in chemistry education and research. The EuCheMS congress was meant to be a key instrument for this. I am not convinced, however, that it has reached the hoped-for goal.
Where do you personally see chemistry in Switzerland heading?

Acceptance and refusal of science has its ups and downs. The number of students enrolled in engineering and science in Switzerland is far too low to fulfill demands at present, and in the short and medium term. This is serious as it impacts on the country's continued success.
Swiss chemical, pharmaceutical, and life science industries have done remarkably well during the economic down-turn that has affected so many countries. The rise in value of the Swiss currency, however, is a big problem for this export-oriented industry.
I have an optimistic outlook for our field of science in Switzerland, but I am neither an economist nor a prophet. I believe that innovation, ingenuity, know-how, and dedication are keys to being at the frontier and this will also be true in the future.
Please tell us a bit about how your career has developed?
I very much enjoyed my undergraduate years at ETH Zurich – though in retrospect, the freedom, extracurricular activities, and my involvement in student politics in the late 60's took their toll on my academic achievements as a student. Full dedication to research got into gear during my Ph.D. in Toronto, Canada. Lack of equipment and mild financial hardship marked a postdoctoral stay in the UK in the mid 70's.
The prospect of being offered a junior faculty member post at the University of Geneva filled me with new excitement. My career in Geneva, Switzerland, gave me all I could wish for and I was hardly ever tempted to leave. The scientific environment, the high quality of life, friends, and family all contributed to this.
The excitement of research never left me, though time for research had increasingly to compete with demands of administrative and organizational nature.
What are your research interests?
In Toronto, I was trained as an inorganic spectroscopist; more precisely I studied the stoichiometry and geometries of complexes formed on cocondensing metal atoms with small molecules, such as carbon monoxide and dinitrogen, in inert gas matrices at 4–20 K. Tools were Matrix Isolation IR, Raman and EPR spectroscopy.
During my postdoc and at the start of my own career I scaled the method of cocondensation up to preparative scale. I gradually became more interested in the chemistry of the complexes formed rather than in the pursuit of applying the above method to the synthesis of difficultly accessible organometallics.
In the mid-nineties, work on arene transition metal reactions was complemented by chiral ligand synthesis and new iron and ruthenium Lewis acids and their use as catalysts in asymmetric cycloaddition reactions. It was a first novel and successful foray into the frontier field of asymmetric catalysis.
A third focus emerged in the last five years of my activity in Geneva with the successful design of monodentate chiral N-heterocyclic carbene ligands and their applications in Pd-catalyzed reactions with particularly exciting results in asymmetric coupling reactions involving unreactive C(sp3)–H bonds.
What's next for you?
The University of Geneva has a mandatory retirement age and with the closing of my laboratory, my research activities have shifted to collaborations with a number of colleagues in Europe and Asia. No longer having administrative and teaching duties now gives me new freedom to accept invited professorships, notably in Germany, Japan, India, and China. Together with the activities for the SCS, my program is very busy.
Do you still have time to do other things beside the science and business of chemistry?
Favorite activities include driving and repairing vintage motorcycles, travelling with my wife to far-off places, e.g., the Angel falls in Venezuela, and Angkor Wat, or hiking in the Alps, installing water and electricity at our isolated farmhouse in the mountains – the list is long and time is always short.
Thank you for the interview.
---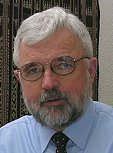 E. Peter Kündig, born 1946 in Weinfelden, Switzerland, studied chemistry at the Swiss Federal Institute of Technology (ETH), Zürich, graduating in 1971. In 1975, he gained his Ph.D. in physical inorganic chemistry for research perfomed under the supervision of Geoffrey A. Ozin at the University of Toronto, Canada. After a couple of years working as a postdoctoral research associate at University of Bristol, UK, he took up the position of Assistant Professor in 1978 at the University of Geneva, Switzerland, where he has remained to this day.
In 1986 he was promoted to Associate Professor and he became Full Professor in Organic Chemistry in 1990. Since August 2012, he has been an Emeritus Professor.
Currently, Kündig is a member of the Platform Chemistry of the Swiss Academy of Sciences and President of the Swiss Chemical Society (SCS).
Selected Awards
2008 EuCheMS Award (European Association for Chemical and Molecular Sciences)
2008 "Honorary Badge" of the Institute of Organic Chemistry of the Bulgarian Academy of Science
1986 Werner Prize, Swiss Chemical Society
Selected publications by Kündig