Peri-acenes with extended zigzag edges can have unique electronic and magnetic properties, but higher peri-acenes generally have poor ambient stability. The introduction of heteroatoms, such as boron or nitrogen (N), to the zigzag edges of peri-acenes can stabilize them thermodynamically.
Xinliang Feng, Technische Universität Dresden, Germany, and colleagues have combined solution-based and surface-assisted synthesis to produce NBN-doped bis– and peri-tetracenes (NBN-BT and NBN-PT, pictured) that are stable in ambient conditions. NBN-BT was prepared via consecutive Suzuki coupling reactions (pictured below), followed by a reduction of the nitro groups and a twofold electrophilic borylation. A photocyclization of NBN-BT in the presence of propylene oxide and iodine then produced NBN-PT.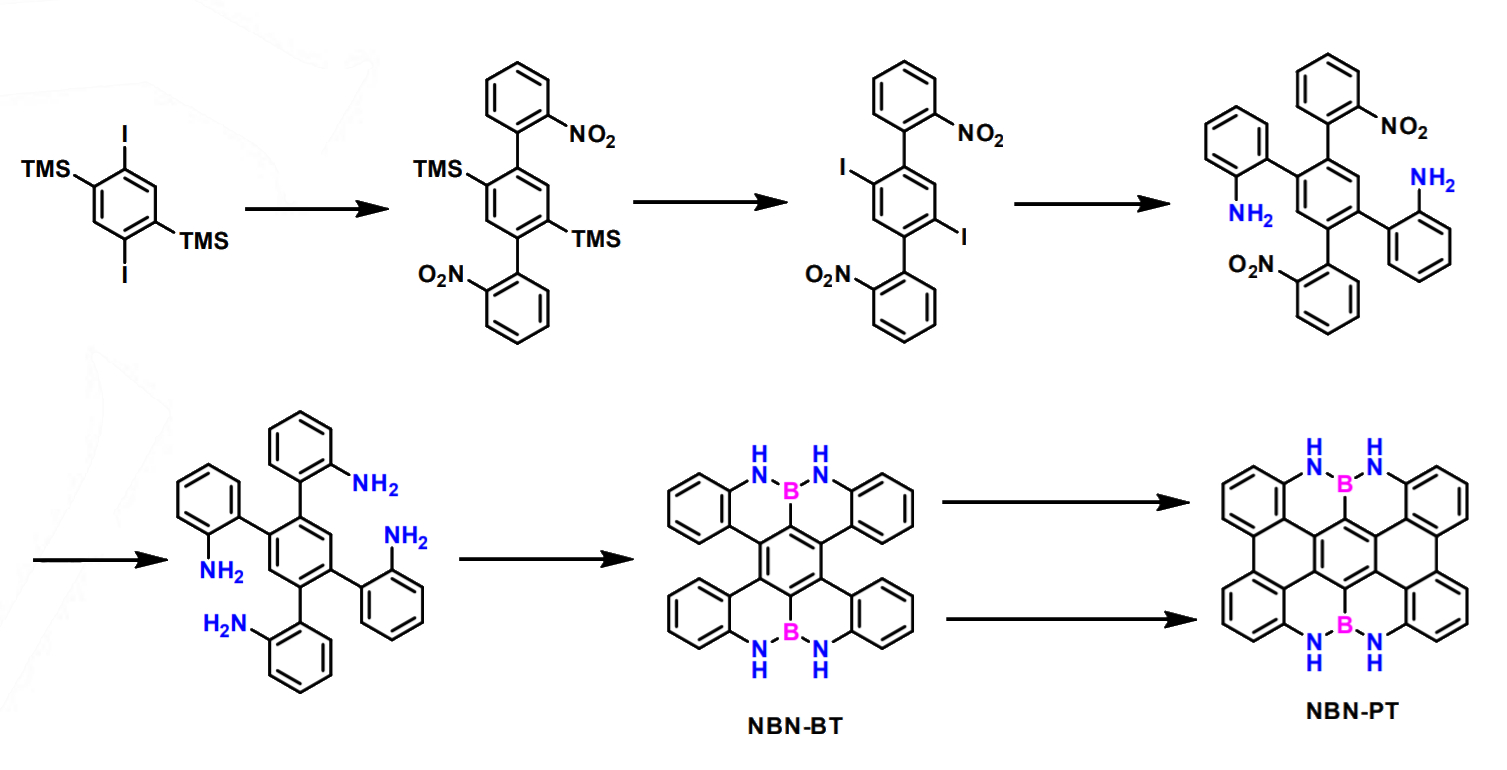 The team found that NBN-BT and NBN-PT can be oxidized to obtain dications, which have similar electronic structures to their all-carbon-based analogues bis-tetracene and peri-tetracene. The work provides a new path for the synthesis of stable zigzag-edged nanographenes with multi-NBN units.
---
NBN‐Doped Bis‐Tetracene and Peri‐Tetracene: Synthesis and Characterization,
Yubin Fu, Xiao Chang, Huan Yang, Evgenia Dmitrieva, Yixuan Gao, Ji Ma, Li Huang, Junzhi Liu, Hongliang Lu, Zhihai Cheng, Shixuan Du, Hong-Jun Gao, Xinliang Feng,
Angew. Chem. Int. Ed. 2021.
https://doi.org/10.1002/anie.202109808