Professor Emeritus Gerhard Ertl, Fritz Haber Institute of the Max Planck Society, Berlin, Germany, celebrates his 85th birthday on October 10, 2021.
Ertl is considered a pioneer of surface chemistry. He received the Nobel Prize in Chemistry in 2007 for his studies of chemical processes on solid surfaces. His work has helped to explain how heterogeneous catalysts work in applications such as the Haber-Bosch process, which is of great industrial importance, or catalytic converters, which remove harmful compounds from car exhaust gases.
Gerhard Ertl studied physics at the Technical University of Stuttgart, Germany. He received his Ph.D. from the Technical University of Munich, Germany, in 1965. He joined the Technical University of Hannover, Germany, as Professor of Physical Chemistry in 1968 and moved to the Ludwig Maximilians University, Munich, in 1973. Starting in 1986, Ertl served as Director at the Fritz Haber Institute of the Max Planck Society, Berlin, Germany, where he remained until his retirement in 2004.
In addition to the Nobel Prize and a large number of other honors, Professor Ertl has received an Order of Merit of the Federal Republic of Germany in 2008, the Nicolaus Copernicus Medal from the Polish Academy of Sciences in 2008, the Otto Hahn Prize from the Gesellschaft Deutscher Chemiker (GDCh, German Chemical Society), the Deutsche Physikalische Gesellschaft (DPG, German Physical Society), and the city of Frankfurt am Main, Germany, in 2007, as well as the Wolf Prize in Chemistry from the Wolf Foundation in 1998, and several honorary doctorates.
Ertl is a Member of the German Academy of Sciences Leopoldina, the Academia Europaea, the Berlin-Brandenburg Academy of Sciences, and the Pontifical Academy of Sciences, a Foreign Associate of the National Academy of Sciences, USA, a Foreign Member of the Russian, Bulgarian, and Polish Academies of Sciences, and an Honorary Fellow of the Royal Society of Chemistry, UK, as well as an Honorary Member of the Editorial Board of Chemistry – A European Journal.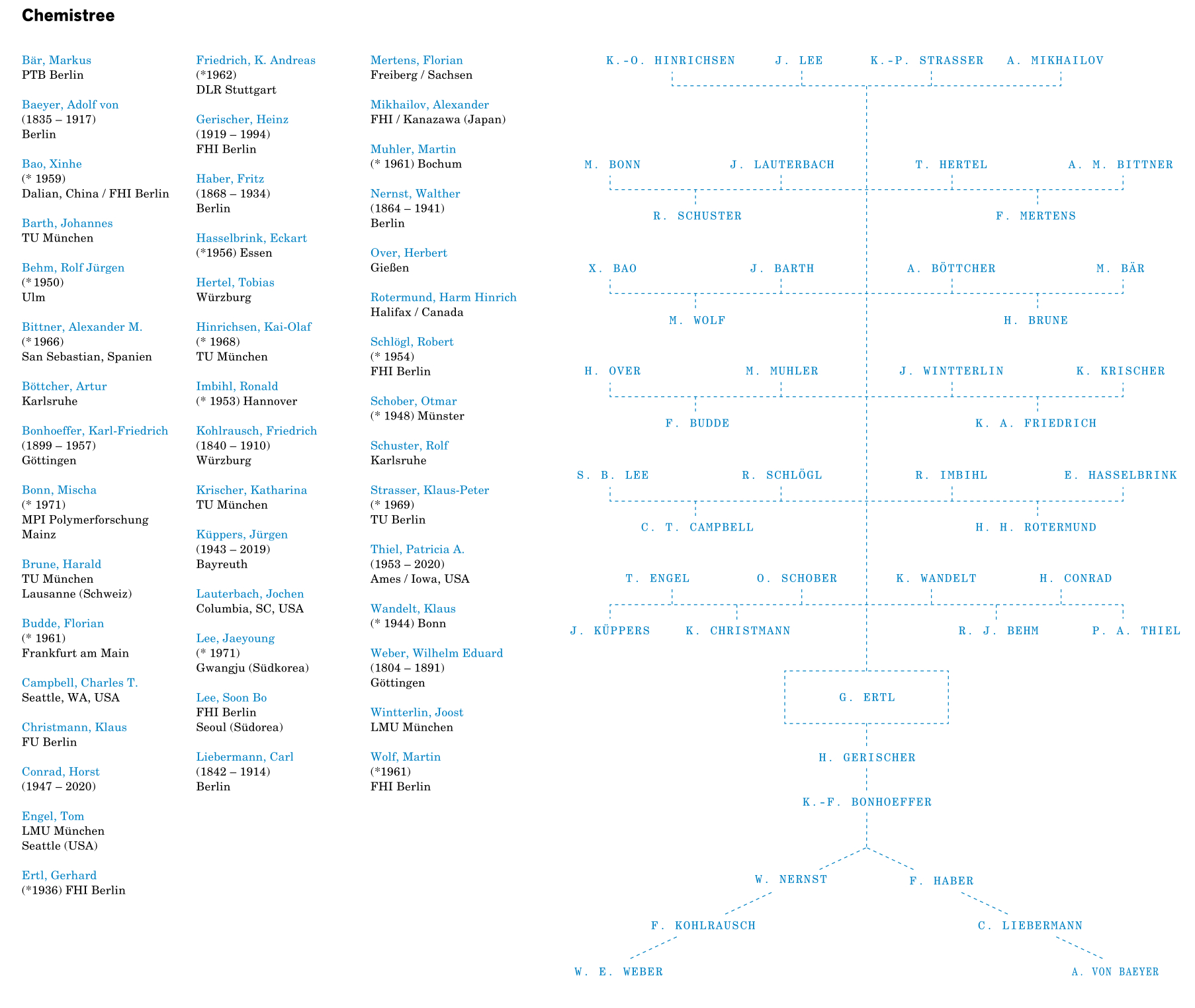 Ertl's academic "family tree", showing his Ph.D. students and part of his academic genealogy [1]. Ⓒ 2021 l-i-c.org.

---
Selected Publications

References