2011 is the International Year of Chemistry (IYC 2011) and the centenary of Marie Curie's Nobel prize in Chemistry. Therefore, ChemViews will introduce interesting women throughout the year.
Danielle Ballivet-Tkatchenko, University of Bourgogne, France, and em. Research Director of CNRS (Centre National de la Recherche Scientifique), the largest fundamental research organization in Europe, is a leading researcher in the challenging field of CO2 conversion and utilization.
Please tell us a bit about how your career has developed?
My career developed smoothly — I was hired as a CNRS fellow while starting my doctorate thesis. These five years, the "golden French time" allowed me to concentrate on the doctoral work with the sole task of getting innovative results. After a postdoctoral position in industry, I continued in research at several CNRS laboratories with tight cooperation with industry.
What do you enjoy most about your career?
I enjoy producing ideas, or ways of solving a problem, and stimulating collaborators to take part in the international competition.
And what has been your biggest motivation?
To advise PhD students and postdocs in their career choices and to shape up research projects coherently.
How did you decide to become a chemist?
My interest in science started at school during my natural sciences experimental courses. But my decision to become a chemist came much later, inspired by incidental discussion with relatives.
Do you think there are still differences between men and women in chemistry?
There are still differences at the higher level of the career ladder just because parameters other than scientific ones enter the game. But we are positively different!
Have you experienced any personal struggles typical for women in sciences?
During the University courses, the burden of taking men's jobs was quite present. Chemistry and chemical engineering professors (all men) were having a marked conservative attitude. Although high level education for women was acknowledged, pursuing a career rather than devoting all the time to child care and housekeeping was not encouraged. Anyway, chance did smile and I had the opportunity to be hired at CNRS for getting, at first, the Doctorat ès Sciences Physiques. At that time, CNRS was the pluridisciplinary research organization which was much more open to female recruitment.
What advice would you give other women thinking of embarking on a scientific career?
A scientific career needs one to be motivated. It provides opportunities of being rational as well as creative. This duality is quite stimulating in a scientific career. So the advice I offer is: Enjoy what you are doing, be practical and realistic.
What would you like to be doing ten years from now?
It is an exciting time to be a chemist. Therefore, I will be involved in causes where chemists may respond to challenges of sustainability and energy.
Thank you very much for this interview.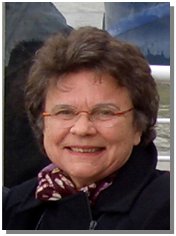 Danielle Ballivet-Tkatchenko, born 1944, is CNRS em. Research Director. She studied chemistry at the University of Lyon, France, and received her Doctorat ès Sciences in 1970. As a CNRS fellow, she worked at CNRS institutes in Lyon then as a group leader in Toulouse, France. She moved to Dijon in 2000 to the Institut de Chimie Moléculaire de l'Université de Bourgogne (CNRS/University of Bourgogne). She is member of the French and American chemical societies.
Her main research projects were in the field of catalysis with seminal contributions to acid-catalyzed reactions with zeolites and cationic organometallic catalysts. Over the years, the projects have evolved to focus on the challenging issue of CO2 conversion and utilization (30 publications, 5 PhDs).
She acted as the chair of the 11th International Conference on Carbon Dioxide Utilization held in June 2011 in Dijon, France.
Selected Publications
► ChemViews news on Danielle Ballivet-Tkatchenko's research:
---
---
Also of interest:

European Women in Chemistry
Published: 11 November 2010
ISBN: 978-3-527-32956-4
Author: Jan Apotheker, Livia Simon Sarkadi